On May 3, 2023, the Canadian Brownfields Network (CBN) brought together leading members of the brownfield development industry for the annual Canadian Brownfield Conference. The event, which took place at Toronto Metropolitan University, presented a variety of panels on the critical issues and complexities related to the future vitality of brownfield renewal.
CBN's annual conference attracts attendees from across Canada, including land developers, engineering firms, environmental remediation companies, and legal and financial experts. The program features engaging sessions with case studies, panel discussions, and the HUB Awards!
With this year's theme of "Brownfield Renewal: Addressing Tomorrow's Challenges," the conference covered sustainable remediation and redevelopment, affordable housing, the energy transition, climate resilience, developer challenges, and more.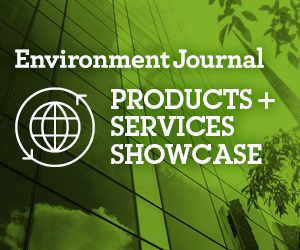 The program kicked off with a look at sustainable remediation and redevelopment by Stéphanie Broschart, lead Land Use Sector Development with the Green Municipal Fund, Federation of Canadian Municipalities (FCM).
How do we ensure that the properties we redevelop aren't leaving an environmental legacy that will have to again been cleaned up decades from now? Bohdanow discussed the importance of incorporating sustainable materials and practices into remediation activities as we work to improve both the current and future environmental footprint of the brownfield site.
"We're not paying enough attend to legacy sites and we should protect natural environment in and around these areas," said Bohdanow "Paying more attention to natural assets and the ecosystems they provide is critical."
She explained how FCM is looking at how to evolve the Green Municipal Fund, examining additional ways that they can incentivize those considerations in municipal planning, to incorporate a full gamut of considerations and development decisions.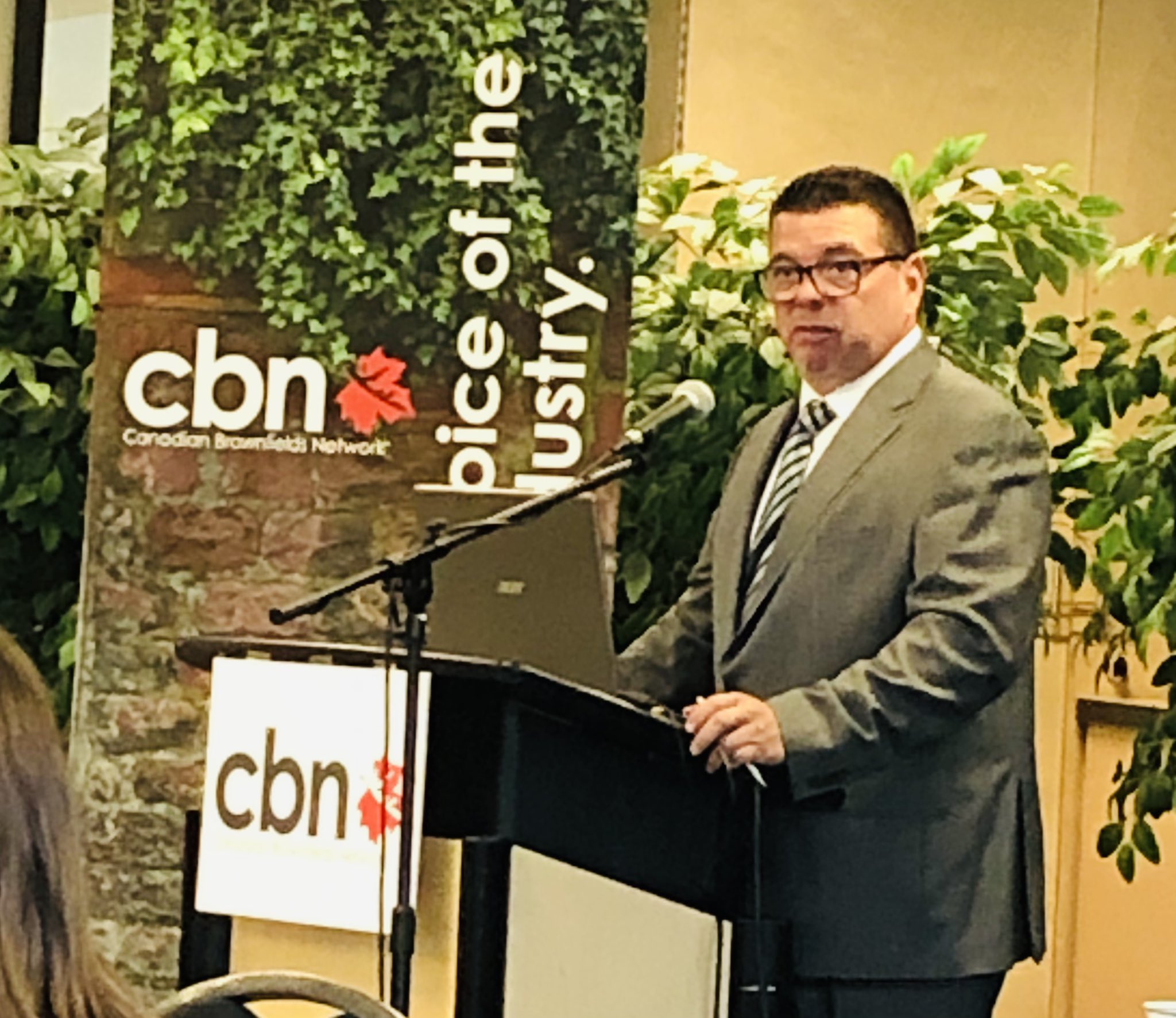 Keynote speaker Matt Jamieson provided attendees with a deep understanding of the Indigenous partnership potential for brownfield development.
Keynote speaker Matt Jamieson delved deep into the importance of Indigenous partnership for brownfield development.
Jamieson is a proud member of the Tuscarora Nation and resident of Six Nations of the Grand River, the most populated First Nation in Canada with approximately 28,000 members.
He is also the founding CEO of the corporate governance model used by Six Nations of the Grand River Development Corporation (SNGRDC), a model that since 2015 has deployed more than $60 million of Indigenous equity and participated in the construction of $2.5 billion of infrastructure assets.
"There's a paradigm shift happening for Indigenous Peoples," said Jamieson, who pointed to the $750 million Six Nations joint venture for a large-scale lithium storage project in partnership with NRStor, Northland Power, Aecon and Tesla announced in February 2023. "This is the future of this country. Indigenous business is simply good business."
Jamieson has big plans for the SNGRDC, including addressing an estimated $1.6 billion infrastructure gap. But he realizes there are barriers to the development. He pointed to lingering fear (history has instilled fear among community members), the Indian Act (antiquated legislation that is restrictive), overcoming distrust (200+ years of encroachment), and values (Indigenous values do not easily align with corporate interests), knowledge/experience (poor understanding of corporate structures), access to capital (isolation on reserve not conducive to building a balance sheet), risk (exposure to debt and tax).
However, with his leadership the SNGRDC is ready to take the reigns and address these barriers by getting organized with good governance systems, preparing to do business and embrace economic development, and become a bankable counterparty.
"We are becoming a serious stakeholder and we can now influence where things get built and how they get built. We partner with the best," said Jamieson. He shared the details of promising project partnerships with QM Environmental and Aecon. He also shared the successful transformation of the Nanticoke Generating station project that turned Canada's largest carbon emitter into a solar farm.
"Utilizing a seven generational perspective we are pursuing profit focused development opportunities within the sustainability spectrum," said Jamieson. His inspiring and informative keynote was very well received.
Panel conversations also provided food for thought about how to address affordable housing, energy transition, climate resilience, and developer perspectives on greenfields versus brownfields. There were so many industry insights presented on everything from pinch points, to financial and permitting hurdles, to progress on climate awareness, nature-based remediation solutions, the energy transition, the need for brownfield champions and more. The panelist presentations will fuel future case studies and feature articles in Environment Journal.
HUB Awards
CBN once again celebrated individual excellence in brownfields through the presentation of the 7th Annual HUB Awards, a highlight of the annual conference.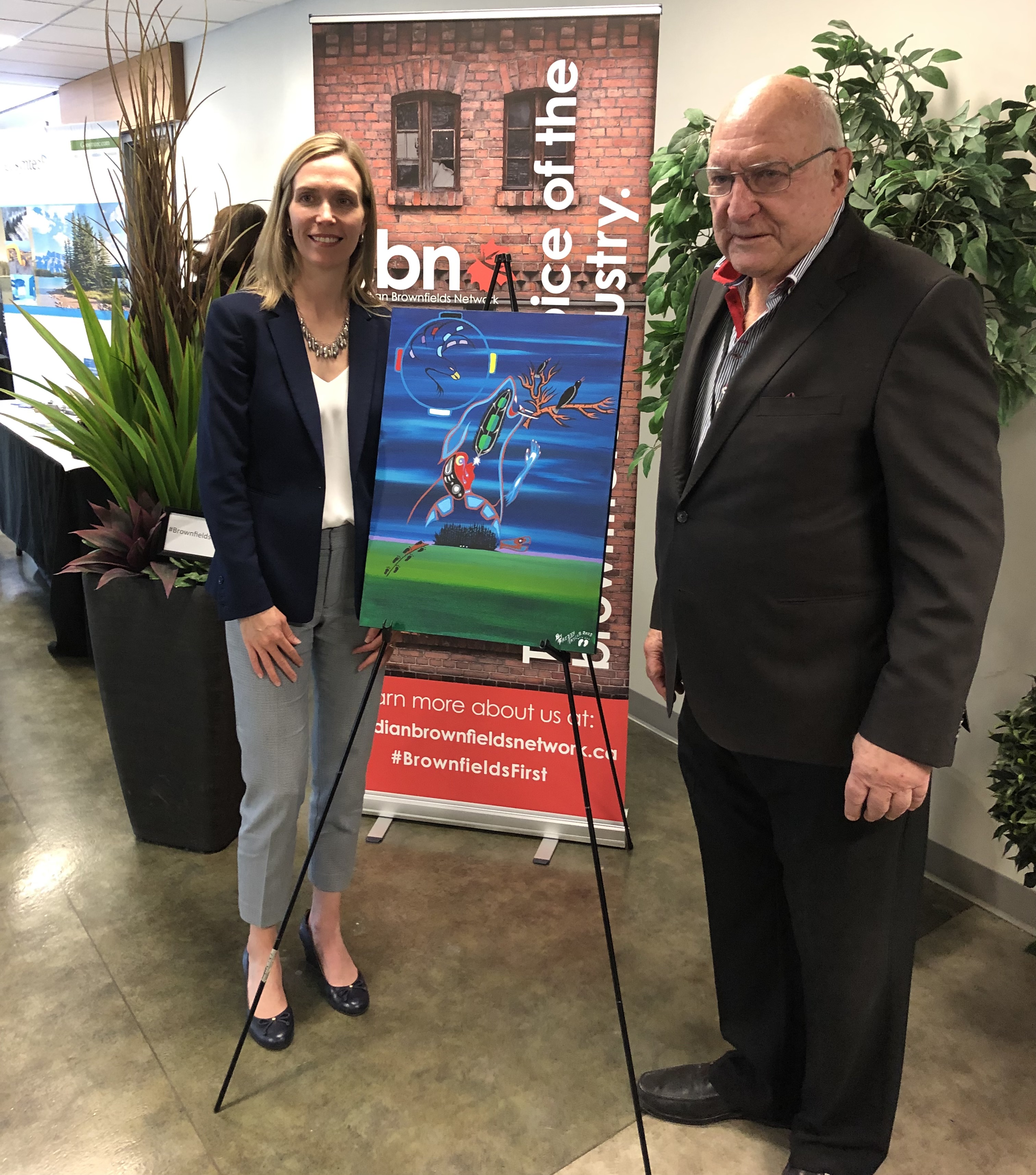 Award-winner Melissa Walker with David Fisher of Fisher Engineering.
Foundation Award – Presented to a contributor to the Brownfield industry in Canada who has had a profound impact on how things are done today. Their work has provided a Foundation upon which the current practices and policies have been based. This is a "career achievement" award.
This Foundation Award was presented to Monique Punt of MPunt Environmental Consulting and sponsored by Canadian Fuels Association.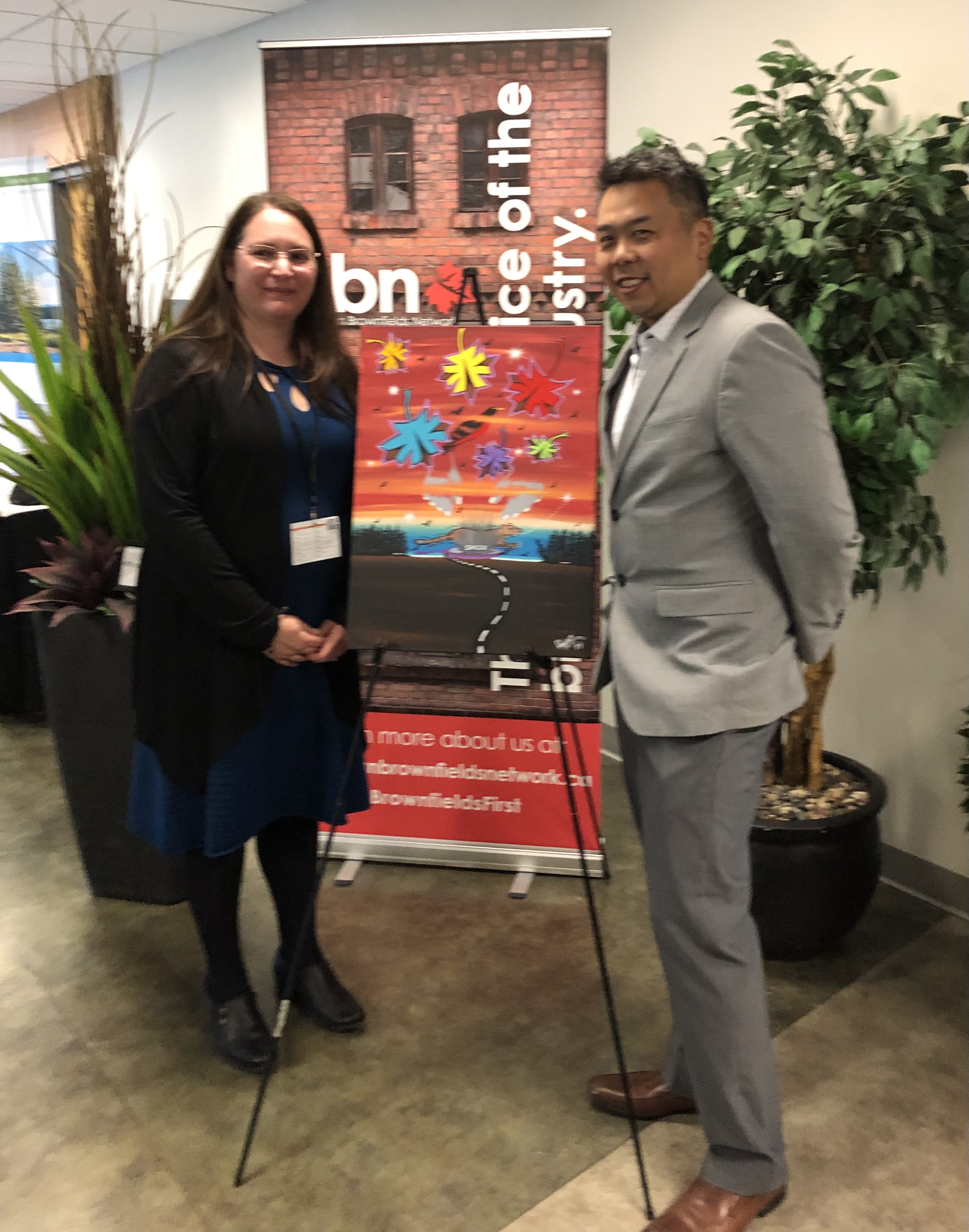 Award-winner Jennifer Volpato with Tom Li of Parsons.
Pillar –  Presented to a recipient who has proven to be a Pillar of Strength in a significant aspect of the Brownfield industry in Canada. They continue to provide valuable expertise and influence into the policies and practices that we are employing. The Pillar award is a mid-career award.
The Pillar Award was presented to Jennifer Volpato, District Engineer with the Ontario Ministry of the Environment, Conservation and Parks and was sponsored by Parsons.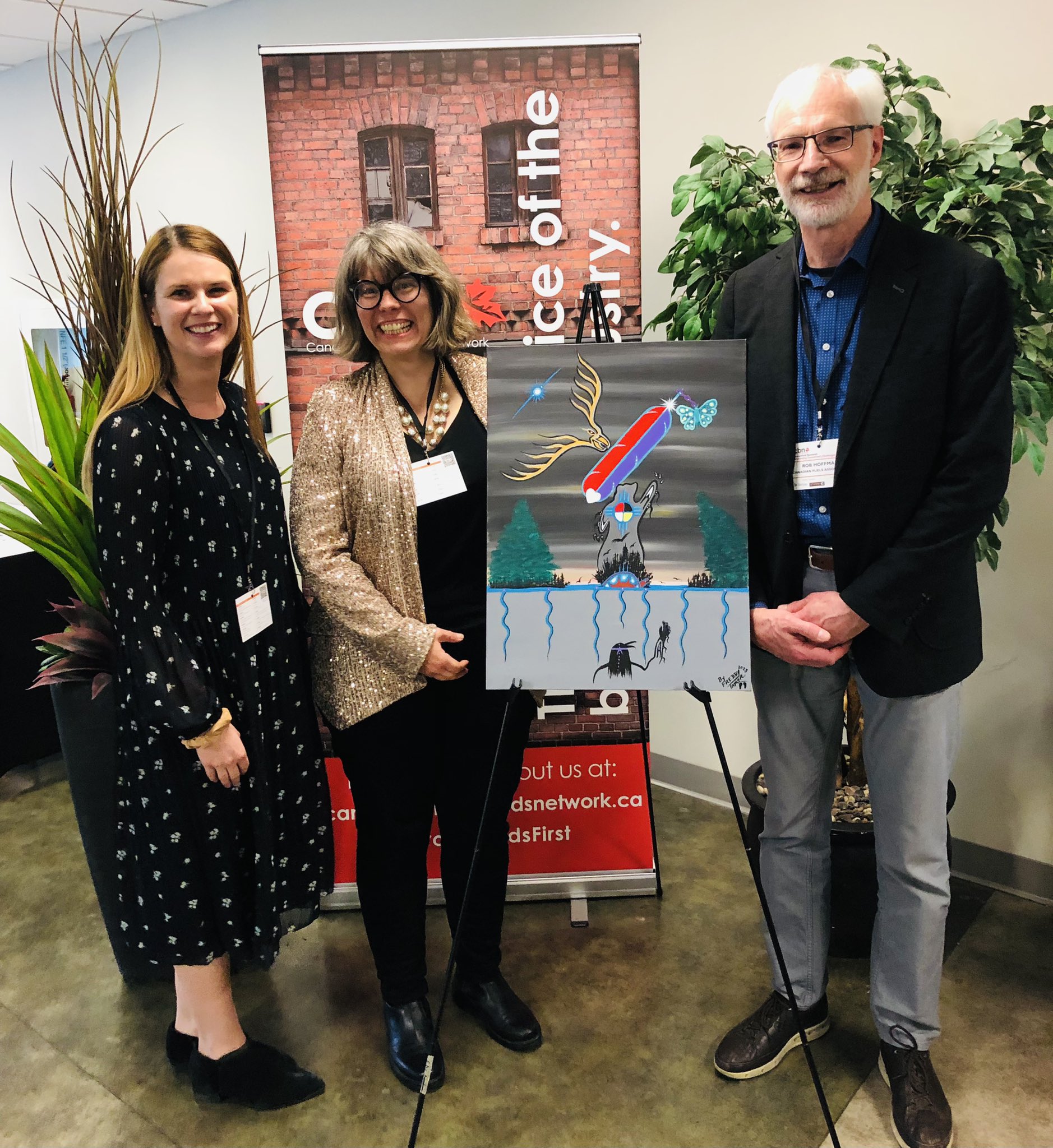 Tanisha Monster of Milestone Environmental Contracting with Meggen Janes of Geosyntec and Rob Hoffman of the Canadian Fuels Association accept the award for Monique Punt.
Vision –  Presented to a relative newcomer to the Brownfield Industry in Canada and who is providing valuable insight into programs, policies or practices that will be improving how Brownfield redevelopment in Canada is completed.
The Vision Award was presented to Melissa Walker, Development Director of Kilmer Group and was sponsored by Fisher Engineering.
The artistic awards were produced by Freddy Taylor, an Anishnaabe artist from Curve Lake First Nation. Taylor is a residential school survivor and an example of Indigenous strength and healing.
In his closing remarks, Bailey Walters of Grounded Engineering left the room with a compelling quote from Bill Nye, the Science Guy: "To leave the world better than you found it you sometimes have to pick up other people's trash." He noted the consensus at the conference that despite the headaches, technical challenges and political hurdles, brownfields redevelopment is very much worth it.
For further details, visit: https://canadianbrownfieldsnetwork.ca/marketing/conference2023
In related news, the brownfields community is looking forward to gathering again at  RemTech East 2023 and at the 24th Annual Brownie Awards. Mark your cal.ndars and plan to join us!
Featured image: The Bata Shoe Factory development, which won the 2021 Brownie Award in the Best Small Project category, was referenced in the panel discussion on Sustainable Remediation and Development. Image credit: BDP Quadrangle and Dubbeldam Architecture + Design.