Costa Rica had been on my bucket list for years. But work deadlines, family obligations, hockey tournaments, and pandemic roadblocks have taken precedence. Sound familiar? This summer I decided to put the excuses on the backburner and book it.
Yes, I'm well aware that flying is a climate intensive activity. The total carbon impact of a single flight is so high that avoiding just one trip can be equivalent to going (gasoline) car-free for a year. However, our sustainably minded Prime Minister also headed to Costa Rica this summer with his family, so we were in good company. Of course, we travelled there on a packed public airline, not as the special guests of the Royal Canadian Air Force.
In any case, there are ways for travellers to reduce their carbon footprint, such as flying direct whenever possible and purchasing a carbon offset for emissions.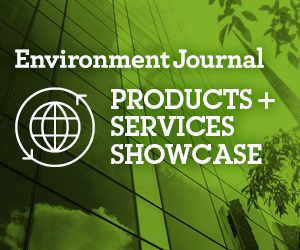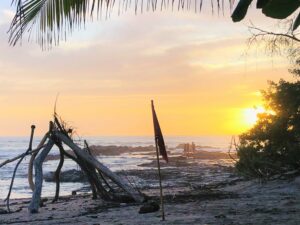 The sun sets on the breathtaking Los Baulas National Marine Park. 
Whatever your preferred or available mode of travel, it's well worth the journey to Central America's Republic of Costa Rica, with its warm tropical breezes and lush natural environment. We swam, we surfed, and we strolled along the breathtaking Los Baulas National Marine Park. We were enchanted by the sounds of macaws and cicadas, we welcomed the sights of geckos and iguanas underfoot, and we savoured the tastes of the fresh local fruit and sustainably sourced fish. It also gave me food for thought.
Our resort was top rated but not at the expense of paradise as is the case in Costa Rica. Environmental policies were communicated and signage on the beach and by the waste receptacles reminded visitors to remain respectful of the natural environment and to play by the rules. And it's not just the places we visited. These policies seem to be widely embraced on a micro and macro level across the country.
SINAC Costa Rica (Sistema Nacional de Areas Conservacion) manages access to several national parks that are protected by conservation standards.
Like an elected leader who's fair but firm, there's something great about a place that is productive but also protects its own. Costa Rica has a stable economy with continuing growth in the Gross Domestic Product and moderate inflation. In many aspects, it's a success story in terms of development, an upper middle-income country that has shown a steady economic growth over the past 25 years.
But Costa Rica has not kowtowed to the tourism industry like too many other tourist destinations. In fact, it provided the ecotourist experience before it became cool. According to a recent survey by Booking.com, more than 70 per cent of respondents now want to green their travel plans, a 10 per cent increase from 2021. More and more travellers are seeking responsible resorts that have certifications such as Leadership in Energy and Environmental Design (LEED) and other well established designations.
Costa Rica has not turned its beaches into a theme park for the sake of old-school tourism, at the risk of their homes and habitats. Decades of deforestation taught decision-makers a hard lesson and a ban in 1996 put an end on the razing of mature forests for profit. Today Costa Rica has one of the most advanced environmental protection systems of any country in the world through the development of progressive and innovative legislation linking conservation and reforestation to greater economic growth and forward thinking incentives.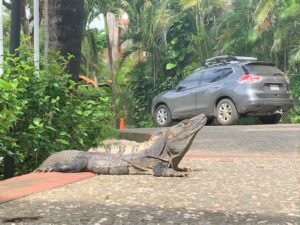 Traffic stops for the wildlife. Approximately 38 species of Iguanas are found in Costa Rica.
Costa Rica's environmental credentials are impressive by any standard: more than 98 per cent of its energy is renewable, forest cover now stands at more than 53 per cent and approximately a quarter of the country's land has been turned into protected parks and reserves. According to the United Nations Environment Programme (UNEP), it's a template on how to live in a cleaner and carbon-free world.
"The decarbonization plan consists of maintaining an upward curve in terms of economic growth and at the same time generating a downward curve in the use of fossil fuels, in order to stop polluting," said Costa Rican President Carlos Alvarado Quesada when he was presented with the UN's policy and leadership award.  "How are we going to achieve that? Through the electrification of transport, smart and resilient cities, sound waste management, sustainable agriculture and improved logistics."
Most recently, it passed the National Climate Change Adaptation Plan, which sets out a five-year framework to guide the country towards a resilient development model, one that avoids losses and damages caused by the adverse effects of climate change.
How do they continue to manage these high standards during a time of pandemic recovery and economic uncertainty?
There is a well-known expression that is used in Costa Rica – "Pura Vida" – which essentially means the "pure life" or "simple life." However, it's more then just a turn of phrase; it has become a way of life. It's used in many ways throughout the day as a positive affirmation or to articulate gratitude and quite probably permeates their environmental policies.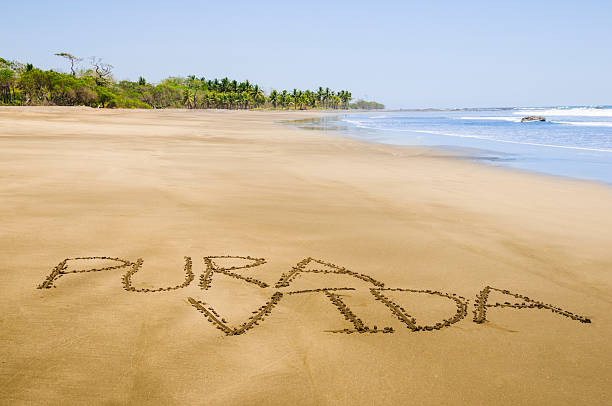 "Pura Vida" is a common expression in Costa Rica which essentially means the "pure life" or "simple life." Credit: Getty Images.
On one fine day in the gorgeous Guanacaste highlands, I found myself waiting around a zip line establishment for longer than we had bargained for. So, politely (in a very Canadian manner I assure you), I inquired about the delay. Following my third inquiry, one of the workers (in a very Costa Rican manner) calmly asked me to "chill and breathe" and followed it up with "pura vida."
Normally this type of situation might set me off on my way to find a manager, but the way he articulated it, in an authentic and friendly way, as he looked around at the lush jungle setting with his hands out, encouraged me to see things in a different light. The message was as clear as the call of the macaw. The zip lining would happen soon enough, and in the meantime, there was pura vida to be experienced.
Pura vida may be misinterpreted as a carefree compromise but in fact it's a philosophy that encourages a deeper understanding and gratitude for life and living things and has perhaps helped the Ticos and Ticas to stay strong and make good decisions.
With the way our PM has been backing clean energy development, electric vehicles infrastructure, and increased support for natural spaces and wildlife, I suspect he was just as inspired by his trip to the place where pura vida prevails.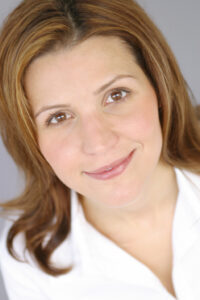 Connie Vitello is editor of Environment Journal.