The Daniels Corporation, one of Canada's leading builders and developers, has unveiled its sustainability framework, entitled Daniels' Decarbonization Roadmap. With a history of going beyond mandated minimum requirements to ensure more accessible and affordable communities, Daniels is now setting a new standard for low-carbon development. The roadmap outlines Daniels' clear action plan for its next two development cycles, setting the path to becoming the leading low-carbon builder and developer in the Greater Toronto Area (GTA).
The roadmap states the company's goal of reaching Near-Zero Whole Life Carbon for all new communities starting development in 2026. The roadmap discloses a baseline level of performance, targets for maximum carbon emissions intensity, and a series of decarbonization tactics to be implemented to meet them. Daniels has already begun implementing these measures in their latest community, Daniels MPV2, Brampton's largest low-carbon master-planned community.
To commemorate the unveiling, Daniels was joined by Brampton Mayor Patrick Brown, alongside leaders in the energy, construction and finance sectors at the MPV2 Presentation Centre, for a discussion on decarbonizing real estate in the GTA and beyond.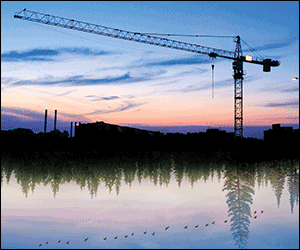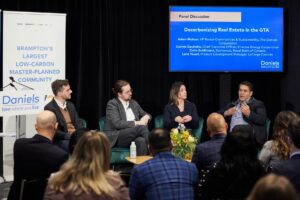 The Decarbonization Roadmap panel conversation.
"Our Decarbonization Roadmap was developed as a direct response to the climate emergency that looms over us all," said Adam Molson, vice president of Rental Communities and Sustainability at The Daniels Corporation.
"The real estate development industry is responsible for 58 per cent of Toronto's greenhouse gas emissions. This is a fact we can't ignore. We take our role as a trusted leader in our industry seriously as we build communities for people today, and generations to follow. This roadmap is a demonstration of our commitment to lead on decarbonizing the production of new real estate and establishes an ambitious and achievable pathway where we will track and disclose our progress towards delivering solutions for climate responsible housing. We are calling upon other leaders in the industry to join us in taking bold steps to rapidly decarbonize their business."
Daniels' target of Near-Zero Whole Life carbon represents a transformational level of change within the industry and is a key milestone towards a carbon-neutral future. The Decarbonization Roadmap illustrates the innovative practices Daniels has already actively begun implementing within its communities, including:
Electrification: Replace technologies and systems that run on fossil fuels with alternatives that run on low-carbon electricity to reduce pollution and carbon footprint. For example, geo-exchange, air-source heat pumps and rooftop solar installations.
High Performance Ventilation Systems: Minimize energy required to provide and temper fresh air within buildings.
High Performance Enclosures: Efficient protection against the elements which reduces heating and cooling loads and maintains an ideal indoor climate.
Low-Carbon Materials: Thoughtful selection of construction materials with reduced carbon impact such as Mass Timber design and Low-Carbon Concrete.
Material Efficiency: Use of the minimum material quantity while maintaining performance through improved design and construction practices.
Brampton's largest low-carbon master-planned community
Daniels also unveiled the first phase of its 19-acre, low-carbon master-planned community, located in Brampton's Mount Pleasant Village. Daniels MPV2 (MPV2) represents the first generation of Daniels' Decarbonization Roadmap coming to fruition. With construction already underway, this revolutionary community will feature condominium suites utilizing geoexchange, an energy-efficient system that uses the Earth as a thermal battery to provide low-carbon heating and cooling.
The community will also include net zero, fossil fuel-free townhomes utilizing all-electric systems including rooftop solar panels that generate renewable energy. MPV2 will not only be a landmark community that provides homeowners the ability to "future-proof" their homes but will also deliver emission reductions of 40 per cent compared to Daniels' baseline performance, exemplifying the company's proactive approach to the climate crisis by building sustainably, ahead of policy requirements.
Artistic rendering of the condominiums in the MPV2 community by Daniels.
"As one of the fastest-growing cities in Canada, the City of Brampton is committed to becoming more healthy, resilient and environmentally sustainable," said Brampton Mayor Patrick Brown. "Brampton is a leader in sustainability, and the Daniels MPV2 community is an excellent example of how we are enhancing our city with measurable environmental benefits that will have a lasting positive impact. We look forward to welcoming future residents to Brampton's largest low-carbon master-planned community."
During the event, several Canadian partners in the energy, construction and finance sectors came together to commemorate the MPV2 community and Daniels' sustainability efforts. As the leading core-competency district energy operator in North America, Enwave Energy Corporation is partnering with Daniels to implement reliable and sustainable energy solutions on site at MPV2, including geoexchange. In addition, Lafarge, Canada's largest provider of sustainable and innovative building solutions including cement, concrete and asphalt has partnered with Daniels to incorporate its next generation low-carbon concrete products throughout its portfolio. The MPV2 community is being financed with a Green Loan from RBC under the bank's Sustainable Finance Framework.
Featured images courtesy of Daniels Corporation.