Yesterday the Partners in Project Green (PPG) connected virtually to discuss the management of the plastics lifecycle and how to get to zero plastic waste. Current strategies were highlighted in the context of new trends in plastics consumption due to the impact of the global pandemic.
The webinar, "Managing the Plastics Lifecycle – Getting to Zero Plastic Waste," highlighted ways businesses can manage the plastic lifecycle in their operations, including the reduction of use, increased consumption of recycled plastics, and the diversion of plastics away from landfill and the environment.
PPG is a growing community of businesses, government bodies, institutions and utilities working together to help turn sustainable practices into bottom-line results. The panel on April 30, 2020 was moderated by Jeff Robertson, PPG's senior manager, and the speakers included the following: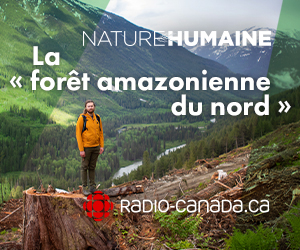 John Coyne, vice president of External Affairs & Sustainability at Unilever Canada and co-chair of PPG's Executive Management Committee
Chris Hilkene, chief executive officer of Pollution Probe
Kyla Greenham, manager of Conservation and Environment, Toronto Zoo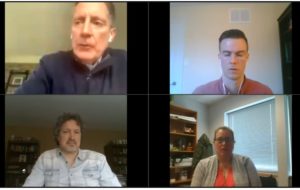 From top left, clockwise: John Coyne, Jeff Robertson, Kyla Greenham and Chris Hilkene.
Coyne, who is known for his leadership in corporate sustainability, explained how Unilever is moving toward a more circular economy for plastics through five key commitments:
Plastics packaging will be 100 per cent reusable, recyclable or compostable by 2025.
Increase use of recycled plastic content in packaging to at least 25 per cent by 2023.
Reduction of virgin plastic packaging by 50 per cent by 2025.
Absolute plastic reduction eliminating more than 100,000 tones of plastics from packaging over the next five years.
Collection and processing of more plastics packaging than what is sold by 2025.
"What really underpins these five commitments is the use of less non-renewable resources. We must confront resource constraints and set targets for using more non-renewable resources to shoot for and an objective to seek to achieve," said Coyne. "We need to focus on an absolute reduction. The less resources we use, the less waste we have and the less cost we inflict into economic systems. We also need to continue to develop infrastructure to recover more material from the environment."
As an example, Coyne cited the company's Hellmann's brand and its 100 per cent post consumer recycled content packaging. "That's an achievement that would have been inconceivable just a few short years ago and hopefully is a hallmark of how it is we will see brands moving forward into the future."
Coyne emphasized that every initiative should take place in the context of climate change, which will be an issue that endures after the COVID crisis. "Climate change is an issue that we are going to have to confront with renewed economic vigor, with renewed environmental focus and a renewed relationship with businesses, government, non-governmental organizations all collaborating on new solutions for the future," he advised. "This is a time to take pause and think about how to address this critical issue."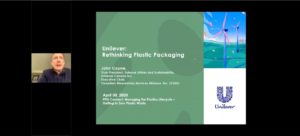 Similarly, Hilkene described a variety of positive initiatives that Pollution Probe is working on while he warned that the pandemic and the declining oil prices have radically increased the use of plastics in various industries.
"There are a couple of concerns regarding COVID-19 and plastics. There's been a perception change and so we're seeing more use of plastics and therefore we'll see more waste. At the same time, we've had a dramatic drop in oil prices which makes virgin plastics far more affordable and preferable for many than recycled plastics," said Hilkene. "We're calling on a firmer commitment from governments to tackle this. If they don't create the markets and rules and require things like recycled content and producer responsibility then we're going to have a bigger problem than when we came into this."
Pollution Probe, one of Canada's oldest environmental organizations, is undertaking several initiatives to help improve plastics recovery. One area of focus is the Great Lakes. According to the Great Lakes Plastics Forum, it is estimated that approximately 22 million pounds of plastic flows into the Great Lakes alone each year, and about 80 per cent of the waste recovered on beach cleanups is made of plastic.
In terms of thought leadership, Hilkene says circular economy education and programs are critical. "All of our plastics work is guided by an advisory panel that represents the entire supply chain of plastics, and we have a variety of initiatives, including convening events, work with environment councils and helping advance these issues over the long term through educational institutions and various partnerships."
Hilkene highlighted some exciting Pollution Probe initiatives underway, including:
The Global Environmental Challenges and Core Solutions Course in development with York University, which will include a focus on the plastics circular economy.
A new initiative with Toronto Region Conservation Authority (TRCA) and the Greater Toronto Airports Authority (GTAA) to look at developing strategies to reduce waste generation at airports and retail malls.
The Plastics Environmental Impact Calculator, a Waste Wiki Project at York University's School of Environmental Sciences, will help evaluate and compare plastics varieties and will help decision makers make more informed decisions in terms of extended producer responsibility and consumption habits.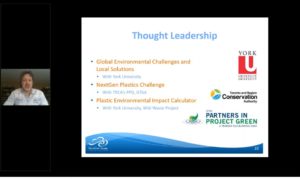 Significantly, Pollution Probe is also working with Great Lakes organizations to help pilot Canada's first IC&I sector materials exchange to provide opportunities for reuse and will provide a marketplace to help keep plastics out of the Great Lakes. The website is in development and will be launched soon.
Greenham reported that the Toronto Zoo, which produces a significant amount of waste internally with staff and animals and externally from thousands of visitors, currently has a waste diversion rate of 70 per cent but has a goal to bump up that rate to 100 per cent by 2027. The zoo's environmental management system addresses all aspects of waste management and environmental issues and a recent audit has inspired them to improve their efforts in key areas – including reducing the amount of plastics, as per the "Toronto Zoo Public Statement."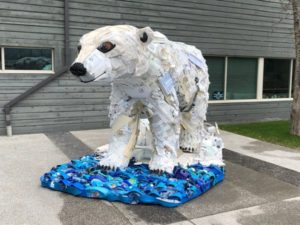 Polly the Polar Bear, part of the exhibition "Washed Ashore: Art to Save the Sea" at the Toronto Zoo. The exhibition was aimed at warning of the negative effects of plastic pollution. All the art installations were built completely with plastics collected from oceans and waterways around the world.
The zoo is evaluating infrastructure and seeking innovative approaches to inspire the community to:
reduce the amount of plastics used and sold at the Toronto Zoo;
where reduction is not possible, create options to reuse plastic at the zoo; and
as a last option, ensure that plastics are recycled.
The zoo supports the following strategies to engage guests and stakeholders to reduce the volume of plastics entering the aquatic environment:
lead by example by following the 3Rs:
o reduce plastic use within zoo operations;
o reuse plastics within zoo operations;
o recycle 100 per cent of all plastics used at the zoo.
For a complete list of partners involved in PPG, click here.