Environment Journal is pleased to announce that it received a "Gold" award from the Canadian Online Publishing Awards (COPAs) in the "Best Virtual Event/Webinar" category last night.
The COPAs, presented by Masthead Magazine, have become the preeminent industry showcase of the Canadian publishing industry. This year's crop of COPA finalists included 72 publishers from across Canada and the chase for Gold was revealed at a hybrid event held at the Dim Sum King Restaurant in Toronto, with a webcast on Zoom.
The EnviroExchange webinar series provides insights into the state of the environment industry and the growing green economy. Presented by Environment Journal and powered by Actual Media Inc., the series aims to inform and inspire.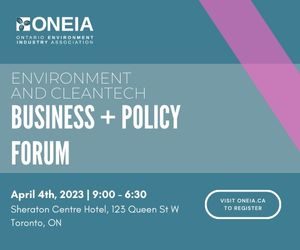 The webinar team consists of Content Director Corinne Lynds, Editor Connie Vitello, Event Directors Sarah Wensley (and Natasha Mawji for the inaugural EnviroExchange), and Actual Media President Todd Latham.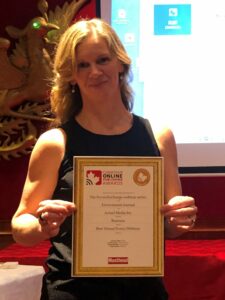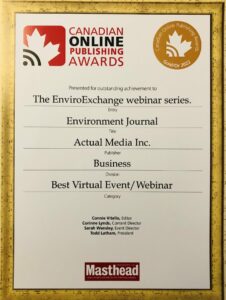 Corinne Lynds, content director of Actual Media Inc. and the moderator of the EnviroExchange webinar series.
"We are thrilled and honoured to be recognized by the COPAs," said Vitello. "We introduced this webinar series in 2021, so it's nice to know we're off to a good start. A significant amount of research and preparation goes into curating our diverse panels and the content covered at every one of our webinars, with a goal to both inform and inspire as we engage thought leadership in the environment industry and the growing green economy."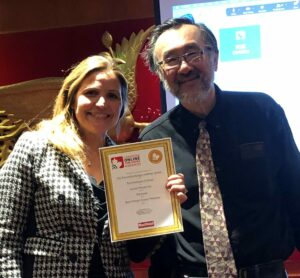 Connie Vitello, editor of Environment Journal and the EnviroExchange series, and Martin Seto, media consultant and director of the COPAs.
The COPAs showcases Canadian content creators and helps move the needle forward for their brands on the global stage. The COPAs was started in 2009 as an industry showcase of the best digital content creators in the magazine and newspaper industries. Over the past 14 years it has become the largest digital publishing awards program in Canada with four divisions — Academic, B2B, B2C, and News/Sports — with a mandate to reflect Canada's multicultural diversity whenever possible.
The entries are reviewed by leading experts in the digital publishing field in Canada, representing a variety of content, creative, digital, web, tech marketing, media, and publishing experts.

To view the complete list of COPA finalists and winners, visit: https://canadianonlinepublishingawards.com/2022/winners
For further information on the EnviroExchange webinar series, visit: