For Quebec and all of Canada, the science and economic analysis are clear: getting to net-zero emissions in the next 30 years is essential to avert the worst impacts of climate change and presents the earliest movers the greatest chance to benefit from the opportunities driving a clean economy.
Yesterday, Steven Guilbeault, Minister of Environment and Climate Change, outlined the Government of Canada's support for a net-zero emissions economy in Quebec while speaking at Americana 2023, one of the largest environmental events in North America.
The Minister delivered a speech entitled, "Répondre à l'urgence climatique, c'est bâtir l'économie de demain", that outlined the increasing role businesses are playing to achieve net-zero emissions. The federal government is helping foster economic environmentalism through a range of policies, including the launch of the independent Net-Zero Advisory Body, to provide advice on the most likely pathways for Canada to reach net zero.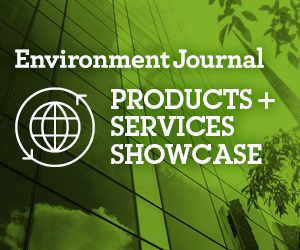 "Achieving net-zero emissions by 2050 is not just a plan for the environment, it is a plan to build a cleaner, more competitive economy. Canada is well-positioned to provide the world with the cleanest products and services that will create good jobs for Canadians for decades to come," said Guilbeault. "Investments in research that support independent advice and new perspectives on pathways for action are the best way to ensure sound evidence-based decision-making and foster the conditions for successful, sustainable improvement."
The Minister noted newly announced funding to support five new Quebec-based research projects selected by the Net-Zero Advisory Body to inform the Advisory Body's efforts. With investments totalling just over $3 million in the province of Quebec from the Climate Action and Awareness Fund, researchers from Polytechnique Montréal, Electric Mobility Canada, Québec Net Positif, and the Institut du Québec will undertake studies that vary from evaluating the risks and opportunities linked to strategic metal extraction and biomass, to finding how best to help small- and medium-sized enterprises understand their role in a net-zero Canada.
These projects are part of 16 new initiatives across the country totaling close to $10 million that are being funded to support the Net-Zero Advisory Body's goals, and to identify, accelerate, and evaluate mitigation actions that can help Canada achieve net-zero greenhouse gas emissions by 2050.
Protecting the environment and growing the economy are not mutually exclusive. In fact, environmental action on climate change has become the driving force for economic opportunity in the 21st century. By investing in clean technology and gathering insight on how to reach net zero, the Government of Canada is moving in the right direction to the ultimate destination of a clean and prosperous Canada.
"The Net-Zero Advisory Body is proud to announce this new research to help inform our independent advice on Canada's pathways to net zero. We hope these projects will also catalyze new ideas and insights for researchers and policymakers across Canada," said Marie-Pierre Ippersiel, president and CEO of PRIMA Quebec and co-chair of the Net-Zero Advisory Body.
Snapshots from Americana: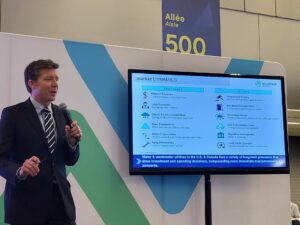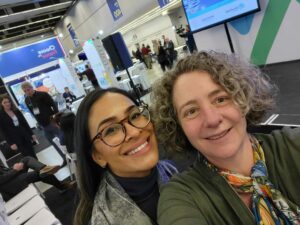 Left: Reese Tisdale, president and CEO of Bluefield Research at the SANEXEN Innovation Hub this morning shared his views on the water sector in his presentation, entitled The Future of Water: Key Trends to Watch in 2023 and Beyond. "With rapidly aging water infrastructure, more investments in the water sector are needed. We are going through a silver tsunami – the demand for services has never been higher, as many of the workforce is retiring or leaving," said Tisdale.
Right: Jackie Pagaduan, business development manager of Environment Journal, and Catherine Luzena, agency director of Actual Media enjoying the exhibit area and networking with thousands of attendees expected at this year's Americana.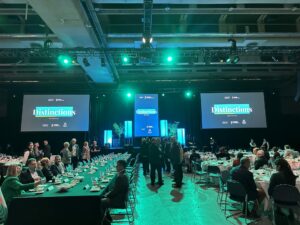 Left: The Distinctions Ceremony held today during the 2023 Americana conference. Since 2000, Réseau Environnement has been awarding the Distinctions Awards, which aim to honour members in various fields of expertise and recognize Quebec's excellence and know-how in environmental matters and highlight the dedication and work of its members.
Right: Simon Meunier, senior director of Environment at SANEXEN Environmental Services Inc., a subsidiary of LOGISTEC Corporation, was awarded today the "Next Generation Distinction Award" by Réseau Environnement. (Photo credit:Sanexen.)
"I want to thank Réseau Environnement for this award, it's a great honour," said Simon Meunier, senior director of Environment at Sanexen, who won the event's Distinction award. "The work we do is often very complex, but incredibly rewarding. We have several major projects for 2023 – including the site remediation for the Couchiching First Nation in Ontario and for the former Aleris plant in Québec – I look forward to continuing our work in the field with our teams."
This prestigious award is presented to an environmental professional under 35 years who has demonstrated innovative, outstanding and above-standard actions and achievements, that are also sustainable and have a social impact.
With his expertise, teamwork and remarkable achievements, Meunier has risen through the ranks of the company, starting as a project manager. In his young career, he has completed over $100 million worth of projects in both Quebec and Ontario, and has helped treat millions of litres of water and tonnes of soils.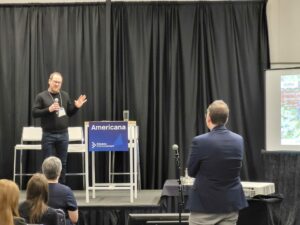 Jérôme Dupras, professor at the Department of Natural Sciences at UQO, Canada Research Chair in Ecological Economics answers questions about how to meet the target of protecting 30 per cent of the land and oceans by 2030.
For further information on Americana, visit:
Featured image: Americana's opening plenary "Between sustainable growth and planetary boundaries: what economy for the 21st century?". The Honourable Steven Guilbeault, Laure Waridel and Louise Hénault-Éthier discussed the issues of the triple global crisis, finance, circular economy, artificial intelligence and biodiversity. Photo credit:  Melanie Olmstead Photographe.