The Great Lakes Plastic Cleanup has announced that the Georgian Bay Forever organization has joined its initiative.
The environmental charity is dedicated to the protection, enhancement and restoration of Georgian Bay's aquatic ecosystem and has a long history of supporting scientific research and education initiatives in the region.
Georgian Bay Forever joins a rapidly-growing list of collaborators and supporters that are expanding the scope and impact of the Great Lakes Plastic Cleanup.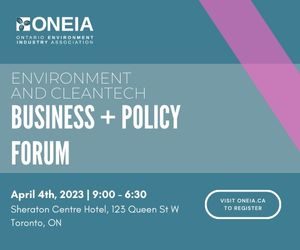 "We are really pleased to welcome Georgian Bay Forever to the Great Lakes Plastic Cleanup," says Christopher Hilkene, CEO of  Pollution Probe. "They have been doing great work in Georgian Bay for a long time, and we knew that their expert knowledge of the area and their strong ties to the communities would be invaluable in getting the program successfully established in the Georgian Bay watershed."
As a member of the Great Lakes Plastic Cleanup, Georgian Bay Forever is helping to bring more marinas that are using the Seabin and LittaTrap technologies into the Great Lakes Plastic Cleanup network. Georgian Bay Forever will serve as the lead waste characterization team in the area, providing insights on the types and sources of plastic being collected by these diversion technologies, adding insight to Georgian Bay Forever's current local plastic pollution mitigation programs and augmenting the wider Great Lakes Plastic Cleanup objectives. Georgian Bay forever will also conduct outreach and public education activities to raise awareness of plastic pollution issues locally.
"More seabins will translate into significantly more data evidence of specific types of plastic litter and the human behaviours that lead to them getting in the water," says David Sweetnam, executive director of Georgian Bay Forever. "We are proud and honoured to join this collaboration that will empower increased action needed to staunch so much continuous plastic waste accumulating in the Great Lakes basin."
The binational Great Lakes basin is the largest freshwater system in the world, and supports a population of more than 30 million people as well as rich and diverse aquatic and coastal ecosystems. As a result of human and industrial activity throughout the basin, plastic pollution in the lakes has reached alarming levels. A key goal of the Great Lakes Plastic Cleanup initiative is to begin capturing and cleaning up plastics environment while studying plastic pollution sources and pathways and educating coastal communities about the importance of recycling and proper litter disposal.
For further information, click here:
The Great Lakes Plastic Cleanup
Council of the Great Lakes Region