GLOBE Series, in partnership with Toronto Pearson International Airport and the City of Mississauga, launched the Climate and Sports Initiative on February 11, 2020 at GLOBE 2020 in Vancouver, British Columbia.
This program is the first program of its kind in Canada that uses sport as a platform to educate, engage and empower Canadians to protect the planet for future generations. The multi-year initiative will harness the power of sports to raise awareness about the impacts of climate change and to equip the public with concrete actions they can take to address it.
The first campaign announced under the Climate and Sports Initiative is "Save Pond Hockey," a series of community events involving Canadian Olympians that kicks off at Toronto Pearson in summer 2020. The inaugural event will feature one of Canada's most decorated athletes, Hayley Wickenheiser, a former professional hockey player who represented Canada five times at the Winter Olympics. The event will invite members of the public to take part in a shoot-out with Wickenheiser and other VIPs, while also making personal climate pledges that will be supported by a social media campaign. Information stations and in-person experts will be on hand to provide tips on how Canadians can make a difference at home and in their communities.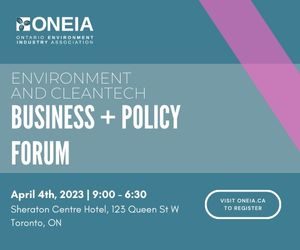 Meghan Agosta, Olympic Gold and Silver medalist and member of the Canada women's national ice hockey team, attended GLOBE for the launch. "As a professional athlete, I am excited to be part of an initiative focused on two things I really care about: addressing climate change and preserving the game I love. It's inspiring to see business, government and the next generation of climate leaders working together on the Climate and Sports Initiative and making a difference," said Agosta.
"Pond hockey and playing on the outdoor rink has given me everything that I have in my life, and I want my kids and grandkids to have the same opportunity," states Hayley Wickenheiser, former professional hockey player and five-time Olympian. "I'm proud to be part of the Climate and Sports Initiative, where we can use sports to engage, inspire and educate Canadians and people around the world to save our climate." Click here to watch a video message from Ms. Wickenheiser.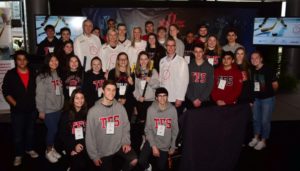 In white jerseys from left to right – founding partner Todd Ernst, Director Aviation Infrastructure, Energy and Environment, Toronto Pearson; founding municipal partner, Mayor Bonnie Crombie, City of Mississauga; Meghan Agosta, Canadian Olympian and member of the Canadian Women's National Hockey Team; and Mike Gerbis, CEO of GLOBE Series – with students from Terry Fox Secondary at the launch of the Climate and Sports Initiative  at GLOBE 2020. Photo credit: GLOBESeries.com.
"Canada's national sport provides a common language for talking about how our everyday choices affect the way we live, work and play," said Mike Gerbis, CEO of GLOBE Series. "The Climate & Sports Initiative will empower every Canadian to get in the game when it comes to fighting climate change."
The next phase of the program is expected to include a mentoring program that connects Canadian Olympians with schools and other community partners. The Olympian ambassadors will be trained on how people can take action so they can educate and empower communities to stop climate change in its tracks.
The Greater Toronto Airports Authority (GTAA) climate change initiatives focus on reducing greenhouse gas (GHG) through energy reduction and adapting the airport to the changing climate. Because of these initiatives, it has received Level 3 certification in Airports Council International's Airport Carbon Accreditation program. As of this year the GTAA has achieved a 20 per cent reduction in GHG emissions from a 2006 baseline, and aims to achieve an 80 per cent reduction in GHG emissions by 2050.
A York University study predicts that by the late 21st century, 35,000 freshwater lakes — across three continents and 50 countries — could see permanent ice loss from warming winters if the global climate warms beyond the two-degree target set by the Paris Agreement. More than 40 per cent of the lakes with reduced ice levels in the late 21st century are in Canada.
For further information about this initiative, click here.
Featured image by Taylor Friehl (taylorfriehl.com).