Hundreds of "brownfielders" gathered in Toronto on November 26, 2019 to celebrate the winners of the 20th annual Brownie Awards. The awards recognize builders, innovators and visionaries who are dedicated to the rehabilitation of brownfield sites that were once contaminated, underutilized and undeveloped into productive residential and commercial projects.
The annual event is hosted by Actual Media in association with the Canadian Brownfields Network (CBN). The annual event is a forum to celebrate the accomplishments of those who are transforming brownfield properties across Canada into thriving assets that contribute to healthy communities. More than 230 brownfielders attended this year's event.
"As in-fill becomes a higher priority for Canadian municipalities, it's important to recognize the hard work and dedication of the architects, consultants, developers and contractors who turn these unoccupied and often derelict properties into valuable developments," said Andrew Macklin, member of the 2019 Brownie Awards Jury and the CBN board of directors.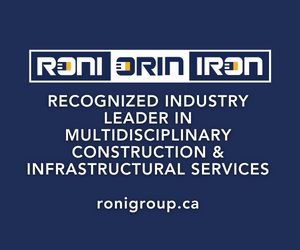 There are 10 awards presented as part of the annual event. The first six awards recognize project and program excellence in the categories of: Reprogram, Remediate, Rebuild, Reinvest, Renew and Reach Out. There are three additional awards for Best Small-Scale Project, Best Large-Scale Project and Best Overall Project, which are selected from all of the nominations received. The final award recognizes the "Brownfielder of the Year". Overall, this year's winners represented six different Canadian provinces: British Columbia, Saskatchewan, Manitoba, Ontario, Quebec and New Brunswick.
From left to right: Actual Media's Todd Latham and Krista Barfoot of Stantec present Andrew Decontie and Wanda Thusky of Decontie Construction with the
Brownfielder of the Year award. 
The Brownie award winners are as follows:
REPROGRAM: Legislation, Policy and Program Initiatives
Waterloo Brownfields Financial Incentive Program, Waterloo, Ont.
REMEDIATE: Sustainable Remediation and Technological Innovation – Tie
Anaerobic Bioremediation, La Ronge, Sask.
Sanexen Petromont, Varennes, Que.
REINVEST: Financing, Risk Management and Partnerships
Park City Commons, Winnipeg, Man.
REBUILD: Redevelopment at the Local, Site Scale
Avenir Centre Sustainable Remediation, Moncton, N.B.
RENEW: Development at the Community Scale
Armour Road, Peterborough, ON
REACH OUT: Communications, Marketing and Public Engagement
Waterfront Plan – Town of Ladysmith, Ladysmith, B.C.
BEST SMALL PROJECT
Temporary Modular Housing, Vancouver, B.C.
BEST LARGE PROJECT
Emily Carr University of Art and Design, Vancouver, B.C.
BEST OVERALL PROJECT            
Waterfront Toronto – Cherry Street Stormwater Lakefilling and Soil Reuse Program Approval, Toronto, Ont.
BROWNFIELDER OF THE YEAR
Andrew Decontie & Wanda Thusky – Decontie Construction, Kitigan Zibi, Que.
For further information, visit brownieawards.ca.
Featured Image: Keynote Speaker Brian Sutherland of Argo Development Corp. addresses a packed house at the 2019 Brownie Awards.