François-Philippe Champagne, minister of infrastructure and communities, and Jennifer Innis, chair of the Toronto and Region Conservation Authority's (TRCA) Board of Directors, announced funding for erosion protection initiatives in the City of Toronto, Peel Region, and York Region.
"Taking measures to prevent erosion along the ravine system will help protect families and businesses in Toronto, Peel, and York during severe storms and the spring thaw," said François-Philippe Champagne, minister of infrastructure and communities. "Investing in infrastructure increases the quality of life of residents and their children. These investments create good, well-paying middle-class jobs, and set the stage for long-term economic growth that benefits everyone."
In recent years, severe storms in the Toronto region have caused significant erosion that has, damaged residential and commercial properties, recreational trails, roads, watermains, and sanitary sewer lines. Erosion has made these sites more vulnerable to future severe weather events. In response to this, the Toronto Region Ravine Erosion Management and Hazard Mitigation Project will address erosion at 111 locations in the Region of Peel, York Region, and the City of Toronto over the next 10 years.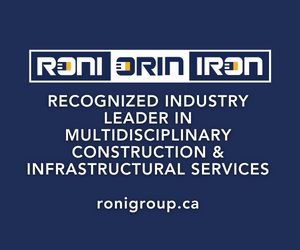 "The Toronto and Region Conservation Authority is committed to protecting people, property, and reducing the potential for costly erosion damage in our jurisdiction," said Jennifer Innis, Chair of TRCA's Board of Directors. "The Toronto Region Ravine Erosion Management and Hazard Mitigation project will help TRCA and our partners reduce negative impacts from erosion and make our communities more resilient. We look forward to working with our municipal partners to implement this plan thanks to the Government of Canada's generous contribution."
Work being done as part of this project includes protecting local homes and roads from slope instability, safeguarding public spaces like Brampton's Don Doan Recreational Trail, Thornhill's Bercy (Wycliffe) Park, and Toronto's Ernest Seton Park.
"We appreciate the funding announced by the Government of Canada for erosion protection," said Patrick Brown, mayor of the City of Brampton. "We have a vast network of trails in Brampton that will benefit from this initiative. Our staff at the City of Brampton will work in cooperation with the TRCA to keep our residents, trails, and commercial properties safe from natural disasters."
The Government of Canada is contributing over $22 million to this project through the Disaster Mitigation and Adaptation Fund. TRCA's partner municipalities are covering the remainder.
"This funding will help address erosion throughout the Humber River watershed and mitigate the severe impacts erosion has on communities in Caledon and Peel Region," said Allan Thompson, mayor of the Town of Caledon. "I want to thank our federal partners for making key investments in municipal infrastructure that will sustain and protect our natural and built environment."