On February 5 and 6, 2020, more than 400 attendees gathered at the National Arts Centre in downtown Ottawa for the Nature-Based Climate Solutions Summit. With a number of major climate action opportunities on the horizon, such as the emergence of the United Nations Nature-based Solutions to Climate Coalition and the Post-2020 Convention on Biological Diversity, Canadians are mobilizing to make the most of the moment.
The summit brings together a growing constituency of non-governmental organizations, institutions, businesses, Indigenous nations, municipalities, provinces and territories that support federal action and investment.
Minister of Environment and Climate Change Jonathan Wilkinson delivered an address to discuss Canada's commitments to nature-based solutions. He stated that the federal government has made a commitment to plant billions of trees, create a natural climate solutions fund, and protect 30 per cent of Canada's lands and oceans by 2030.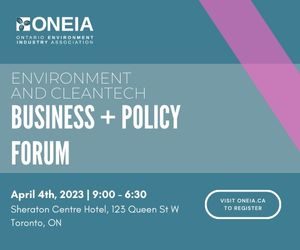 The organizing principle behind the agenda for the summit is "moving from big ideas to specific actions." Focus areas include nature-based climate change mitigation, ecosystem restoration and adaptation, natural infrastructure, protected areas, and Indigenous-led approaches.
Sessions have been organized around key landscapes – forests, wetlands, oceans and coasts, agricultural and grasslands, and urban areas and community landscapes – and by important opportunities such as carbon offsets, Indigenous-led conservation, policies and funding.
Donna Chiarelli was one of the many expert speakers to participate. Chiarelli is an asset management advisor to the Municipal Natural Assets Initiative, a nongovernmental organization that employs practical strategies to value nature's ability to provide municipal services and to incorporate this information into mainstream asset management systems.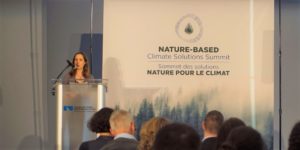 Photo from David Suzuki Foundation.
"Nature can provide critical municipal services in perpetuity if well-maintained and protected," said Chiarelli. "Sometimes with real cost savings to communities when compared to the costs of grey infrastructure."
The summit was organized by a Steering Committee that includes many of Canada's leading nature and conservation organizations, including: Birds Canada; Canadian Freshwater Alliance; Canadian Parks and Wilderness Society; Canadian Wildlife Federation; Climate Action Network; David Suzuki Foundation; Environmental Defence; International Union for Conservation of Nature/World Commission on Protected Areas; Nature Canada; Nature Conservancy of Canada; Nature United; Wildlife Conservation Society Canada; and WWF Canada.
The following organizations were also involved in the design and preparation of the summit: ALUS Canada, Ducks Unlimited Canada, Équiterre, Natural Resources Defense Council, SeedChange, and West Coast Environmental Law.
To view a live stream of the event, click here.
Featured image from Environment Canada: Minister of Environment and Climate Change Jonathan Wilkinson.