By Zack Metcalfe
Over the holidays, when most Maritimers are battling the cold and dark with hot chocolate and festive sweaters, they've come to expect their fair share of gifts, everything from the latest gaming console to corny coffee mugs. What they don't expect is a hyper-efficient LED lightbulb thrust into their hands by an elected representative or member of municipal staff, as though it were candy or holiday cheer. But such is life in the Town of Quispamsis, New Brunswick.
For this headstrong community of 19,000 and counting, there's no efficiency or sustainability initiative too small to be taken seriously. Every April, municipal staff, the mayor, and councillors wade into community ditches to wrest garbage from the mud; the community holds prize draws for water barrels so winning residents can store rain water for use in their gardens; and yes, instead of caroling through the streets on Christmas, the public servants of Quispamsis hand out hundreds of LED lightbulbs, sidestepping the messy business of efficiency subsidies and empowering residents directly to cut their energy use, however marginally. Hey, it beats a lump of coal in more ways than one.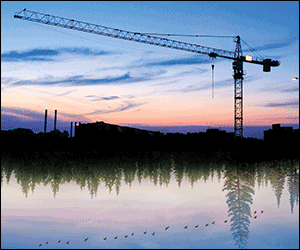 "We don't mind jumping into the ditches and getting our hands dirty," said Councillor Emil Olsen, who is presently serving his 28th year on Town Council and is unabashed in his political priorities – efficiency in all things, for the benefit of both the environment and pocketbook. He's always been like that, and, in his considered opinion, so has the community.
Quispamsis was the first municipality in New Brunswick to become a Partner for Climate Protection with the Federation of Canadian Municipalities back in 1998, committing to a series of planning and inventory exercises in order to address the community's carbon emissions, and Olsen himself has served on Council's Climate Change Committee since it was formed in 2005.
"The Town of Quispamsis has always been on the leading edge of involvement," says Olsen.
In 2019, five students from École des Pionniers Elementary School in Quispamsis addressed Council on the issue of climate change, and asked them to follow the lead of other Canadian municipalities, like Halifax and Vancouver, in declaring a climate emergency. As explained by Mayor Libby O'Hara, who was Deputy Mayor at the time, Quispamsis couldn't oblige, as municipal policy prohibits declarations in general, but they invited these students and others at the school to participate in the political process, a partnership which eventually resulted in a total ban on plastic bags at retailers throughout the Greater Saint John region, effective July 1, 2021. O'Hara credits the students.
While most of their moves have been modest to date, and not always related directly to carbon, some initiatives have been both bold and consequential. Elson points to the so-called Quispamsis QPlex, a state-of-the-art community facility completed in 2011 which has since won LEED Gold certification for its creative use of resources.
The interior and pool are heated geothermally, toilets flush with rainwater collected on the roof, its urinals do away with water altogether, the hockey arena is maintained by an electric Zamboni (these are typically diesel powered), lighting is operated by motion sensors and the facility is surrounded by 80 acres of public land supporting community events and multiple walking trails for exercise and active transportation. The QPlex was a $24 million project.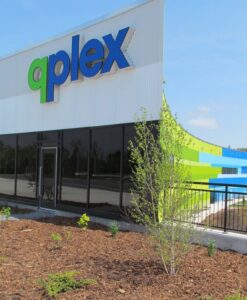 Quispamsis QPlex, a state-of-the-art community facility which won LEED Gold certification for its resource efficiency.
There is also the community's Meenan's Cove Wastewater Treatment Project, an engineered wetland constructed in 2013 to harness the complicated relationship between specially selected species of reed, an engineered soil matrix and bacterial communities in order to break down municipal waste, all without the regular use of chemicals or electricity. Maintenance of this wetland is minimal, odours are marginal, and ongoing costs are low.
But the realities of climate change call for more significant and consistent progress on carbon specifically, so Quispamsis' Town Council set specific emission reduction targets in July of 2018. Emissions from the operation of the Town would be reduced 12 per cent by 2025 below 2015 levels, they decided. For the community as a whole, they resolved to lower carbon emissions 8 per cent by 2025 and 16 per cent by 2035, again using 2015 as their baseline.
In order to accomplish this, Quispamsis is working with QUEST (a national non-government organization that works to accelerate the adoption of efficient and integrated community-scale energy systems in Canada) as a participant in their Smart Energy Communities Accelerator Program, which will assist participants by equipping them with the tools and knowledge to develop and implement community energy plans and understand the economic benefits they can provide.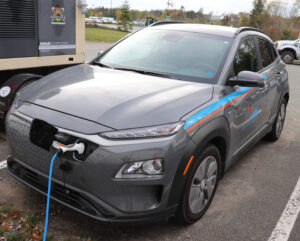 An electric vehicle in the Quispamsis municipal fleet.
Olsen said he's not sure what next steps will look like or where QUEST will lead them. He only knows that Quispamsis as a community is prepared for stronger action on climate change, and that they are fortunate to have qualified and ambitious municipal staff to carry it out. He fully expects they'll be addressing the electrification of transportation and the need for more efficient residential heating.
While QUEST's recommendations are still forthcoming, he hopes they will include residential energy audits, specifically examining the efficiency of walls, windows and doors in holding heat throughout winter, and the efficiency of household appliances accounting for the majority of residential energy use.
"There's a lot of things going on in Quispamsis," he said, "and I think with QUEST's involvement and leadership, they can help our community reach its targets."
Zack Metcalfe is a freelance journalist, columnist, and author active across the Maritimes. This article was provided courtesy of QUEST, on behalf of the Powered By Communities and New Brunswick Smart Energy Communities Accelerator Pilot Program.