Ontario's Minister of the Environment, Conservation and Parks, Jeff Yurek, was one of the speakers featured on the first day of the 2020 Association of Municipalities of Ontario (AMO) annual conference today.
The AMO conference, which runs to August 19, will be offered entirely online – a first in the more than 120-year history of the event. The conference has been called Canada's most comprehensive gathering of government leaders since the global pandemic began. More than 1,300 people are participating through an online platform.
"COVID-19 has changed our world. We need the AMO conference now, more than ever. As always, it provides the opportunity to come together, to learn from one another, and to find solutions to pressing challenges," said Jamie McGarvey, president of AMO and Mayor of Parry Sound.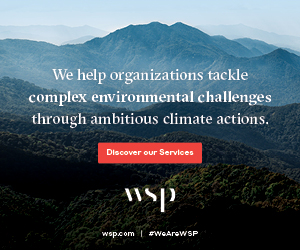 Minister Yurek addressed a virtual delegation on the transition of the Blue Box to full producer responsibility. "It's my commitment that once transitioned, the Blue Box program will continue to be convenience and accessible for all people in Ontario," he said.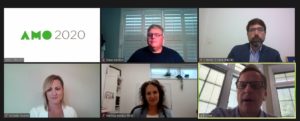 Minister Jeff Yurek (bottom row, far right) participates in the
Blue Box session at the AMO Conference.
Credit: Amber Crawford, policy advisor at AMO.
The Ministry of the Environment, Conservation and Parks, along with the Ministry of Municipal Affairs and Housing, recently announced a plan to transition the management of Ontario's Blue Box to producers of plastic and other packaging.
The province has directed Stewardship Ontario and the Resource Productivity and Recovery Authority to gradually transition the program from 2023 to 2025. The timeline is meant to ensure a seamless and orderly transition.
Municipal governments have been advocating for this shift for more than a decade. This is an important achievement for municipal governments, as the transition to full producer responsibility place the responsibility for recycling on those that have the greatest ability to make change – the producers.
Starting this fall, the ministry will be consulting on the development of regulations to support the new producer responsibility framework.
The AMO released a statement indicating that it is pleased that the province is taking the necessary steps to fix the current Blue Box program and set the province on the path to be a global leader once again.  Municipal governments have raised concerns for many years about rising costs, stagnant recycling rates, and the increasing amount of waste generated.
"This is an important step forward in the evolution of Ontario's iconic Blue Box. It puts the responsibility for recycling on those that have the greatest ability to make change – the producers," said McGarvey. "Residents may not see a big difference at the curb, but it will make a difference for our environment, spur more innovation and importantly, lower costs for taxpayers."