By Zack Metcalfe
Retooling old buildings for energy efficiency might not generate the same excitement as solar arrays, wind farms, or electric vehicles. But the places we seek shelter in have profound impacts on the size of our carbon footprints and the quality of our lives: sustainability, for both people and the planet, begins at home.
Gordon Hart has spent much of his career grappling with this simple truth. A soft-spoken man with big ideas, he cut his teeth in the energy field as a building inspector with Nova Scotia's Department of Municipal Affairs and Housing in the 1980s. Hart ascended to the role of housing manager with the Department before following his passion for residential health and wellness and becoming a certified indoor air quality investigator in Winnipeg. Eventually, he returned home to the Wagmatcook First Nation reserve on Cape Breton Island, taking on the role of community construction supervisor. Homes built during his tenure routinely earned Energy Star scores of 86 or higher, "top performers" in the arena of energy efficiency.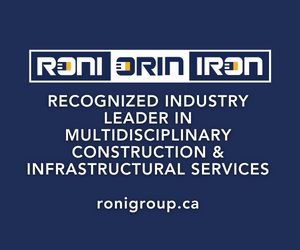 "It's not rocket science," says Hart of his track record. "You basically just pay attention to the details."
Gordon Hart, project manager with Efficiency Nova Scotia. Image credit: Efficiency Canada.
Details such as the integrity of a building's envelope, the quality of its insulation, and, of course, its source of heat: all of which are as relevant to old buildings as they are to new ones.
In 2018, these details became the foundations of the Mi'kmaw Home Energy Efficiency Project (MHEEP), a partnership between Efficiency Nova Scotia and the province's 13 Mi'kmaq communities, which Hart was recruited to help design and implement. His goal from the start was nothing less than to retrofit all 2,400 band-owned buildings in Nova Scotia, with strategies like draft-proofing, improved insulation, and high-performance heat pumps, in order to reduce the cost of heating and the associated greenhouse gas emissions.
"It was ambitious," Hart admits.
To meet the project's targets, he designed MHEEP to be as streamlined and efficient as possible. For one thing, he made sure the project's point-person in each community was the band's own housing manager: someone who not only lived and worked on-site, but who had the authority and local connections to make informed decisions in a timely manner. He also insisted that each reserve choose its own contractor to do the actual retrofits, allowing them to select businesses which had relationships and built trust in the community. In this way, Hart had boots on the ground in year one of the project; by the end of 2021, Efficiency Nova Scotia was upgrading 450 buildings to completion, with several hundred more awaiting their final energy assessments.
Image credit: Efficiency Nova Scotia.
With $14 million in combined support from the provincial and federal governments, funding hasn't been a limiting factor for the project. Hart can provide the necessary labour and equipment at no cost to the communities. Instead, the problem has been a lack of things to spend it on. One of the many impacts of the COVID-19 pandemic has been a widespread disruption of supply chains, which has limited access to basic supplies. Progress ground to a halt this spring, for instance, due to a simple shortage of electrical switches. Despite these challenges, the number of homes completed each year has risen steadily.
And the benefits of the project are already being felt. Residents in retrofitted buildings are saving an average of $750 on heating costs annually, as well as reducing their carbon dioxide emissions by two to three tonnes.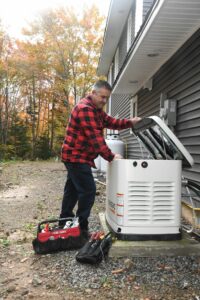 Al Gould of Eskasoni owns Al Gould's Electrical and is one of the contractors for the Mi'kmaw Home Energy Efficiency Project (MHEEP); 80 per cent of contract work done through MHEEP is completed by community-preferred partners. These are qualified contractors that have worked within–or are from–the community, recommended by housing managers. Gould has been with MHEEP since the start of the project in 2018.
Hart has seen other benefits that are not so easily quantified. Families in retrofitted houses have reported being able to reinvest the money they are saving on their heating bills into other parts of the buildings. Elders who were being driven from their homes by excessive heat in the summer and cold in the winter have reported being able to comfortably enjoy their domiciles year-round. And residential air quality has been on the rise too, thanks to the extra airflow from heat pumps. There has been less frequent use of oil furnaces and wood stoves, because he had contractors service the ventilation systems of participating homes during retrofits, a priority carried over from his days as an air quality investigator. Stories like these are now common across the 13 reserves.
"Most of the conversations about our work in these communities have been very, very positive," says Hart.
A key to sustaining these positive impacts are sustained is ensuring that the new equipment can be maintained by residents themselves and by the professionals installing them. This is another reason Hart wanted each community to choose its own contractor: so that these local businesses could become more familiar with the technology and thus be able to service it down the road. He also made sure that all residents receiving retrofits were given a crash course in the function and maintenance of their heat pumps. Regularly cleaned filters go a long way towards ensuring efficiency and performance.
In terms of sustaining these efforts beyond the community scale, there is a shortage of energy efficiency professionals in Nova Scotia generally — energy advisors in particular. If building energy retrofits like ones implemented through MHEEP are going to become widespread — and Hart fully expects they will, given the new federal rebate programs — the energy efficiency sector is going to need more qualified people to make them happen.
Image credit: Government of Nova Scotia.
In order to recruit them, Hart is turning again to the Mi'kmaq. He recently took on a new portfolio with Efficiency Nova Scotia, becoming the education and outreach specialist for the region of Atlantic Canada. The role will focus on encouraging the First Nations of Nova Scotia, New Brunswick, Prince Edward Island, Newfoundland, and Labrador to take up careers in the energy efficiency sector, and helping them to navigate the twists and turns of training and certification.
In this way, Hart hopes to prepare these communities, and Atlantic Canada at large, for an energy conscious future. The program is being designed in collaboration with the communities it will serve, and its exact shape remains to be seen.
"It's exciting," he says of his new role. "We need to go forward with a vision, to change our habits and see what we can do for Mother Earth."
Zack Metcalfe is a freelance journalist, columnist and
author active across the Maritimes.
Featured image credit: stock photo.