National non-profit Indigenous Clean Energy (ICE) highlighted Indigenous and community-led renewable energy projects as the future of climate action during COP27, the 2022 United Nations Climate Change Conference in Sharm El Sheikh, Egypt.
Indigenous nations in Canada are leading the clean energy transition on their own terms. With thousands of small to large-scale renewable energy and energy efficiency projects completed, there are many teachings and adaptable pathways that can be shared. Indigenous Clean Energy (ICE) attended COP27 with the goal of fostering Indigenous-to-Indigenous clean energy knowledge sharing and support as it is necessary for the safeguarding of Mother Earth and generations to come.
"Developing clean energy projects that adhere to and advance the Sustainable Development Goals is central to the cultures of Indigenous peoples around the world. That requires local clean energy leadership and project ownership – a future Indigenous Clean Energy (ICE) is honoured to champion," said Chris Henderson, executive director of ICE.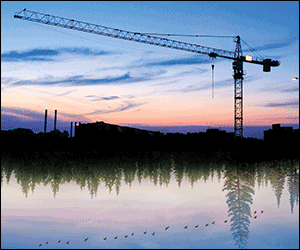 As the leading platform in accelerating First Nations, Inuit, and Métis participation in clean energy projects in Canada from coast to coast to coast, ICE supports Indigenous Peoples to be clean energy change agents through capacity building, skills development, career training, and mentorship with high-quality and hands-on programming that is by, for and with community. ICE believes that the thousands of Indigenous clean energy leaders, technical experts and their experiences could support Indigenous communities from other countries to advance their own visions of energy sovereign futures.
The continual impacts of colonization have created harsh realities for Indigenous communities worldwide: energy poverty, human rights exploitation, resource extraction, intergenerational trauma and more. The global clean energy transition is an opportunity for restoration, repatriation and revitalization through the support of community-led practices and programs.
"We look to our Indigenous kin from around the world – together we will provide each other strength, we will share our knowledge and we will continue to grow stronger nations everyday," said Daphne Kay of the Cowessess First Nation.
"Attending COP27 was a tremendous opportunity to connect with other Indigenous Peoples, grassroots organizations, and Nation Leaders from around the world. Building a community of support is central to meeting our climate action goals and continuing our long-standing obligation of being responsible stewards of the land for future generations."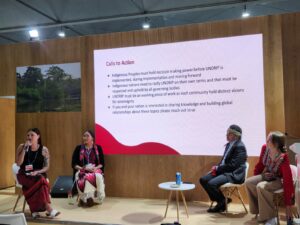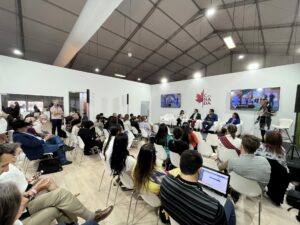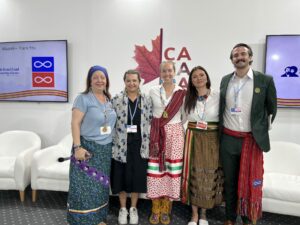 "Educate the young people. Let them know they are strong. Let them know they are smart. Let them know they are wanted. They can do this. We can do this. We are Indigenous," said Blaine Chislett of the Rankin Inlet at the youth event.
While at COP27 the ICE delegation built strong relationships, forged new partnerships, participated in numerous speaking events and held an external connection event.
The ICE delegation brought forth many examples of systems created in a good way such as: collective community energy planning; fair partnership models; capacity-building by and for communities; more equitable policy adaptions; more accessible funding programs; shifts in utility mechanisms and much more.
The delegation made the following calls to action throughout the COP27:
Respect, adhere and act on the United Nations Declaration on the Rights of Indigenous Peoples
Indigenous knowledge and ways of being are sustainable climate action
Ground all climate work in human rights and environmental protection and restoration
Invest in communities rights and support mechanisms that lead their own energy futures
Implement collective decision-making practices into processes and policies
Create funding and capacity-building programs by and for the people they are intended to impact
Create pathways for Indigenous communities to hold meaningful equity ownership in clean energy projects
Read more about ICE's participation at COP27 here.
Written with files from Sydney Vandale, communications manager at ICE.
Featured image of the ICE team with delegates at COP27, from left to right: Mihskakwan James Harper, Freddie Huppé Campbell, Daphne Kay, Jordyn Burnouf, Alexandra Thomson, and Blaine Chislett.