The Canadian Environmental Resource Guide is the most complete national listing of major environmental companies, federal and provincial agencies, municipal governments, associations, and law firms, plus over 200 pages of industry statistics and conferences.
The team at Actual Media, in conjunction with our colleagues at Grey House Publishing, is proud to present the 25th edition of the Canadian Environmental Resource Guide — the most complete national listing of environmental companies, governmental agencies, municipal governments, associations, and law firms, including more than 200 pages of industry statistics and events.
Actual Media is a leading national source of industry information in the environment, water, and infrastructure industries. The Guide is part of our environmental content platform — EnvironmentJournal.ca — and industry events that we produce and facilitate. These events include: the EnviroExchange webinar series, which shines a spotlight on the most important environmental issues and features a diverse range of leading industry experts; the Brownie Awards, which recognizes the best in contaminated sites remediation and redevelopment across the country; the Excess Soils Symposium, which provides a national overview of regulations and best practices for excess soils from construction and cleanup projects; and more.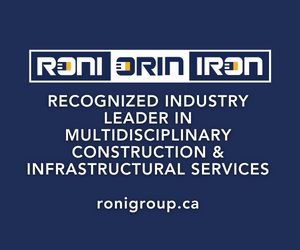 The past couple of years of pandemic ups and downs has taught us an important lesson about overcoming seemingly impossible obstacles. When push comes to shove, Canadians have proven that they can work together, be resourceful and create effective solutions. So, when we experience an alarming amount of extreme weather and face dire data pointing to a climate crisis, I'm optimistic we can apply lessons learned to enable effective climate action. The sooner the better, as Canada's North is warming up three times faster than the global average.
For its part, the Government of Canada has never had a more robust Climate Plan, delivering on historic policy and investments to accelerate the important work of adapting to the impacts of climate change. These new measures include capping and cutting oil and gas sector emissions, further reducing methane emissions, mandating the sale of zero-emissions vehicles, and setting us on a path to achieve an electricity grid with net-zero emissions. This plan, supported by the Net Zero Emissions Accountability Act, recognizes that working to achieve our climate action targets on time will contribute to making Canada's environment more resilient and sustainable, while it helps the cleaner, greener economy be more resilient and competitive.
But our success won't happen with silos. Collaboration across the country and partnerships between government and industry are necessary, as is having up-to-date information and working with the right people. That's where we come in, to provide the environmental community with the knowledge and resources they need to tackle the greatest challenge of our time.
This Guide has something for everyone. Whether you're a student undertaking research, or a sustainability manager at a growing number of companies who are focused on Environmental, Social, and Governance (ESG) strategies, or an environmental steward anywhere, this is a powerful tool that has been carefully curated to make your mission possible. When we know better, we can do better.
I would like to take this opportunity to thank the team at Grey House Publishing for working with us to ensure this comprehensive guide reaches everyone who needs it.
If you have any feedback on what is contained within the Guide, or would like to learn more about what Actual Media's role is in the environmental industry, please reach out.
Sincerely,
Connie Vitello
Editor
Environment Journal
New features for CERG
This newest edition includes 40+ biographies of prominent Canadian environmentalists, an expanded environmental chronology and statistics section, updates on intergovernmental offices and environmental trade representatives abroad, plus trade show, conference and seminar profiles.
Updated front matter features statistics and reports on air quality, waste, water quality/quantity, biodiversity and conservation, natural resource management, climate change, and energy efficiency.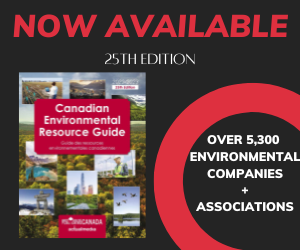 Previous edition: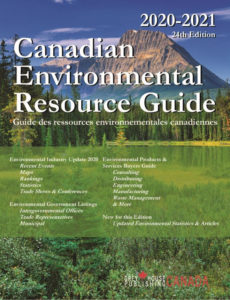 The Canadian Environmental Resource Guide is owned by Actual Media, parent company of Environment Journal, and distributed by Grey House Publishing Canada.