The City of Toronto is being recognized as a global leader on environmental action and transparency, achieving a place on the Customer Data Platform's (CDP) "CDP Cities A List" for the third consecutive year.
Toronto is one of 105 cities globally to receive the 2021 "A" designation, from among more than 1,000 cities reporting their environmental impact through the CDP system.
"Toronto's Net Zero Strategy ensures we act quickly to create greener buildings, greener vehicles, a greener transit system and a greener city overall," said Toronto Mayor John Tory. "Achieving net zero by 2040 will help Toronto continue to be a prosperous, liveable and thriving city that is taking a leadership role when it comes to addressing climate change."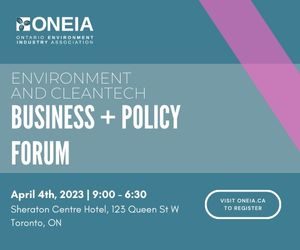 The city is being recognized for its actions to develop a robust climate change strategy, track its actions to reduce greenhouse gas (GHG) emissions, assess and mitigate climate risks, and transparently report the information in its 2021 disclosure to CDP.
CDP, an environmental impact non-profit organization, runs the global environmental disclosure system that helps companies, cities and regions measure and manage their risks and opportunities on climate change, water security and deforestation.
Toronto City Council's adoption of the TransformTO Net Zero Strategy in December 2021 set the city on the path to reduce community-wide emissions to net zero by 2040, 10 years earlier than initially proposed. Toronto's net zero by 2040 target is one of the most ambitious in North America.
"Toronto's residents and businesses look to the City for leadership in addressing climate change and we are delivering with our Net Zero Strategy," said Councillor Jennifer McKelvie (Scarborough-Rouge Park), Chair of Instructure and Environment Committee. "Reaching net zero emissions will improve the lives of Torontonians by creating a healthier, more active and more resilient city, with new opportunities for jobs and industry."
Community-wide GHG emissions in Toronto were 38 per cent lower in 2019 than in 2009, according to the City's most recent Greenhouse Gas Inventory (2019), despite the city's rapid growth over that same period. Toronto is on track to meet the City's 2020 target of a 30 per cent reduction in emissions from 2009 levels.
Achieving future GHG reduction targets will require additional federal and provincial investment and support, as well as support from Toronto's residents and businesses.
City plans, programs and strategies already in place to reduce community-wide GHG emissions from key sources include:
• The Net Zero Existing Buildings Strategy (https://www.toronto.ca/services-payments/water-environment/environmentally-friendly-city-initiatives/transformto/) to significantly reduce the use of fossil fuels in all existing residential, commercial and institutional buildings. The strategy will see the City implement voluntary performance measures and targets initially, intending to begin the transition to mandatory requirements in 2025.
• The Net Zero Carbon Plan (http://app.toronto.ca/tmmis/viewAgendaItemHistory.do?item=2021.IE23.2) to reduce emissions from more than 2,500 City-owned buildings (approximately 9.5 million square metres) by at least 80 per cent by 2040.
• The Green Will Initiative (https://greenwillto.ca/), which sees the City partner with large building portfolio owners across Toronto to accelerate emissions reductions from their buildings.
• The TTC's Green Bus program (https://www.ttc.ca/riding-the-ttc/TTC-Green-Initiatives) includes a commitment to 50 per cent of its bus feet being zero emissions by 2032. The TTC has one of the largest fleets of electric buses in North America.
Featured image credit: Mwangi Gatheca @unsplash.