As the Government of Canada works out its COVID-19 economic recovery, the International Institute for Sustainable Development (IISD) recently released seven principles that outline a roadmap for meeting Canada's 2050 climate commitments while spurring economic resiliency and creating quality employment.
Several of Canada's leading environmental groups, which represent approximately two million people, have signed on to the new recommendations. Representatives from some of these groups, including the Climate Action Network Canada, David Suzuki Foundation, Environmental Defence, Équiterre, and the Pembina Institute, recently met with key federal ministers to provide a more detailed path forward as Canada moves out of an emergency phase and into recovery.
"The federal government is spending billions on economic stimulus and has signalled that it is committed to a green recovery. This report shows the vital importance of strong climate action if we are to be effective in creating good jobs, a resilient economy and a healthy, fair society," says Vanessa Corkal of IISD, lead author of the report. "Our response to COVID-19 must put us on a better path to confront the climate and biodiversity crises, which in their own way will have major health impacts."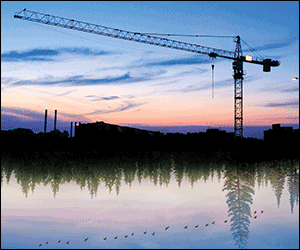 The report, Green Strings: Principles and Conditions for a Green Recovery from COVID-19, gives policy-makers concrete steps to act on. These steps include adding conditions, or "green strings," to funding given to industry, such as requiring concrete plans for net-zero emissions by 2050, with immediate action for reducing emissions in key high-carbon sectors. The report also recommends financial conditions—including prohibiting corporate stock buybacks and executive bonuses, and withholding support from companies using tax havens—coupled with strong transparency and accountability measures.
The paper provides guidance on using stimulus to facilitate a fair energy transition, supporting workers and providing training for low-carbon jobs, and investing in solutions like clean electricity and low-carbon fuels while protecting and strengthening environmental regulations and policy frameworks.
Several organizations, including the Climate Action Network Canada, Leadnow, and Greenpeace Canada, have started mobilizing their members across the country to ask MPs to commit to the seven green recovery principles. Mobilizing efforts, including days of action and e-rallies, are continuing through the summer.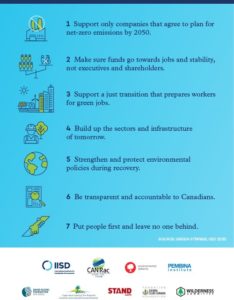 "This spring, while over 400 organizations across Canada united to call for a transformational and just recovery from the COVID-19 pandemic, oil and gas companies were lobbying hard to take Canada backwards. This is unacceptable," says Catherine Abreu of Climate Action Network Canada. "If applied by government, the principles of the Green Strings report will ensure the federal government steers our economy towards a climate safe future that protects people and the planet."
The authors of the report urge policy-makers working on recovery to take steps to increase equity and well-being and uphold Indigenous rights. To truly build back better, the authors say, recovery must address societal inequities, which are magnified by COVID-19 and climate change.
"COVID-19 has brought hardships on our families, communities and economy, but we are inspired by the ways Canadians are coming together to tackle this challenge. In this unprecedented time, we must continue to work together to ensure Canada emerges from this crisis better positioned to succeed in a low-carbon, 21st-century economy," says Isabelle Turcotte, director of federal policy at the Pembina Institute. "Economic stimulus interventions, if designed with climate and economic resilience in mind and paired with increasingly stronger climate policy, represent an extraordinary opportunity to simultaneously boost the economy in the short term and make a down payment on a prosperous, resilient, and more just future."
To read the complete report, click here.
Featured images credit: IISD.