Atlantic Canada's green building projects and innovators were in the spotlight at the Halifax Convention Centre recently, as the Canada Green Building Council (CaGBC) honoured the 2019 CaGBC Atlantic Chapter Leadership & Green Building Award recipients.
The awards presentation was a part of BuildGreen Atlantic, the 2019 CaGBC Atlantic Chapter conference and tradeshow. The annual awards recognize individuals and organizations that have made a significant contribution to the CaGBC's mission and goals in advancing green building in Atlantic Canada.
"I am very pleased to congratulate this year's CaGBC Leadership Award, and Green Building Excellence winners. They represent some of the very best minds, innovators and projects in the regional green building industry," said Lara Ryan, regional director of the Atlantic Chapter of the Canada Green Building Council. "I believe that individual leadership and a commitment to affect change is critical in moving toward a low-carbon economy that will benefit all Canadians."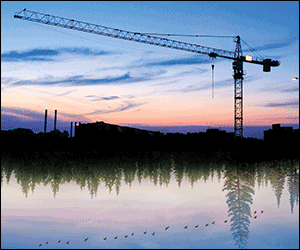 The CaGBC reduces environmental impacts from the built environment through project certification, advocacy and research. The organization has also helped meet the demand for skilled workers by providing green building education to more than 20,000 professionals across the country since 2002. CaGBC is the license holder of the LEED green building rating system in Canada and is a member of the World Green Building Council.
The winners of the 2019 CaGBC Leadership & Green Building Awards are as follows:
Inspired Educator: Nova Scotia Community College (NSCC) – ESET Program
NSCC recognized the emerging alternative energy sector in Nova Scotia and developed The Energy Sustainability Engineering Technology (ESET) Program. In the two-year diploma program, students learn to do energy audits, model existing conventional heating and lighting systems, assess the overall efficiency of buildings and offer solutions for improvements. A hands-on component allows students to work in the Pilikan House – a living lab that provides experience with alternative energy technologies, demonstrating how sustainable practices can be incorporated into building design. Through the ESET program and other initiatives, NSCC ensures that future workers are sustainability-focused and environmentally-conscious.
Emerging Green Leader: Megan Lloyd
Lloyd is an architect and passive house designer with RHAD, and the chair of the Atlantic Chapter's Emerging Green Professionals (EGP) Committee. Megan's EGP peers describe her as a supportive leader who listens and treats others with respect. She sits on the Nova Scotia provincial government's Built Environment Standard Development Committee. She has contributed to SABMag Atlantic FOCUS and reviewed the Green Building Solutions Scholarship. She is committed to green building education: her Architecture masters focused on community-owned renewable energy, she was a visiting student to the Technical University of Vienna, and she traveled throughout the Netherlands and Denmark studying amphibious architecture and urban climate change adaptation strategies. Megan is also certified in wood design for up to six storeys.
Government Leadership: Sharon Cave
Cave is an experienced and enthusiastic advocate and green building champion working as a project officer for the Department of Fisheries and Oceans in Newfoundland. Her dedication, work ethic and keen understanding of sustainable building practices and their practical application have led the charge in ensuring four exciting and challenging green building projects currently underway achieve their sustainability targets. She is an architectural technologist and LEED AP and is consistently described as someone who demonstrates an unyielding dedication to maintaining the principles of green and sustainable buildings.
Green Building Pioneer: Dalhousie University
Since 2010, Dalhousie has shown green building leadership by implementing a LEED Gold policy. Their willingness to share their expertise by conducting many green building tours for building professionals, community members, other universities and colleges, students and employees, has cemented this leadership role. So far, in addition to two buildings that are LEED Gold certified, four buildings that are LEED Gold candidates (two are working towards Platinum), and three buildings that are LEED Silver certified, Dalhousie has also undertaken two large deep retrofits and implemented many diverse energy and sustainability projects. Dalhousie converted a District Energy System at the agricultural campus and 95 per cent of all connected buildings from steam to hot water and adding a biomass co-generation system—the first install of this type in a university or college in North America.
Excellence in Green Building – New Construction: Nova Scotia Community College (NSCC) – Pictou Trades Wing
In response to increased demand for trades programming in the Pictou County region, the Pictou Campus was expanded with an entirely new state-of-the-art trades wing, completed in the fall of 2017. The new building was built with sustainability as the guiding principle and achieved LEED Gold status. Generally, trade spaces are very energy intensive, so every effort was made to reduce the overall environmental impact of the building. All heating in the building is provided without electricity or fuel, using only natural sources of heat (i.e. solar and geothermal) to ensure the energy-use impact from heating is minuscule and contributes to a significant reduction in overall energy use. NSCC's Pictou Campus Trades Wing is simultaneously a state-of-the-art trade space and at the forefront of sustainable building technology and practices, offering a high-quality learning environment for trades students.
Excellence in Green Building – Inspiring Home: Glengarry Passive House
The Glengarry plan was developed for a couple interested in downsizing and aging-in-place. The three-bedroom Glengarry Passive House features two equally sized bedrooms that share a generous ensuite bath to allow for a double-bedroom master suite that gives couples their own space while the third private bedroom allows for privacy for guests. A high clerestory strip of windows brings daylight in at the high-point of the vaulted ceiling. A screened porch for three-season living and an unheated mudroom expands the functional floor area of the house without expanding the cost. They anticipate an energy savings of approximately 17,000 kWhrs and a 70 per cent reduction in heating costs over a code-built house.
For further information about CaGBC, click here
Photo by Martin Reischl @safesolvent