A Canadian reforestation company is pledging to plant one billion trees by 2028 with the use of drones and nutrient-packed pods.
The Toronto, Ontario-based Flash Forest uses aerial mapping software, drone technology, pneumatics, automation and ecological science to reforest post-harvest and post-wildfire areas at a rapid pace. With the aim of accelerating the rate of reforestation, the Flash Forest team has developed a system that is able to transfer hard labour to drones at 10 times the speed.
"Every year our planet loses 13 billion trees and regains less than half of that," says Bryce Jones, a mechatronics engineering specialist with a background in forestry who founded the company in January 2019. "We started Flash Forest with one clear goal: healing our planet's lungs."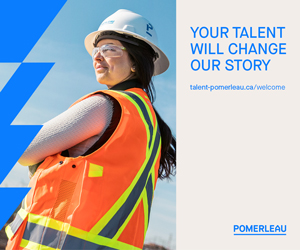 The pods, which contain pre-germinated seeds and mycorrhizae, fertilizers, help ensure that the trees are already sprouted before they're placed in the ground, giving them a better chance of growing and thriving. The planting scheme includes approximately eight different species in an area to ensure a healthy ecosystem.
According to the International Panel on Climate Change, the earth has 10 years to reverse climate change and prevent catastrophic run-away effects to various species and civilization. In 2018, 34 billion tons of carbon dioxide was released by humans. This has been increasing since pre-industrial times and surpasses the earth's natural ability to absorb it. Planting trees is currently the fastest and cheapest way today to sequester carbon.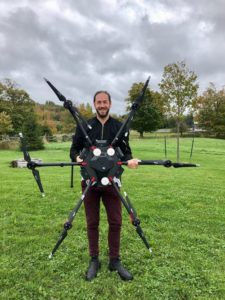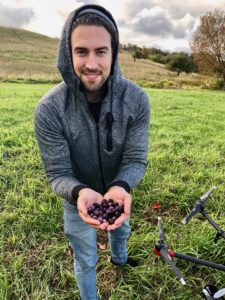 Pilot Tests
August 19, 2019 – Used the manual firing mechanism to plant more than 100 pods, containing pine, birch, spruce, and maple seeds. Upon return visits to the site, there has been successful sprouting of these seed pods.
September 28 – 29, 2019 – The number of pods planted was increased by tenfold to 1,033 pods using the augmented reforestation drone to plant pods.
October 19 – 20, 2019 – Automated the planting of over 2,000 trees of seven species, allowing acceleration of the planting rate to a new milestone: 165 trees were planted in three minutes with the use of a single drone.
The company is currently seeking to develop additional drones as it works to raise awareness about this climate action strategy in Canada and internationally.
For further information, click here.
Images courtesy of Flash Forest.