A snap election during the fourth wave of the COVID pandemic has resulted in the Liberal Party of Canada, led by Prime Minister Justin Trudeau, staying in Parliament for the third consecutive term as the governing party. But the minority government means they'll need to negotiate with at least one other party to pass any legislation while they're in office.
The Liberal win in the 2021 federal election means many of Canada's existing environmental policies and climate action strategies are likely to continue. The federal government is expected to move forward with its plan to accelerate climate action for more jobs, cleaner communities and less pollution. Trudeau has vowed to bring national greenhouse gas (GHG) emissions 40 to 45 per cent below 2005 levels by the end of the decade, and to make sure Canada is a net-zero country by 2050.
These targets will be supported by the Canadian Net-Zero Emissions Accountability Act. The party also plans to gradually increase the carbon tax to $170 per tonne by 2030. A Healthy Environment and a Healthy Economy plan, supported by an initial $15 billion in investments, aims to build a stronger and cleaner economy and introduces a timeframe for carbon pricing.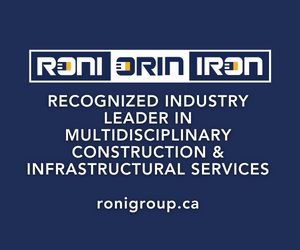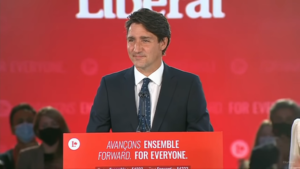 Prime Minister Justin Trudeau delivers victory speech on September 20, 2021. Image credit: You Tube screen capture.
"You are sending us back to work with a clear mandate to get Canada through this pandemic, and to the brighter days ahead, and my friends, that's exactly what we are ready to do," said Trudeau, in his victory speech last night.
"When I became prime minister six years ago, I didn't know, I couldn't know what the future would have for us. We didn't know that our country would face the pandemic of the century or a world economic crisis."
Trudeau added that he and his party hear Canadians about the need for "good green jobs."  New strategies are expected to help accomplish a green recovery, including the creation of a $2 billion "future fund" for workers in the fossil fuel industry in Alberta, Saskatchewan and Newfoundland and Labrador.
Joanne Vanderheyden is president of the Federation of Canadian Municipalities (FCM), which represents more than 2,000 municipalities and manages the Green Municipal Fund. Following the election, Vanderheyden provided the following comment:
"Many of Canada's biggest national challenges are tackled most effectively at the local level. On the front lines of the housing crisis, local leaders are helping people out of homelessness and expanding affordable housing choices. On the front lines of the climate crisis, we're protecting people from new weather extremes and building pathways to net-zero emissions. But on these fronts and more, we are ready to do much more with a willing federal partner, in ways that create the good jobs Canadians need.
Featured image by Pam Menegakis @unsplash.