GFL Environmental Inc., a leading environmental services company, has closed the previously announced $927.5 million acquisition of the environmental and solid waste business of Terrapure Environmental Ltd. and its subsidiaries.
"The acquisition of Terrapure is another example of GFL delivering on our commitment to pursue strategic and accretive acquisitions to continue growing our business," said Patrick Dovigi, founder and chief executive officer of GFL.
"Terrapure brings a high-quality, complementary network of assets and customer base to our existing solid and liquid waste operations and expands our service offerings in several regional markets. This strategically located network of assets and Terrapure's strong operating margins are expected to be immediately accretive to free cash flow and provide opportunities for us to continue to pursue our growth strategy," added Dovigi. "We are excited to welcome the over 1,600 Terrapure employees to the GFL family."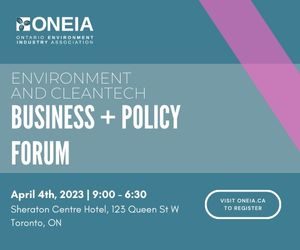 GFL (which stands for "Green for Life") is headquartered in Vaughan, Ontario. Currently the fourth largest diversified environmental services company in North America, it provides a comprehensive line of non-hazardous solid waste management, infrastructure, soil remediation, and liquid waste management services through its platform of facilities throughout Canada and in 27 states in the United States. Across its organization, GFL has a workforce of more than 15,000.
Terrapure is an integrated provider of solid and liquid waste management and industrial services to more than 7,000 customers across Canada. Terrapure's environmental and organics solutions cover a diverse range of waste streams from generation through collection, processing, recovery, recycling, reuse, and disposal through its integrated network of assets including its landfill and its liquid and solid waste collection and processing facilities. (The acquisition excludes the battery recycling business carried on by Terrapure.)
Strategic benefits of the acquisition
The acquisition advances GFL's growth strategy and aligns with the company's goal of growing free cash flow. The acquisition is expected to:
Enhance GFL's capabilities and reach. The acquisition brings a high-quality, complementary asset network and customer base to GFL's existing operations and augments GFL's existing service offerings in several regional markets, including Atlantic Canada. As part of the Acquisition, GFL will acquire the Stoney Creek landfill, an industrial landfill strategically located in the Greater Toronto Area which recently received expansion approval for more than 14 years.
Create significant synergies. The acquisition creates an opportunity for GFL to realize meaningful synergies and earnings accretion. The company expects the acquisition to generate at least $45 million of adjusted free cash flow and at least $12.5 million in annual cost synergies through operational opportunities from geographical and functional overlap between the existing operations of Terrapure and GFL.
Create long term shareholder value. The acquisition reinforces GFL's goal of creating long term equity value for shareholders. Terrapure's strategically located network of assets coupled with its strong operating margins are expected to be immediately accretive to free cash flow and provide opportunities for the company to continue to pursue its growth strategy.
For further information about the acquisition, click here.