Yesterday Canadian Prime Minister Justin Trudeau met with Mexican President Andrés Manuel López Obrador and United States President Joe Biden for the tenth North American Leaders' Summit (NALS) in Mexico City.
North American cooperation makes the combined economies more competitive, supply chains more resilient, and all countries safer. The NALS provides an opportunity to strengthen close ties with Mexico and the United States and advance our shared priorities for North America, including economic prosperity, sustainability, inclusiveness, and security.
Building on last year's accomplishments, the leaders are pledging to act on new initiatives across a broad range of topics that are important to North America, including environmental initiatives and climate action.
Trilateral reinforcement of resilience and innovation
Trudeau emphasized North American competitiveness in the context of building a sustainable, inclusive economy that will drive innovation and growth. The three countries will deepen economic cooperation, promote investment and reinforce competitiveness, innovation and resilience by:
Organizing the first-ever trilateral semiconductor forum with industry to adapt government policies and increase investment in semiconductor supply chains across North America. Participation will include senior industry representatives and cabinet level participation from Canada, Mexico and the United States in 2023.
Coordinating semiconductor supply chain mapping efforts to develop a collective understanding of supply gaps. This mapping with all the three countries will identify complementary investment opportunities.
Developing a North American Critical Minerals Resource Map and organizing a trilateral workshop to share data and facilitate cooperation. As the global economy pivots to the increasing demand for sustainable energy, so will the demand for critical minerals, which Canada has in abundance.
Promoting sustainable, inclusive jobs and developing the workforce to meet our climate commitments by leveraging resources and other necessary instruments to facilitate a just and equitable transition.
Convening industry and academic experts in semiconductors, ICT, biomanufacturing, and other key advanced manufacturing and logistics industries for design sessions on the skills required to develop the workforce North America will need over the next five years.
Increasing student mobility in North America by expanding the 100K Strong in the Americas Innovation Fund to include the North America Student Mobility Project. North American higher education institutions will compete as trilateral groups for grants that align with NALS priorities.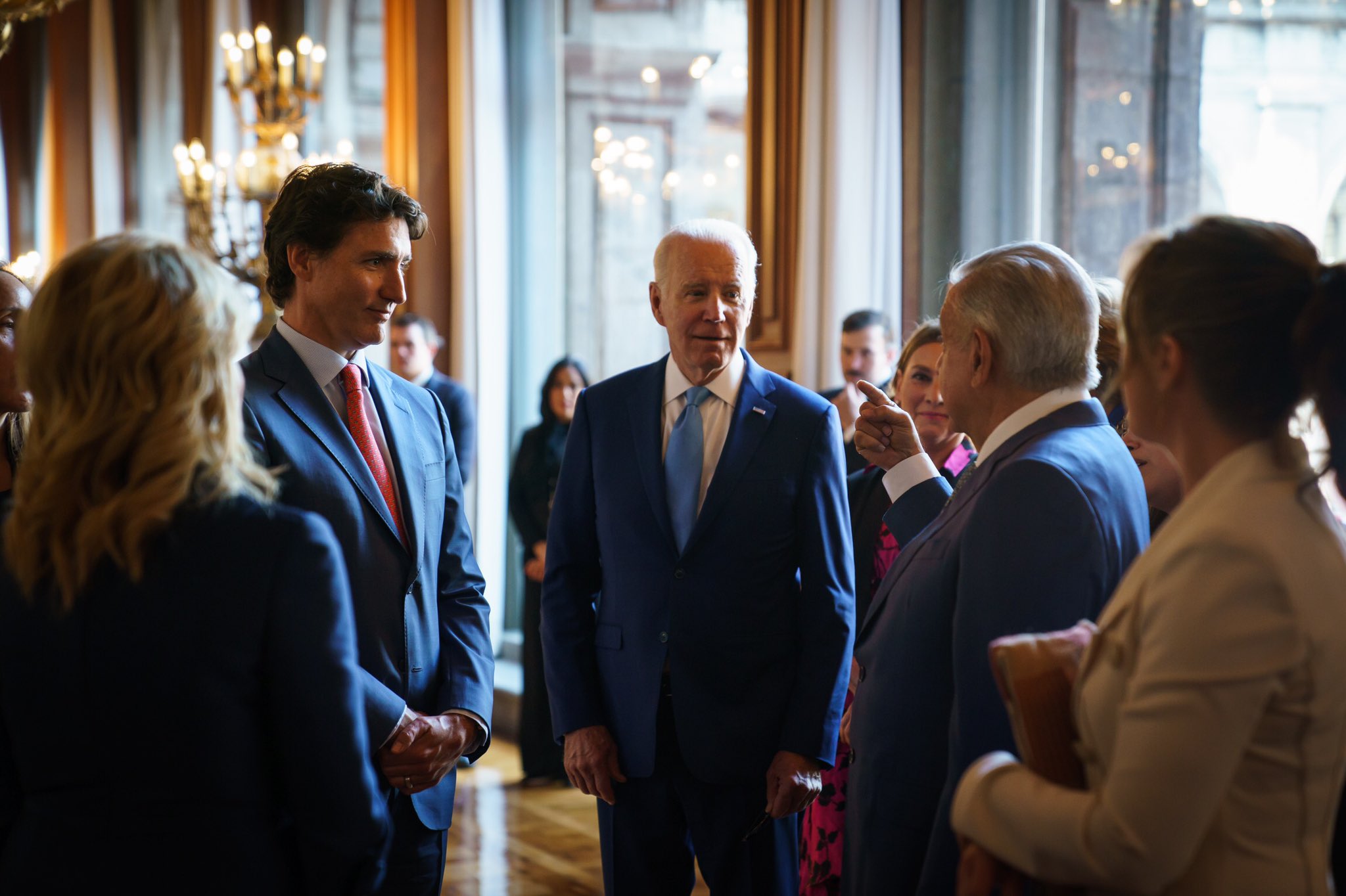 Prime Minister Justin Trudeau with U.S. President Joe Biden and Mexican President Andrés Manuel López Obrador. Credit: Government of Canada – Twitter / Justin Trudeau.
Cooperation to combat the climate crisis
Recognizing the increasing urgency to address climate change, the three leaders committed to take rapid, coordinated, and ambitious measures to build clean energy economies and combat the climate crisis by:
Reducing methane emissions in the waste sector by at least 15 per cent from 2020 levels by 2030, and continuing to reduce methane and black carbon emissions in North America.
Developing informational tools to inform transit agencies worldwide, notably in developing countries, on how to decarbonize buses with an emphasis on lifecycle analysis and electric infrastructure.
Establishing a plan for operating standards and installation of electric vehicle (EV) chargers on either side of the three countries' borders to ensure a seamless EV charging transition from country to country.
Furthering trilateral cooperation to meet the joint commitments to conserve 30 per cent of the world's land and ocean area by 2030 and to advance Indigenous-led conservation through existing mechanisms, and in line with the Kunming-Montreal Global Biodiversity Framework.
Committing to trilateral discussions on the potential for developing a North American hydrogen market, including potential cooperation on research and development, safety codes, and standards. Hydrogen will be an essential part of North America energy mix in a net-zero future.
Acknowledging the importance of the social cost of greenhouse gas (SC-GHG) estimates when developing future policies and engaging on technical best practices in applying SC-GHG estimates to inform ongoing ambitious NDC implementation.
For further information, visit: Declaration of North America (DNA)