FER-PAL Construction Ltd., based in Montreal, Que., announced the appointment of Lou Magurno as Vice-President, Operations, FER-PAL Canada, and Blaine Preston as Vice-President, Operations, FER-PAL USA.
"These nominations are well deserved: these two leaders have greatly contributed to FER-PAL's growth across North America, and are ready to take the company into its next chapter and expand ALTRA's market share across North America," said Jean-François Bolduc, president of ALTRA | SANEXEN.
Magurno will expand his role with FER-PAL, as he will become responsible for all operational activities in Canada. This will include continuing to grow the business, integrate all divisions from coast to coast, and improve profitability. He joined FER-PAL in 2006, and since then has been integral in the development of the project management team, the establishment of the U.S. division and the continuous growth of the company.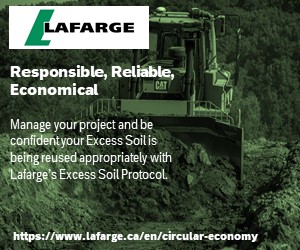 Preston, who has been with the company since 1998, will, from now on, concentrate his efforts in the United States. He has an intimate knowledge of the US CIPP (cured-in-place pipe lining) water market and is a true industry expert. Given the importance and potential of this market for ALTRA 10Xs water technology, he will be devoting his time to the success of FER-PAL USA, where he will be responsible for operations and growth across the market.
Magurno and Preston started FER-PAL USA in 2007, and they have been the driving force behind the success of the division. Their combined efforts will allow ALTRA | SANEXEN to continue to grow its presence in North America as the most resilient solution to water main renewal.
"I want to thank both Lou and Blaine for their continuous support and I wish them all the success in the future that they have had in the past," added Shaun McKaigue, president of FER-PAL. "Their dedication, knowledge and strong work ethic will guarantee both of their success."
Established in 1986 and based in Toronto, Ont., FER-PAL specializes in water main rehabilitation projects utilizing trenchless technologies for municipalities in Canada and the United States. The company is a key player in the deployment of ALTRA's water main renewal technology and has a longstanding relationship with ALTRA | SANEXEN, both subsidiaries of LOGISTEC Corporation.
Featured image credit: Getty Images