Canada Infrastructure Bank (CIB), Port Hawkesbury Paper and IFE Project Management Canada (IFE) recently announced the signing of a Memorandum of Understanding (MOU) to formalize their collaboration on the potential Pirate Harbour Wind Farm in Nova Scotia.
The MOU confirms CIB will conduct due diligence work with Port Hawkesbury Paper and IFE during the project evaluation and planning phase. CIB's work could lead to an investment in the project, subject to all standard due diligence and decision making.
With support from the Province of Nova Scotia, Port Hawkesbury Paper and IFE are evaluating the potential development of a 112-megawatt wind farm, comprised of 28 four megawatt wind turbines, 15 kilometres of overland transmission lines and two kilometres of subsea cables.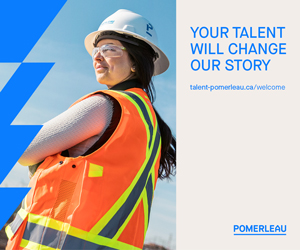 The wind farm would supply green energy to Port Hawkesbury Paper, the largest industrial employer in the region, with the goal of further enhancing sustainable energy supply to industry in Nova Scotia. It also supports provincial and federal commitments to the environment and the mill's ongoing commitment to an environmentally sustainable business.
"This announcement from the Canada Infrastructure Bank is in line with our Government's commitment to making communities cleaner, healthier and better for Canadians," said  Minister of Infrastructure and Communities Catherine McKenna. "This project would reduce the Mill's reliance on fossil fuels for energy, focusing instead on wind farming as a source of renewable energy. CIB's expertise in green infrastructure will be an asset to this project during the planning phase."
This is CIB's first opportunity to partner on a project in Nova Scotia. CIB has specialized infrastructure expertise and the wind farm is consistent with one of its priority sectors – green infrastructure. With its mandate to invest $35 billion in federal funding and attract private sector investment into new revenue-generating infrastructure projects, the corporation is focused on transformational projects that are in the public interest.
"CIB is pleased to bring our infrastructure investment expertise to partner with Port Hawkesbury Paper and IFE," said Pierre Lavallée, president and CEO of CIB. "The Pirate Harbour Wind Farm is aligned with provincial, federal and CIB priorities in terms of green infrastructure investment, increased capacity in renewable energy generation and promoting economic development."
The project is expected to reduce the mill's reliance on fossil fuels for energy, resulting in reduced greenhouse gas emissions. The project adds clean, renewable energy generation to the province supply and will further increase the sustainability of the mill's paper production operations.
For further information on this project, click here.