Today marks the 50th anniversary of Earth Day in Canada and around the world. This year, with the onset of the global pandemic, the earth has experienced a break from man-made pollution thanks to the enforced halt in human activity. Air quality has improved dramatically in urban centres and a hole in the ozone layer is repairing itself.
According to The Global Carbon Project, global carbon emissions were expected to rise this year, but instead might fall by about five per cent – or 2.5 billion tons, the lowest levels seen since the recession a decade ago. The environmental result of the coronavirus disease of 2019 (COVID-19) has caused many to reconsider what is essential pollution and how future human activity can be curbed to be more responsible in the new normal.
The theme for Earth Day 2020 is climate action. The issue of economic recovery through the climate change lens was discussed at an Earth Day webinar, "Recovering Stronger with a Green Renovation Wave," presented by Toronto, Ontario-based Corporate Knights. The expert views expressed in the webinar provide a compelling case for how a post-COVID green renovation wave could help the Canadian economy recover in a responsible way.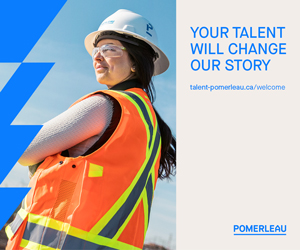 "We're living in extraordinary times right now …where change is going to be happening on a faster and larger scale than at any point in most of our lifetimes and the new thinking is going to be really important," said Toby Heaps, president of Corporate Knights. "If we're going to get through this, we're going to need everyone paddling, so I really want to thank everyone for jumping in the canoe."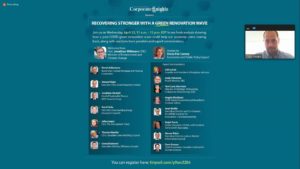 Toby Heaps, president of Corporate Knights, kicks off the webinar
and introduces Canada's Minister of Environment and Climate Change.
Jonathon Wilkinson, Minister of Environment and Climate Change, stressed the complexity of the current situation. He pointed out how different this Earth Day is because of physical distancing rules in effect, so therefore no traditional activities, such as the park clean ups and celebrations. However, he also emphasized that this should not prevent Canadians from reflecting on what we need to do to protect the climate and provide a healthy environment for our children and grandchildren. While he warned that we're still in the middle of the crisis, he also made encouraging remarks about how he would like to see the economy bounce back with a green recovery.
"Once we are further along and are contemplating the relaxation of civic measures, it is important to think about the type of recovery and the potential for the type of economic stimulus we should be focused on. At this time we do not yet know the extent of the damage that will have been wrought in particular economic sectors and an assessment of this will obviously be important in terms of the scope and the scale of any recovery efforts," said Wilkinson.
"Rather than looking to simply rebuild the economy the way it was before pandemic we need to question our assumptions about future sustainability. We will need to draw key lessons from this crisis and make sure that we emerge from this crisis with an economy that is fair, stronger and more resilient, to be prepared for the economy of today and tomorrow," advised Wilkinson.
Diana Fox Carney, economist and public policy expert, mediated the participation of the following panelists:
Derek Ballantyne, Board Chair, Canada Mortgage and Housing Corporation
Stewart Elgie, Executive Chair, Smart Prosperity Institute
Jonathan Hackett, Head of Sustainable Finance, BMO Financial Group
Gord Hicks, CEO, BGIS (Chair, Building Energy Innovator's Council)
Julia Langer, CEO, The Atmospheric Fund
Thomas Mueller, CEO, Canadian Green Building Council
In addition, expert commentators included the following:
Céline Bak, Founder and President, Analytica Advisors
Andy Chisholm, Board Member, RBC
Corey Diamond, Executive Director, Energy Efficiency Canada
Terri Lynn Morrison, Director of Strategic Partnership, Indigenous Clean Energy (ICE)
Angela MacEwan, CUPE Senior Economist and Broadbent Institute Fellow
Sean Mullin, Executive Director and Co-Founder, Brookfield Institute for Innovation + Entrepreneurship
Dave Sawyer, Chief Economist, Canadian Institute for Climate Choices
Steven Tobin, Executive Director, Labour Market Information Council
Ralph Torrie, Senior Associate, CESAR, and President, Torrie Smith Associates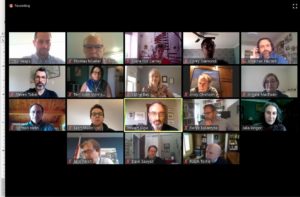 Panelists present a variety of expert views on how Canada's economy can
recover stronger with a focus on green renovation.
Stewart Elgie, executive chair of the Smart Prosperity Institute, discussed key lessons for smart economic stimulus. "It's important for us to act short term but think long term. Governments, when looking at previous responses tend to fall prey to short-term thinking because they are anxious to generate any kind of jobs and economic activity right away," explained Elgie, as he discussed the implications of short-term thinking. "If you look at the 2009 downturn, in 2010 global emissions jumped 10 per cent."
Elgie encourages the construction of smart buildings, as well as smart transportation and energy systems, not just to support the environment but also to make Canadian industries more competitive in a global economy that is looking to be more innovative and responsible about carbon emissions.
Ralph Torrie, a senior associate of CESAR, and president of Torrie Smith Associates has undertaken extensive analysis on the potential for economic stimulus through green projects. He discussed highlights of the "Canada 2020 – 2030 Build Back Better Homes and Workplaces Program."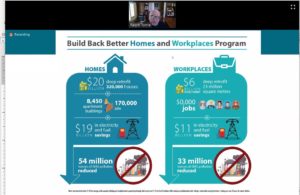 Ralph Torrie, president of Torrie Smith Associates, discusses the
Canada 2020 – 2030 Build Back Better Homes and Workplaces Program.
"We've known for a long time about the enormous potential for the retrofit business for residential buildings and it's hiding in plain sight," said Torrie. "In terms of its suitability for a target for economic recovery from COVID, this strategy has a number of attributes."
According to Torrie, the attributes of this program include the following: investments will occur wherever there are buildings, the planning phase for smart building with low greenhouse gas emissions can start tomorrow, the innovations and technologies already exist, and renovations already represent a significant amount of our economic activity and the GDP (seven per cent) with a population that is already used to investing in home improvements.
"There's widespread understanding in the climate change community that in order to get the deep reductions we need, we have to improve efficiency, we have to electrify, and we have to decarbonize the grid," stated Torrie. His proposed program calls for investment of $20-billion for residential and $6-billion for commercial buildings to provide a "kick start we need to get the renovation industry out of its 'model T period'" and into a modernized economy where the potential for innovation, savings and costs are significant.
Thomas Mueller, CEO of the Canadian Green Building Council (CaGBC) pointed to the CaGBC's studies on large building retrofits. "We see a lot of potential to reduce carbon emissions from that sector: up to 22 million tons can come from the retrofit sector," stated Mueller. He listed strategies such as building recommissioning, deep building retrofit, renewable energy, and fuel switching. "These technologies and practices are attainable," said Mueller. "We can't get to our climate action targets without taking action in the building sector."
The webinar provided plenty to think about on Earth Day and in the days ahead as Canadians take action on economic recovery with regard to climate action commitments.
For further information on green recovery reports available through Corporate Knights, click here.
To connect to the digital Earth Day event, click here.
For further information on The Global Carbon Project, click here.
Featured image by Elyse Turton @eliseturton.