ECO Canada, a national environmental careers organization, has released its latest Environmental Labour Demand Outlook to 2025 — which forecasts 172,700 net environmental job openings by 2025 as a result of both sector growth and retirement creating 74, 400 and 98,300 jobs respectively.
The 2021 National Workforce Strategy identified 12 solutions to help bridge the environmental talent gaps with recognition of the importance of increasing diversity among the workforce being present in several of them. Increasing diversity across the environmental workforce will not only help to fill labour shortages; it will likely help the environmental sector's continued growth. Studies continue to show that "the most diverse companies are now more likely than ever to outperform less diverse peers on profitability." (McKinsey & Company, 2020)
ECO Canada's latest employer HR survey results, conducted January through to March 2021, have helped create a demographic profile of Canada's growing environmental workforce.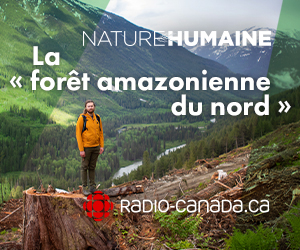 Survey respondents were asked to provide demographic data about their environmental workers, with questions about age, gender, Indigenous identity, disability, and visible minority status.
The findings have been broken down into several factsheets, with a diversity snapshot providing an overview.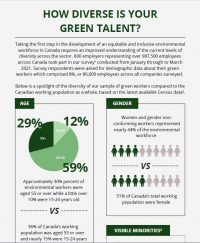 Environmental workforce diversity snapshot
In a study by McKinsey & Company, companies with more than 30 per cent female executives were more likely to perform better than companies with less than 30 per cent female executives. The case for cultural diversity is also strong, with the top-quartile companies outperforming those in the bottom quartile by 36 per cent in profitability.
Exactly 600 employers representing over 987,500 employees across Canada took part in ECO Canada's HR survey conducted in early spring 2021. Survey respondents were asked for demographic data about their green workers which comprised eight per cent, or 86,000 employees across all companies surveyed. Questions focused on the distribution of the company's environmental workforce based on age, gender and the proportion who identify as Indigenous people, visible minority, or with a disability.
To download the snapshot and fact sheets, click here.
Featured image from ECO Canada.