There's no doubt that the path to net zero will require innovation, hard work, and integrated collaboration across sectors. With that in mind, from February 27 – March 1, climate and sustainability leaders from across Canada have come together at the Sheraton Hotel in Toronto to exchange solutions, skillsets, and ideas that will take Canadians farther and faster on the road to net zero.
GLOBExCHANGE is building on the themes and outcomes of GLOBE Forum 2022, primarily The Path to Net Zero: 10×10 Matrix– the 10 action areas identified as priorities in the next 10 years to achieve net zero by 2050.
Today, Environment and Climate Change Minister Steven Guilbeault announced that over 40 companies, including Microsoft Canada and 3M Canada, have joined Canada's Net-Zero challenge. The challenge tasks companies with developing a plan to achieve net-zero emissions by 2050.
It's a voluntary initiative that encourages businesses to develop and implement credible and effective plans to transition their facilities and operations. In addition to reducing emissions, adopting net-zero plans can:
Reduce business costs by switching to renewable energy sources
Provide a competitive position in a decarbonizing world
Attract new investment from stakeholders
Become more resilient against market disruptions
"Today, I'm pleased to announce that over 40 businesses across the country have joined the challenge including most recently Microsoft Canada and 3M Canada. Some of Canada's biggest companies have already taken important steps towards the net zero path," said Guilbeault.
He explained that Microsoft is working with Ontario Power Generation on co-developing an energy platform that matches a customer's power needs with local carbon free energy sources using artificial intelligence and the Internet of Things. 3M, a leading supplier of medical, automotive and consumer goods has switched its Canadian headquarters to 100% renewable electricity and has committed to doing the same for global locations by 2050. Also, Siemens is working with Atlantic utilities to test how the grid of the future can be optimized while ensuring grid stability.
"These businesses know that the opportunities won't wait as we move world moves toward a cleaner energy, net zero economy," said Guilbeault.
There are 44 participants so far, including 3M Canada, Microsoft Canada, and Siemens Canada Limited. To view the complete list as of today, click here.
Guilbeault also delivered the keynote address.
"[Toronto] is a perfect location for this conference and for the theme of the remarks I want to give today: climate change means business. Because Toronto is Canada's finance engine. I am here to make the case—echoed by many financial leaders in this room—that we are on the cusp of an economic boom driven by environmental necessity and the myriad of opportunities that will come in this century from the clean energy and net-zero innovation," said Guilbeault.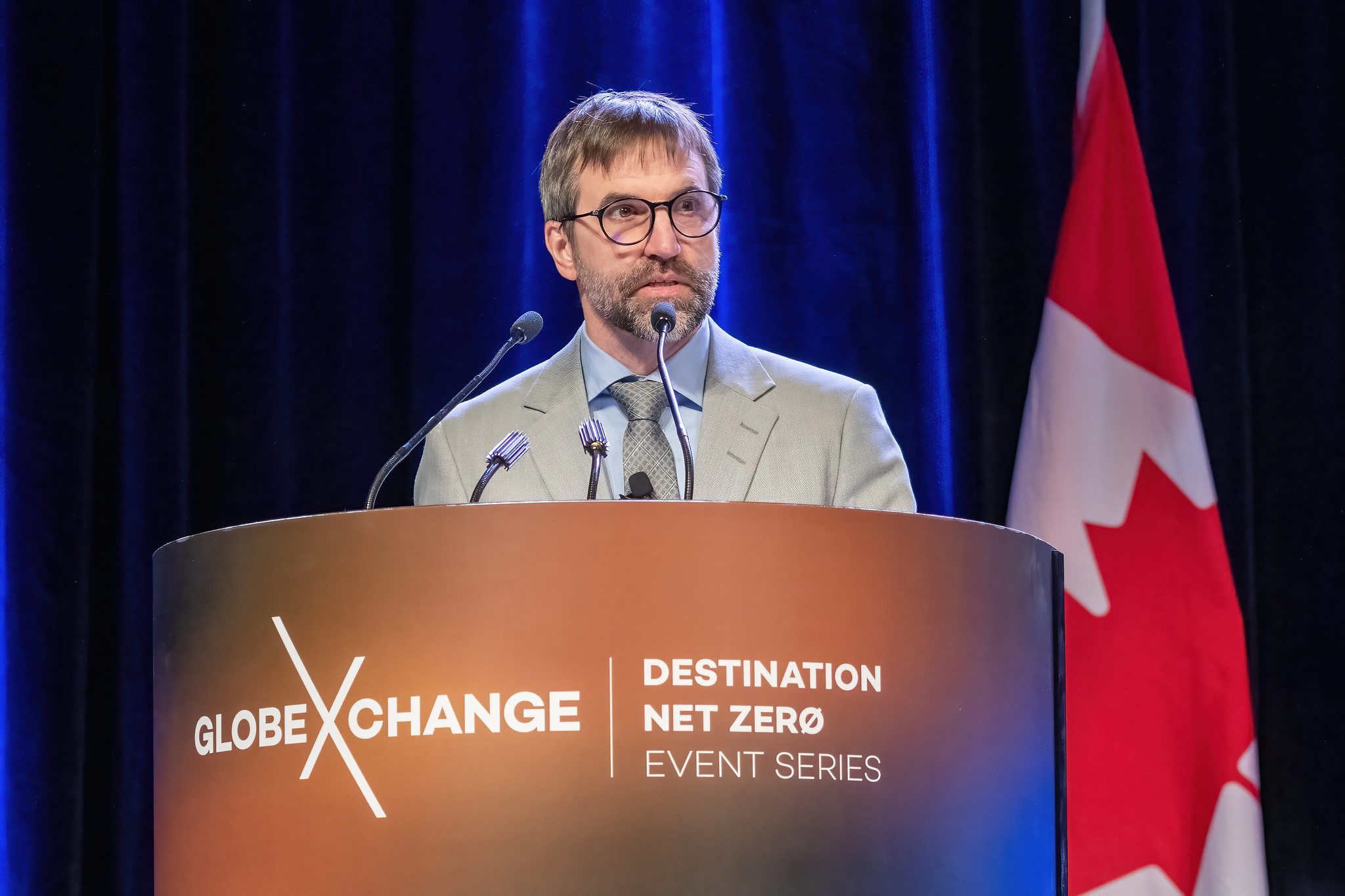 Environment and Climate Change Minister Steven Guilbeault delivers the keynote address. Image credit: GLOBE.
"Did you see that last week, the Toronto Stock Exchange released their list of top performers for 2022? Investors are voting with their wallets, choosing companies in the vanguard of clean energy…Critical minerals, battery technologies, hydrogen, and solar power—these are the high performers."
Treasury Board President Mona Fortier also announced that the government is introducing new standards that will require all federal procurements over $25 million require companies to disclose their greenhouse gas emissions and set reduction targets in line with the Paris Agreement. The new rules will come into effect on April 1.
The conference has provided plenty of inspiration, information, and opportunities to connect about the potential for business partnerships that can help attain the net zero target.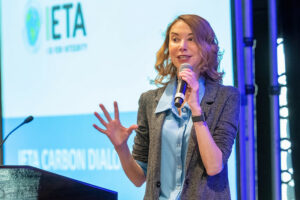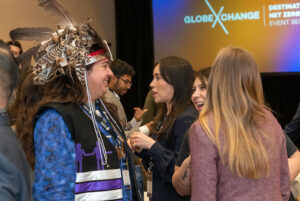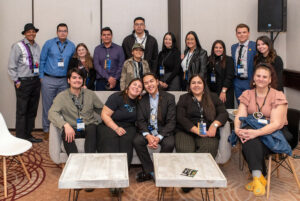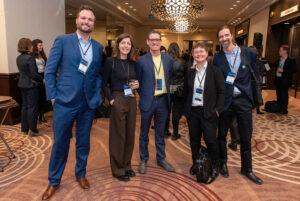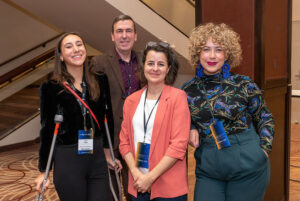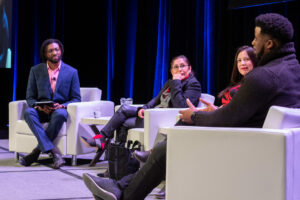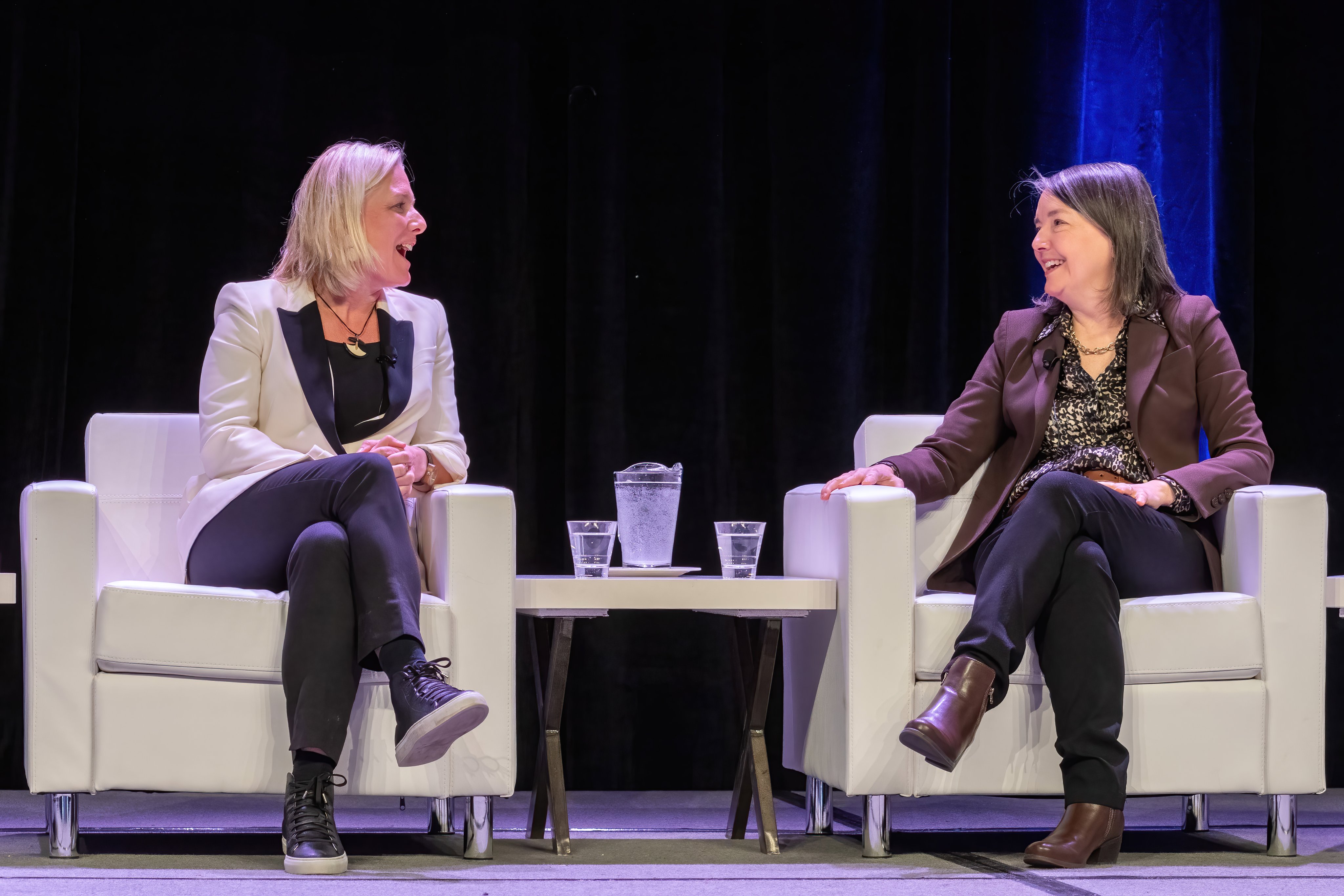 "You are the innovators who are going to connect the lofty goal with practical actions. You are the ones leading a way to a more sustainable future," Kathleen McLaughlin (right), executive vice president and chief sustainability officer for Walmart Inc. and president of the Walmart Foundation, told delegates. McLaughlin took to the stage with former Catherine McKenna (left), former Canadian environment minister and current chair of the United Nations Net Zero Committee, at the plenary on Pursuing Regeneration. Image Credits: GLOBE.
There's one final day of programming available at GLOBExCHANGE. To view the complete line-up, click here.
Featured image: Canada's Environment and Climate Change Minister Steven Guilbeault discusses the national net-zero challenge.