With support from the Province of British Columbia, the University of British Columbia (UBC) is about to break ground on a project that will transform a city-sized block of campus into a world-leading smart energy district to test how hydrogen can be used to power a low-carbon future.
"Our government's support for UBC's Renewable Energy Hub is an example of our commitment to helping communities and organizations reduce their pollution, which in turn helps us reach our CleanBC targets," said Bruce Ralston, B.C.'s Minister of Energy, Mines and Low Carbon Innovation. "Both the production and end use of low-carbon hydrogen on the UBC campus show this technology is not just the future, it's here today."
The Renewable Energy Hub will include a solar panel system that harnesses the sun's energy to charge electric vehicles. That same solar power provides energy to a water electrolyzer that produces "green" hydrogen. The hydrogen is then sent to a hydrogen vehicle refuelling station to service light- and heavy-duty fuel cell vehicles.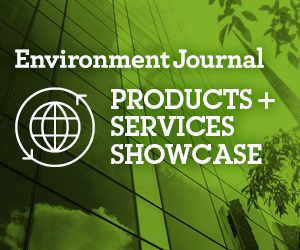 This technology will also make it possible to explore other hydrogen applications, such as injection into the natural gas grid to decarbonize space heating.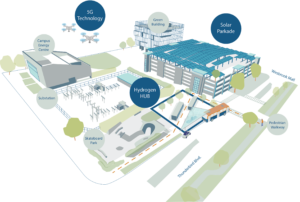 The energy hub will explore critical links between energy, transportation and urban design. Credit: MéridaLabs.
"This is an exciting moment for UBC," said Santa Ono, president and vice-chancellor of UBC. "In the face of a growing climate crisis, we are mobilizing even more of our institutional education, research and innovation capacity to pursue climate solutions. This renewable energy hub is an important piece, and we are truly grateful to our partners in government and industry who helped bring it to life."
The province has awarded B.C. Low Carbon Fuel Standard (LCFS) credits with a current market value of approximately $5.6 million to UBC for the Renewable Energy Hub. The LCFS supports the production and use of renewable fuels, reducing greenhouse gas emissions and stimulating investment, training and jobs in clean technology. Under the LCFS, the province can award compliance credits to fuel suppliers for actions that increase the use of low-carbon fuels like hydrogen and electricity, renewable gas or diesel.
"Hydrogen and clean electricity provide a clear path to sustainable, low-carbon economies for Canada and the world," said Walter Mérida, a professor of mechanical engineering who leads MéridaLabs in the faculty of applied science at UBC. "When combined with digital technologies, they can enable economic growth as transportation, telecommunications and civil infrastructure become smart and interconnected."
British Columbia is an ideal jurisdiction for the development of low-carbon hydrogen, which will be essential to realizing CleanBC climate goals. Later this spring, the Province will release its hydrogen strategy, which will provide direction for hydrogen development in B.C. over the next decade and beyond. B.C. has abundant supplies of clean hydroelectricity, a flourishing clean technology sector and proximity to export markets in East Asia, making the Province a potential green-hydrogen leader in North America.
CleanBC is a pathway to a more prosperous, balanced and sustainable future. It supports government's commitment to climate action to meet B.C.'s emission targets and build a cleaner, stronger economy for everyone.
The Renewable Energy Hub's development has been led by MéridaLabs, an energy innovation hub at UBC driven by applied-science researchers.
B.C.'s Zero-Emission Vehicles Act incentivizes the transition to electric vehicles, requiring all new light-duty cars and trucks sold in the province to be zero emission by 2040.
For further information about the new energy hub, click here.
Featured image: The renewable energy hub will transform an entire city block at UBC into a smart energy district, including the province's first-ever hydrogen refuelling station for light- and heavy-duty vehicles. Credit: Dialog.