The Toronto and Region Conservation Foundation hosted the Living City Environmental Dinner on November 7, 2019. The annual fundraising event supports the efforts of the Toronto and Region Conservation Authority (TRCA) and recognizes the leadership efforts of exceptional environmentalists.
The event – which was attended by Foundation and TRCA board members, community and municipal partners and various stakeholders – featured speeches by Jennifer Innis, chair of TRCA's board of directors, John MacKenzie, CEO of TRCA, and Jeff Yurek, Minister of the Environment, Conservation and Parks.
Toronto and Region Conservation Foundation supports TRCA by serving as a vehicle for raising awareness and funds to support key projects that help protect and celebrate natural and cultural heritage. Since its establishment, the foundation has raised more than $50 million to fund stewardship and environmental education programs like and help restore important habitats such as Tommy Thompson Park and to protect heritage buildings at Black Creek Pioneer Village.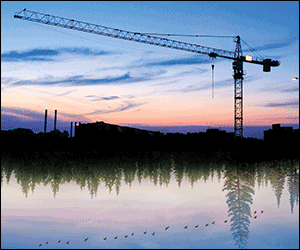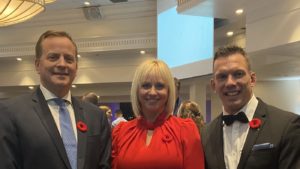 Left to Right: Jeff Yurek, Minister of the Environment, Conservation and Parks;
Jennifer Innis, Chair of TRCA's Board of Directors; John MacKenzie, CEO of TRCA.
Photo Credit: Toronto Region Conservation Foundation.
The Living City Impact awards recognize outstanding groups and individuals for initiatives that enrich communities in TRCA's jurisdiction and help advance TRCA's mandate. The following awards were presented:
Healthy Rivers and Shoreline Award – PortsToronto
PortsToronto has been instrumental in fostering strong, healthy and sustainable communities. The organization has been an important stakeholder in cleaning up the Toronto Islands after this year's high Lake Ontario water level event, and coordinated the removal of over 15 tonnes of debris. PortsToronto also recently adopted a Seabin, an innovative floating device that will continuously collect debris along Toronto's Lake Ontario shoreline.
Greenspace and Biodiversity Award – Toronto Water
Toronto Water's Downsview Dells Erosion Hazard Mitigation Project has benefited the Black Creek community by eliminating erosion hazards and creating a new trail that has increased active transportation and improved access to nature.
Sustainable Communities Award – York Region
York Region's Bayview Avenue Corridor Project is an outstanding example of using ecological design to improve mobility for drivers and pedestrians while protecting important habitat.
Business Excellence Award – CI Investments
CI Investments recently launched two new environmental investment funds that seek to achieve positive environmental and social outcomes. CI Investments also participated in five Look After Where You Live events offered by the Foundation.
Greenspace Legacy Donation Award – Rosemary Spiers
New this year, the Greenspace Legacy Donation Award was created to recognize greenspace donations. In 2019, Rosemary Spiers generously donated 1.27 hectares of greenspace to TRCA. A lifelong environmental champion, this year Spiers donated her property adjacent to the Altona Forest, adding significant forest to TRCA's protected greenspace portfolio within the Petticoat Creek watershed. This donation will not only expand the existing Altona Forest but also allows for important restoration work on the property.
Charles Sauriol Leadership Award – Michael de Pencier
Awarded to an individual for their inspiring leadership and lasting contributions to the conservation sector, the Charles Sauriol Leadership Award was presented to Michael de Pencier. A devoted lifelong conservationist, de Pencier invests in several environmental initiatives, and has developed numerous programs to create links between urban communities and conservation. Currently he is working on the Highway of Heroes tribute project, which will see two million trees planted adjacent to Highway 401 between Trenton and Toronto to honour the two million Canadians who have served in the armed forces.
For further information on the Toronto and Region Conservation Foundation, click here.
Featured image: Tommy Thompson Park, Aerial, TRCF.