The Canadian government has informed the country of its plan to develop all future infrastructure through a green lens. This is a key pillar to the post-pandemic green economic recovery effort and has included several funding programs and streams dedicated to building (and renewing) public infrastructure assets which are less carbon-intensive and more resilient.
The Healthy Environment and a Healthy Economy plan is backed by $15 billion. Project investments under the first intake of the Green Infrastructure stream will address emerging priorities in water infrastructure, disaster mitigation, and climate change. The Canada Infrastructure Bank has earmarked $10 billion from its overall $35 billion current working budget for loan-based investments toward infrastructure deemed sustainable.
Natural Resources Canada is also establishing the Natural Climate Solutions Fund, which will invest $4 billion over the next 10 years, including $631 million to the Nature Smart Climate Solutions program. This will support projects that restore and enhance wetlands, peatlands, and grasslands to store and capture carbon.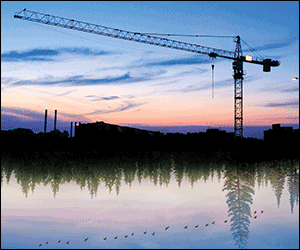 In parallel to funding support, there is growing appreciation for, and accounting of, our municipal natural assets and the role that nature has in helping achieve our climate goals.
But there are still prevalent misconceptions and significant gaps to address, as traditional infrastructure funding schemes don't always suit the smaller and unique green infrastructure strategies that are needed across the country.
For example, Farmers for Climate Solutions is a national alliance of farmer organizations and supporters who believe agriculture must be part of the solution to climate change. They've recently asked the federal government for $300 million to help address their green infrastructure challenges and help them reduce agricultural emissions.
With the goal to better understand the policy and funding mechanisms necessary to assess and support the potential of green infrastructure projects, Environment Journal's affiliate publication, ReNew Canada, recently gathered a group of experts for an InfraIntelligence discussion to uncover the struggles and try to come up with some solutions.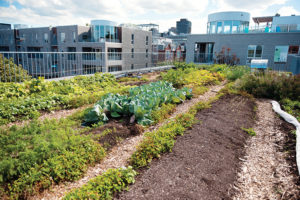 Rooftop greenhouse garden in Montreal, Quebec. Green roof development, which involves the creation of "contained" green space on top of a human-made structure, provides a wide range of public and private benefits.
Defining "green infrastructure"
What exactly is green infrastructure? This is a seemingly straightforward question, but it led to a range of answers. While there was a consensus that there is a natural element involved, the definition of green infrastructure seems to vary.
Lara Ellis, a senior vice-president of policy and partnerships of ALUS (named after the Alternative Land Use Services program in 2020) has a strong opinion on the matter. Ellis works with farmers and landowners to find effective ways to grow community sustainability and resilience.  She is currently focused on the development of ecosystem markets and support for natural infrastructure on agricultural lands, woodlands, and wetlands.
Ellis considers green infrastructure to be "natural infrastructure, so things that grow," such as trees, grasses, shrubs, wetlands, "which have all sorts of benefits," but also engineered components. For example, solar watering systems for cattle or technologies to soak up nutrients for farmlands.
Steven Peck is president of Green Roofs for Healthy Cities, co-founder of the Green Infrastructure Foundation, and a prolific writer on green infrastructure issues for the past 20 years.
Peck's definition includes three parts. First, natural systems such as coral reefs and forests. Second, an engineered component that helps with farms and the urban forest. Third, systems that support the natural environment, such as sensors, solar, and other technologies.
France Guertin concurs about the natural and engineered elements. Guertin is a senior technology manager of engineered natural technologies for Dow's Global Environmental Technology Center, implementing projects and tools that plan, manage, and invest in smarter, more productive systems that fit seamlessly within nature.
"Our journey with green infrastructure started in 2011," said Guertin. "We changed the terminology to 'engineered natural technology' rather than green infrastructure —sometimes hybrid solutions may be the best solutions."
Bailey Church, the leader of KPMG's National Public Sector Accounting Advisory service line, and KPMG's Global International Public Sector Accounting practice, has extensive experience working in public private partnerships and large infrastructure projects. Church has worked extensively with both the public sector and private sector on complex accounting matters related to the environment and natural assets.
He cautioned that the term "green infrastructure" is "loaded with a lot of different meanings and perspectives." Church leans toward the "engineered managed component" as distinguished from the natural environment.
Green infrastructure initiatives
"Working with farmers is important when we're looking at natural infrastructure because collectively they make up the largest private land holders in the country," said Ellis. "The problems that we have in Canada are exacerbated by climate change, but land use has also created problems that we can help rectify through natural infrastructure."
Ellis and her team are working on advancing awareness about agricultural policies that will help Canadian farmers mitigate and adapt to climate change, seeking to create a dialogue between farmers, the public, and decision-makers to find practical climate solutions.
Guertin points out that Dow has recently announced its corporate carbon targets and is working to offset facilities and undertake activities that have environmental benefits.
Church said we could be doing better about calculating natural assets, because decision-makers are better at accounting for environmental liabilities and contaminated sites. "We do a terrible job with accounting for our natural assets here in Canada and internationally," he said. "If we look at our accounting standards, we take a conservative view of what is actually recognized on the balance sheet."
Ellis argued that the calculations for natural infrastructure dollars should be more dedicated to more of a variety of green infrastructure initiatives—public and private projects that are providing benefits to the public and the environment.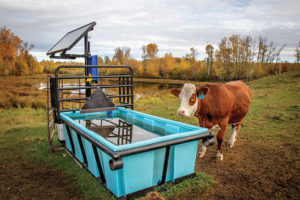 Projects like this alternative watering system in Parkland County undertaken by ALUS participants help maintain the integrity of wetlands and other riparian spaces. The benefits of these projects are manifold and cumulative within the watershed and contribute to flood and drought prevention in major urban centres such as Edmonton, which is downstream of this project.
"One of the problems is that a lot of the benefits and ecosystem services that are provided which are inherently fundamental to our health and wellbeing are not measured very accurately and even when they are measured, they're not often translated into monetary terms so we can do the proper accounting," said Peck.  "That's a real challenge and there's only so far we can go with that in terms of the tools that have been developed."
The panelists all acknowledged that municipalities need to integrate a framework for evaluating and measuring natural assets options into infrastructure plans. The City of Ottawa and the Town of Gibson, British Columbia are two municipalities which are actively including natural assets like trees and wetlands on their balance sheets as part of their asset management planning, but more widespread initiative is needed.
Pecks cited a development in London, Ontario that is converting asphalt into a park where environmental benefits can be measured in terms of how much stormwater can be retained, the extent of air quality benefits, carbon sequestration, and the urban heat island reduction. This is the case that can be made to city council.
"We can make a pretty strong business case for investing a couple of million dollars for turning that parking lot into a park," said Peck. "But it's very difficult, for example, to measure the health and well being that have any weight and standing. So, despite the advantages of ecological economics there are fundamental limitations with the tools we're currently using."
On a federal level, Peck is adamant that green infrastructure should have its own dedicated funding strategy. The current bundles are arguably too large for a lot of the green infrastructure projects—they're not major highways and projects, and some of the time they are on private land, not public land.
"There's a hunger for that politically right now. With the pandemic people are realizing how important it is to have healthy green space in their communities," he said. "Billions of dollars need to be spent on green infrastructure, particularly in the urban areas across the country."
How much of the federal pot should be dedicated to green infrastructure? He suggests about 15 per cent of infrastructure spending. There was also a passionate discussion about the multiplier effect. A lot of the green infrastructure development is done regionally and locally, which lead to good jobs connected to these projects.
Guertin agreed and pointed out her experience with Dow's success in investing in natural assets to reduce capital costs and benefi communities. She has helped develop a quantification tool of benefits which demonstrates that the cost-recovery opportunities related to green infrastructure are significant.
Guertin cited an ash pond that Dow needed to remediate in Midland, Michigan along the Tittabawassee River, which flows through East Central Michigan in Saginaw and Midland counties. The contaminated floodplain of the river is located downstream of Dow headquarters and manufacturing plant.
The traditional strategy would be to cap and treat the site. Instead, they took advantage of a tool that Dow developed in conjunction with the Nature Conservancy to quantify ecosystem services. 
They challenged the project team to look at the possibility of excavating the ash that caused concern, putting the contaminated soils into a secure site not along the river, and transforming the site into a wetland with a riparian buffer.
Guertin emphasized that tools such as these are important to help make a case for the stacked benefits that can include water quality, carbon performance, habitat improvement, and biodiversity protection.
"I've seen a huge transformation in the past decade over how our company views the co-benefits of green infrastructure," 
said Guertin.
Next steps needed
There was consensus across the panel that the green infrastructure industry needs to build processes and data that can be provided to government and other stakeholders looking to invest in clear assets.
According to Church, the data has to have adequate rigour and processes behind them so they can be audited. "It's absolutely critical that we have a clear line of sight on the value that natural assets bring, as well as a clear line of sight for our responsibilities for managing these assets."
Guertin also advocates for making more of a business case for nature. She said that lifecycle assessments provide a nature scorecard, including quantification of ecosystem services.
Ellis agreed. "It's important that the living part of green infrastructure is living infrastructure, not just transit," she said. "Maybe there's a misconception in Canada because we have such abundance but in southern Canada it's becoming increasingly important to have more of a balance."
"We need to see more infrastructure dollars dedicated to living green infrastructure systems in cities in particular," emphasized Peck. "We're going to get a lot of bang for our buck in terms of jobs and wellbeing and resiliency if we do that."
Connie Vitello is editor of Environment Journal.
(Note: This article originally appeared in the May/June edition of ReNew Canada magazine.)
Featured image: The green roof in Halifax, Nova Scotia features 10 different species of red and green sedum, and four rooftop micro turbines generate electricity.