The City of Montreal's recent commitment to achieve zero-carbon buildings by 2040 is great news for the environment and local communities. It also presents new challenges for the real estate development sector. Innovative solutions will be needed on multiple fronts including energy, construction, zoning and financing.
Starting this summer, a zero-carbon buildings accelerator with ties to Concordia University will provide developers with the tools and resources needed to make the entire industry more sustainable. By leveraging the combined expertise of members in various industries, the accelerator aims to multiply low-emissions, climate-resilient construction and renovation projects in Montreal's commercial and residential areas.
Zero-carbon transition challenges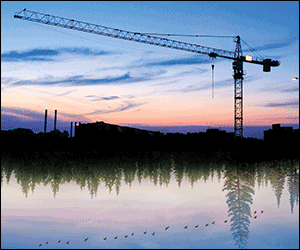 Montreal's new commitment means existing buildings will need to rapidly transition from fossil fuel-based power to exclusively renewable energy by 2040. New builds that are already under way will need to pivot quickly to meet the city's commitment by 2025.
"If things become too difficult, developers will pull out and build somewhere else," says Natalie Voland, PhD student and lead owner and president of real estate development firm Quo Vadis. "It was clear to me that if we didn't develop our own solutions, this could have a negative impact on new construction projects and pricing."
Voland discussed solutions with her supervisor Ursula Eicker, Canada Excellence Research Chair in Smart, Sustainable and Resilient Cities and Communities and founding co-director of the Next-Generation Cities Institute (NGCI).
"It's crucial to get people at the table that can enable and accelerate the process in the right ways," says Eicker.
As members of the Montreal Climate Partnership, which aims to accelerate Montreal's decarbonization efforts, Eicker and Voland are seizing an opportunity to put their mission into action.
The Climate Montreal Partnership is a groundbreaking grouping of nearly 100 Montreal economic, institutional, community and philanthropic organizations committed to meeting the challenge of reducing Montreal's greenhouse gas emissions by 55 per cent by 2030 and putting the metropolis on a path to carbon neutrality and resilience by 2050.
Mélanie Le Berre, executive director of Partenariat Climat Montréal, says buildings represent the best GHG reduction potential for Montreal. But the city needs to shift into high gear. "We need to multiply the amount of construction and renovation projects under way that adhere to the highest climate standards, and show everyone that it can be done," Le Berre says.
"We are very pleased to see our Partnership members taking part in innovative collaborations to set up this accelerator, which has the potential to create a true culture of zero-carbon, resilient and inclusive buildings in Montreal."
Sustainability SWAT team
The zero-carbon building accelerator leverages Concordia's partnerships with key industry and community stakeholders to deliver a powerful and agile task force.
Eicker and Voland recruited specialists from multiple sectors including law, engineering, energy, financing and urban sustainability to address new challenges from all angles. The team will work directly with developers to accelerate zero-carbon construction or renovation projects, providing solutions for managing carbon emissions, financing, zoning, energy use and more.
"For example, innovative, long-term financing is needed for projects to be both ecological and financially viable for developers. Our partners will help make all of this possible," Voland says.
"Call it a climate bootcamp or a sustainability SWAT team we'll show real estate developers how to make their business plans work with the city's new commitment and help you tackle all the relevant challenges."
Another component to the accelerator's success and impact involves providing a platform for Concordia's research, where student innovators can connect with developers.
"Most real estate developers lack research and development departments, while most students need access to sites in order to execute research in real-world settings," Voland notes.
"The fact that Concordia sees cities and sustainability as priority areas is a huge advantage for us. Bringing students and developers together can help put new ideas into practice, turning barriers to opportunities."
Projects handled by the accelerator will have high ecological standards while also being affordable for developers and end users.
"Concordia supports many environmental initiatives. Ours is climate-focused, but by also supporting inclusion, it has a broader sustainability purpose," Eicker says.
Accelerator members
This initiative is made possible by the following members:
Natalie Voland, president of Quo Vadis
Ursula Eicker, co-director of Concordia's Next-Generation Cities Institute and Canada Excellence Research Chair in Smart, Sustainable and Resilient Cities and Communities
René Demers, senior vice-president of commercial banking and private banking at National Bank of Canada
Amélie Laframboise, head of support for elected officials, Office for Ecological Transition, Resilience and Environment, Office of the Mayor and Executive Committee, City of Montreal
Jonathan Théorêt, head of the Transport, Energy and Building Division, Office of Ecological Transition and Resilience (BTER), Deputy General Manager – Quality of Life, City of Montreal
Joel Courchesne, architect, Office of Ecological Transition and Resilience (BTER)
Annie Gagnon-Larocque, partner in property and planning at McCarthy Tétrault LLP
Louis-Philip Bolduc, director of construction at Énergère
Linda Otis, Future Network, DP – Network Planning and Technical Services, Hydro-Québec Distribution
Early call for projects
Submissions from developers for both new build and building retrofit projects that aim for zero carbon are now being accepted. The accelerator team will work directly with developers to accelerate the implementation of the projects, supporting solutions for financing, zoning, energy use, carbon emission reduction and more.
Join the Next Generation Cities Institute on July 28 for a roundtable discussion and the launch of the Building Decarbonization Accelerator project.
Or learn more about the Next-Generation Cities Institute. 
Featured image credit: Concordia University.