Extreme weather conditions are driving the risk of major wildfires globally.  Last summer the small town of Lytton, British Columbia faced three consecutive days of extreme heat reaching 121 degrees, breaking national records. Then on June 30, 2021 the town of 300 people was under siege by wildfire. When it was over, 90 per cent of the town was destroyed, two people killed and several others injured. Unfortunately, for many parts of Canada, wildfire risk has become a reality. In Alberta, 656 wildfires have burned 240,688 acres (97,395 hectares) since January 1st.  Active fires continue burning in the province during the writing of this article.
Meanwhile, since the pandemic, cities have seen the highest decline in population in decades. Those who had the option transitioned quickly to working from home on a daily basis. All over the world our work-life configuration has been shaken and re-shaped, and for many of us, the option to work remotely is now the new normal.
Our ever-expanding human footprint of homes, recreational areas, work areas, and infrastructure have been pushing further into forests and other wildland areas for decades. The "work from anywhere" movement put this into high gear, allowing many workers to live their dream of a home surrounded by nature. But as idyllic as this may seem, the problem with pushing nature is that nature will always find a way to push back.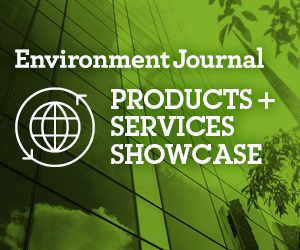 The transition zone between wilderness and developed land is referred to as the Wildland-Urban Interface (WUI). Global engineering and consulting firm GHD has recognized WUI areas and properties that have historically been or could potentially be environmentally, socially and economically harmed by wildfire as a unique phenomenon which resulted in a new land designation called "Burntfields."
Burntfields was envisioned to be considered in the same manner as Brownfields and Greenfields land designations. Greenfields describe areas without previous development, while brownfields are areas impacted by previous industrial use.
The new burntfields land designation serves to inform development and investment decisions. And, it helps communities understand the changing risks of wildfire and raise awareness of the importance of collaboration between public and private sectors to build stronger wildfire response strategies. Burntfields have the potential to play an increasingly large role in how municipalities and businesses plan the services they offer, how insurance carriers decide about risk, and how fire departments respond to threats.
In the United States alone, there are now an average of 59,000 wildfires, which burn across eight million acres of land, causing the loss of 12,600 structures annually. According to National Oceanic and Atmospheric Administration (NOAA), the five most destructive wildfires over the last five years resulted in $80 billion in associated damages and 217 related deaths. The total impact has yet to be quantified.
There are two well-known examples that prove how WUI is now on the front lines of how climate change is impacting our world. In 2018, a major wildfire destroyed most of Paradise, California, which leveled the once-picturesque mountain town, killing 85 people, destroying over 18,000 structures, and inflicting $12.5 billion in insured losses. In 2021, the aforementioned fire that tore through Lytton, B.C. virtually leveled the small community of 250, killing two residents and resulting in almost $100 million in insurance claims. These two catastrophic fires forever changed the configuration of the natural resources in those areas, impacting wildlife, forests, and natural sources of water for generations to come.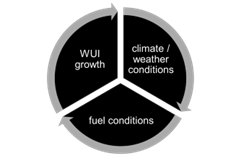 The Burntfields Lifecycle.
Understanding the changing risks of wildfire
Developing a way forward, dealing with the risk posed by burntfields starts with understanding the three contributing elements. GHD refers to this as the Burntfields™ Lifecycle:
WUI growth – Increased human footprint, such as numbers of homes, businesses, schools and infrastructure located in the space between urban areas and surrounding wildlands.
Climate change and weather conditions – Longer periods of drought, and extreme weather events producing more lightning strikes that start fires, and stronger winds helping fires spread more quickly.
Growing fuel conditions – Increased drought conditions felt in many parts of the world create drier environments where trees and vegetation burn more easily. Property development in the WUI also interrupts the natural process of fire clearing out undergrowth. Because of these conditions, plenty of fuel is available when a large fire starts.
The increasing size and ferocity of wildfires, coupled with limited public resources, usually means wildfire responses just don't measure up. Even in the U.S., the Federal Emergency Management Agency (FEMA), has been short-staffed and under-resourced for years. Local fire departments, many of them under-resourced and largely staffed by local volunteers, are simply not equipped for continuously fighting large wildfires.
Integrated risk management solution
While the use of private sector resources is nothing new, the Burntfields™ approach applies an integrated risk management solution that takes into consideration inter and intra-agency wildfire management needs. This approach aims to seamlessly incorporate skilled private sector resources with public resources to address all three parts of the burntfields lifecycle at the same time.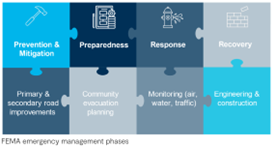 Key focus areas where private sector resources could be applied across the widely used FEMA emergency management phases.
GHD's Burntfields™ framework addresses the challenges of risk mitigation, including early prevention strategies, wildfire preparedness, response actions, and recovery strategies that span the lifecycle of this emerging challenge. This approach is designed to supplement the tightly stretched public sector teams to enable action and create an increasingly resilient future, including risk management strategies or engineered solutions to address the immediate risk of wildfire, or the subsequent challenges of erosion and flood vulnerability.
Wildfire risk is dynamic and requires an agile approach, recognizing that communities, industries, and agencies are often facing numerous and simultaneous challenges throughout the burntfields lifecycle. Beyond the solutions themselves, addressing funding needs is critical to securing the resources necessary to tackle wildfire vulnerability.
Roy Thun is Senior Environmental Specialist and Kurt Beil is Environment Market Leader, Northern Hemisphere at GHD.
Featured image: Government of Alberta.