By Andrew Snook
We all hope to create a brighter future for the next generation. In a rich country like Canada, opportunities to join the workforce and build towards that future are greater than in most parts of the world. That said, there are still many people in this country that have to overcome significant barriers when attempting to enter the workforce. And, unfortunately, the people that have had to overcome the greatest barriers are often those that have resided in this country the longest: Canada's First Nations.
However, thanks to the leadership of some First Nation bands, this is starting to change. Partnerships are being built across a variety of industries to help create new employment opportunities, including the construction and the environmental services industries.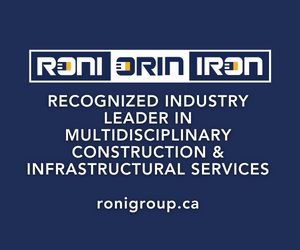 Major milestones
In Maniwaki, Quebec lies the First Nation community of Kitigan Zibi. This community is home to Decontie Construction, Inc., an Algonquin-Anishinabe owned general contracting firm than has been operating in the area for more than 25 years. In 2014, the company became the first Algonquin-Anishinabe-owned general contractor to be licensed by the Régie du bâtiment du Québec (RBQ) to practice general contracting throughout the province.
The company's construction roots date back even further with members of the Decontie family working on pipelines as far back as the 1950s. Many Kitigan Zibi community members left the reserve lands back then to travel to the United States to gain experience in the construction sector. Several of them were members of the Decontie family – brothers Peter, Eddy, Jack, Patrick, Frank and John. That experience helped build the foundation of Decontie Construction, which is now owned and operated by Andrew Decontie (son of Peter Decontie) and his wife, Wanda Thusky.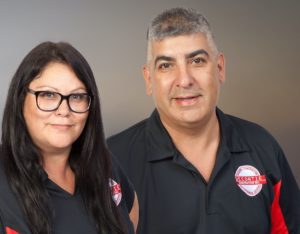 Wanda Thusky and Andrew Decontie of Decontie Construction hope that by sharing their success stories they will help encourage dialogue between potential construction industry partners and First Nation communities. 
Andrew worked for 20 years as a builder on reserve lands, working on a variety of infrastructure and excavation projects, before obtaining his general contracting license from the RBQ.  "I started out as an operator, operating different machines and I got qualifications for five different machines from the RBQ. We started at the bottom and worked our way up," says Andrew.
In Canada, becoming a journeyman in the construction trades typically involves going to trade school and fulfilling your in-class hours, obtaining your supervised work experience and on-the-job training as an apprentice. The supervised work hours and on-the-job training has been extremely difficult for members of Andrew's community to obtain.
"There's definitely a legacy of oppression in this industry – shaming, ostracizing, stereotypes," says Thusky. "A lot of our people have had to move away to the United States to find themselves employment there. Andrew's family comes from that legacy. It's a shameful legacy."
Although dialogue has slowly progressed within the construction industry in Quebec since that time, Thusky says that more work needs to be done on the regulatory side of the construction sector to help ensure that more local people get hired for local projects so they can obtain the necessary experience to build their careers. She believes the best way to obtain this experience is through creating strong partnerships with industry members.
"We are advocating everything around the promotion of our Algonquin workforce within the outside boundaries of the reserve, bringing more visibility to their skill set," Thusky says.
In 2015, Decontie Construction formed a partnership with Milestone Environmental Contracting – an Ottawa-based contracting firm that specializes in soil and groundwater remediation, heavy civil construction, decommissioning and reclamation – and created Decontie Milestone Inc. The team successfully completed a $4.5-million decommissioning project for Hydro Québec on the Anishnabe territory of Kitigan Zibi.
The project involved the demolition of Corbeau Station – a hydroelectric power station built on the Gatineau River near Maniwaki in 1905 that had been non-operational for over 30 years – and the return of the site to its natural state. The project ended up being completed ahead of schedule and on budget in late 2016.
More than 30 Anishinabeg people worked on the project, obtaining transferrable skills and significant employment experience. These positions included supervisory and administrative roles; site preparation; an on-site team consisting of a foreman, apprentice, shovel operator and labourer; site security; truck drivers; and a shovel owner. Several members of the team obtained vital experience to put towards their CCQ competency certification programs for journeyman/apprentice trades and contraction labourers.
"We take our partnerships very serious and our partners are very much involved in the day-to-day of the projects," says Gavin Domitter, national manager of Indigenous relations and business development at Milestone. "I think what differentiates us from other companies is that commitment to engaging our partners so there's opportunity for them to build capacity within their Nations."
Milestone's national lead for business development, Emmanuel Saydeh, says he would like to see partnerships like the one his company has with Decontie used as a model to be replicated by other contractors in the future.
"Community engagement is part of our business model, it's part of our values" he says. "Milestone engages with communities in more than one way. We rely on qualified local businesses and resources for the execution of our projects and really enjoy supporting and giving back to communities we serve. First Nation businesses and communities form an integral part of that network."
"Our goal is to develop the collective capacity of the partnership, where both the Nation and the company grow," he says. "This can lead to a long term and mutually beneficial relationship, and, at times, one where the Nation develops the environmental contracting capacity and infrastructure as a standalone company. Either scenario is a successful outcome, and one we strive for as a partner."
In 2019, Decontie Construction made history yet again. This time as the first Indigenous recipient of the Brownfielder of the Year award, a highlight of the annual Canadian Brownfields Network (CBN) Brownie Awards, which recognizes excellence among the people, programs, and projects involved in the redevelopment of brownfield properties across Canada. Andrew and Wanda were presented with the award for their commitment to the rehabilitation of Indigenous lands, and in particular, for its remediation of more than 100,000 tonnes of contaminated soil for a 34-acre, $1.2-billion Zibi redevelopment of a residential, retail and commercial property around Chaudière Falls on the Ottawa River. Milestone worked with Decontie on the project as the Algonquin liaison general contractor.
Decontie Construction hopes that sharing the company's success stories will help show the benefits of these kinds of partnerships between Indigenous communities and companies within the construction and environmental services sector.
"We need to be able to walk together to be able to share all these success stories, and the way we're sharing our information is in that spirit. To be able to move forward. Acknowledge the past and acknowledge the present, but also be able to have a shared vision on the way we have to move forward and create sustainable economic development within the construction industry for our Algonquin workforce. That's what we strive to do as a company," Thusky says.
"We go above and beyond and sometimes it gets very emotional for ourselves as general contractors; because it's not just about bringing someone on site for work. Very often it's about bringing our people on jobs so they can feed their families, so they can show their skillsets as well, so they can bring pride back to themselves and to their communities and to our Nation. This is what we truly believe when we're discussing the growth and the capacity building of our workforces. Indigenous is multi-faceted, it's not just about putting a shovel in the ground. It's very complicated, but very obtainable. We have success stories that we're proud of that we were able to obtain with our people."
Benefits for smaller bands
On the other side of the country in Port Coquitlam, British Columbia, resides another First Nation community looking to build a bright future for the next generation of its people with the help of the construction environmental services sector: the Kwikwetlem First Nation (KFN). As part of the band's efforts to get involved in the construction sector, it formed KFN Enterprises LP (KFNE), which is involved in project management, site land development and civil works and planning. KFNE is owned 100% by the Kwikwetlem First Nation.
With about 115 members, KFN is fairly small, so its ability to take on all aspects of more complicated construction projects is extremely limited without the assistance of industry partnerships. Again, Milestone Environmental Contracting was able to offer its environmental contracting expertise to assist KFNE in obtaining new construction contracts.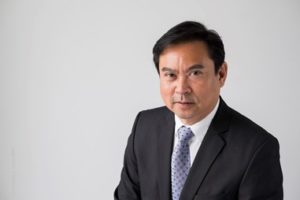 Archie Alafriz, CEO of KFN Enterprises, says that partnerships with companies like the one his band has with Milestone Environmental Contracting gives them the opportunity to bid on contracts they would otherwise not have the capacity to handle. 
"A lot of First Nation entities, because of the type of land ownership they're engaged in, tend to gravitate towards a lot of construction work – remediations and things like that. So, where Milestone really lends a hand in terms of economic growth of a Nation as small as KFN, is they provide us with a certain capacity under the joint ventures that the Nation itself would otherwise would not have," explains Archie Alafriz, CEO of KFNE.
"Kwikwetlem First Nation on its own, because of its demographics, just doesn't have the capacity to advance on these bids because we don't have engineers, we don't have environmental remediation experts, we have no geotech of our own, and, particularly, civil engineering. We have construction equipment and we have some construction workers. What Milestone affords us is a way to be able to advance on these bids. Without them, the Nation just wouldn't have the capacity to fulfill those orders."
In addition to offering its environmental contracting expertise under the joint venture, Milestone has assisted in the operation of the Saskay Land Development Soil Transfer Facility, including estimating and work plans for a variety of projects including managing and placement of fill soil for development preparation. KFNE receives the majority of all profits associated with the work undertaken within the joint venture and applies these funds where most needed in the community. Milestone also offers KFN support for a variety of its fundraising initiatives including the band's health centre and holiday gift giving for its membership.
Alafriz says that under their joint venture, Milestone has offered additional training and employment opportunities, but due to KFN's small size and demographics, it hasn't been able to take full advantage of those opportunities to date.
"In the next five years or so, we have some teenagers that are coming up the ranks that are going to need employment, that are going to need training, and Milestone will be in the position to assist. Generally, in the enterprise, we try and employ as many band members as we can, that's always been our objective," says Alafriz. "The joint venture is still young, and the band's demographics don't exactly match up to the part of the population going through training, going through education into the job market. That said, what they represent is, potentially, a significant boost to the band's future capabilities."
Creating opportunity out of contamination
In Langley City, B.C., another First Nation community is building new opportunities for its people while helping bring the land back to its natural state, by getting involved in environmental reclamation.
Kwantlen First Nation became involved in reclamation when they decided to clean up a contaminated site on the riverfront of the Nation's land through its Qwantlen Business Group (QBG), a sister company of səýeḿ, the Economic Development Ltd. Partnerships of Kwantlen First Nation.
"Like many Nations, we're left with leases from the 1970s that the federal government entered into without the consent of the band; and, unfortunately, there are many examples across Canada of lands that have quite a bit of contamination," explains Brenda Knights, CEO of səýeḿ. "A lot of new environmental laws in the last 20 years have come into place, so a lot of these land leases are coming to light, and so, nations are pursuing legal action to get these people off the lands, and the leases terminated."
In the case of Kwantlen First Nation, one of those leases the band wanted terminated was a shake and cedar mill that had been operating on the band's land.
"He had been going outside of the scope of his lease and getting involved in recyclable materials and all kinds of stuff – anywhere he could make money," says Knight.
According to Knight, the band was eventually able to get the tenant removed from their land, but the site was left with a lot of remediation work required before they could lease the property to a new tenant. The band ended up creating a joint venture with Milestone Environmental Contracting to work together to remediate the land over multiple phases from 2017 to 2019 (Fraser Cedar Phases 1, 2 and 3), which included site and ground water remediation; stabilizing a failing slope with a lock block retaining wall; the demolition of structures, foreshore and water-based sediment remediation; and, the removal of existing infrastructure.
"We were able to get the lands to a place now where we are now able to move forward with a new tenant," Knight says. "We negotiated a new lease with light industrial as opposed to heavy industrial that was there in the past. Now we have a medical marijuana facility and a building for craft brewers. It's been a success story for the community: getting the land healthy again and employment opportunities."
Kwantlen First Nation continues to work with Milestone on other projects today due to the strong relationship they have built together.
"There are companies that tend to not go and pursue those relationships with First Nations, and those projects are not as successful," Knight says. "Whereas, with Milestone they put a lot of emphasis on relationships with Indigenous communities."
 A win-win scenario
The partnerships undertaken by Decontie Construction, Kwantlen First Nation, and Kwikwetlem First Nation with Milestone Environmental Contracting showcase opportunities for other potential positive joint ventures between First Nation communities and the construction industry. Through true partnerships that benefit the peoples of these diverse communities and industry, relationships can be forged that will ensure the economic viability of all parties.
With Indigenous communities comprising some of the youngest and fastest growing populations across the country, First Nations could be the answer to Canada's aging construction sector, which is on track to need to recruit more than 307,000 workers over the next decade to keep up with demand, according to a 2020 BuildForce Canada labour market forecast. And with the right partnerships in place, where these communities can gain the experience to be able to branch out on their own and form their own contracting firms in the future, many First Nation communities may have the opportunity to expand their businesses' capacities and revenue generation to build new career paths that will create bright futures for the next generation.
Andrew Snook is a writer and editor working out of the Toronto area.
Note: A version of this article was previously published in the Aboriginal Business Report and is being shared here with permission from the Canadian Council for Aboriginal Business (CCAB).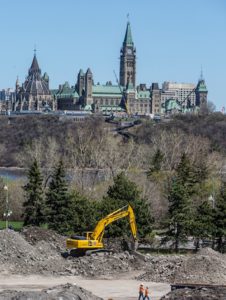 Featured image: The partnership between Decontie Construction and Milestone Environmental Contracting has helped create new opportunities for Anishinabeg people to gain vital work experience. Photo Credit: Decontie Construction.