Electricity Transformation Canada (ETC) is the premier event for the Canadian clean energy industry to learn about market opportunities, challenges, and connect with key players. This year's event, which was held at the Metro Toronto Convention Centre on October 26 – 28, featured a wide variety of clean energy stakeholders ready to take on a critical role in helping Canada meet net zero commitments.
Launched at ETC 2021, "Powering Canada's Journey to Net-Zero: CanREA's 2050 Vision" calls for a ten-fold expansion in Canada's wind and solar energy capacity by 2050. It is an urgent call to action to get Canada started on the path to meeting its commitment to achieve net-zero greenhouse-gas emissions by 2050. The vision outlines five key tasks and 15 immediate actions required from government, utilities, system operators and regulators.
At this year's ETC, the CanREA team and a growing number of members reported on progress made over the past year, with speakers representing some of Canada's most prominent utilities, governments and corporations highlighting initiatives they are taking to support the transformation of Canada's electricity systems.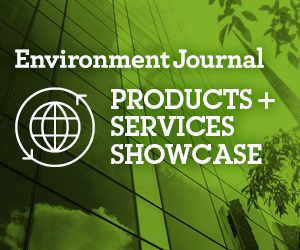 "We must build new wind energy, solar energy and energy storage projects at an unprecedented pace," said Robert Hornung, CanREA's president and CEO. "Now is the right time to bring together Canada's electricity utilities, system operators and renewable energy industry for capacity-building activities related to the deployment and integration of these technologies within electricity grids. There is not a moment to waste."
Today featured the launch of the CanREA Electricity Transition Hub, supported by nearly $1.6 million in funding, as announced by Julie Dabrusin, Parliamentary Secretary to the Minister of Natural Resources and to the Minister of Environment and Climate Change, and Member of Parliament for Toronto—Danforth, on behalf of the Honourable Jonathan Wilkinson, Minister of Natural Resources, at the Electricity Transformation Canada conference in Toronto.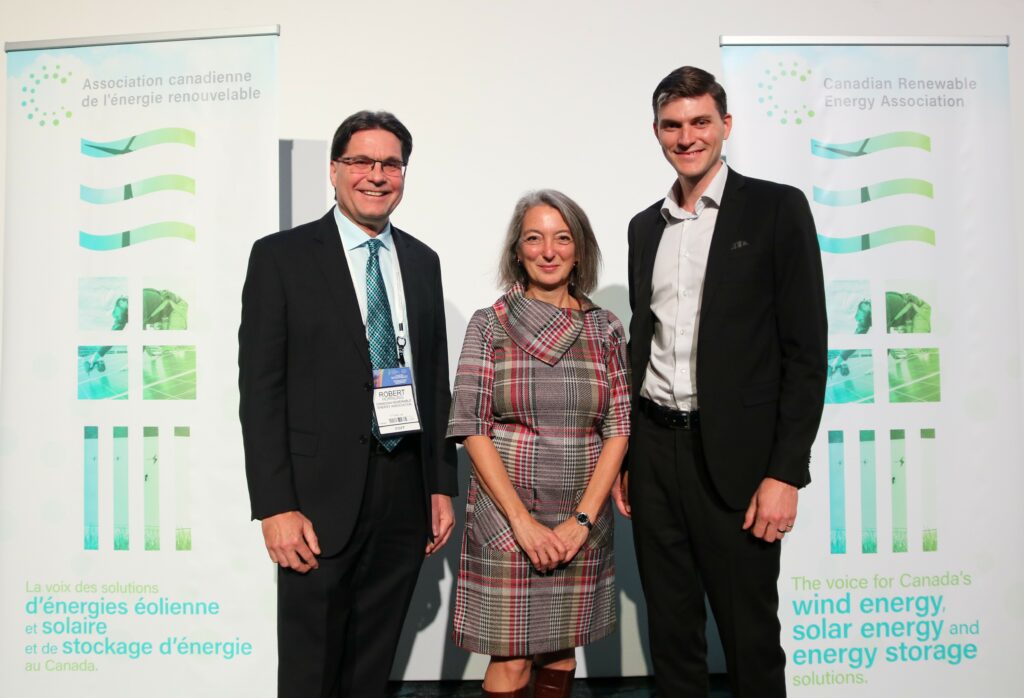 Natural Resources Canada announces an investment of $1.6 Million to launch the CanREA Electricity Transition Hub. From left to right: Robert Hornung, CanREA's President and CEO; Julie Dabrusin, Parliamentary Secretary to the Minister of Natural Resources and to the Minister of Environment and Climate Change; Phil McKay, CanREA's Senior Director, Electricity Transition Hub. Photo courtesy of CanREA.
The CanREA Electricity Transition Hub (the Hub) is a knowledge-transfer tool helping electricity utilities and system operators accelerate their decarbonization efforts. The Hub will equip participants to integrate the larger amounts of wind energy, solar energy and energy storage needed to support electrification and Canada's net-zero GHG-emission targets.
"During today's Electricity Transformation Conference in Toronto, I was pleased to announce that the Government of Canada is supporting our utilities and systems operators to deliver the clean technologies we need to reach net-zero," said Dabrusin. "This support for the Canadian Renewable Energy Association's Electricity Transition Hub is an important step on the path to a prosperous net-zero future."
Federal funding for this project is provided by Natural Resources Canada's $1.56-billion Smart Renewables and Electrification Pathways (SREPs) program, which aims to significantly reduce GHG emissions by enabling increased renewable energy capacity that will provide essential grid services while contributing to Canada's 2050 net-zero targets.
The Hub has 13 founding participants, including Alberta Electric System Operator (AESO), BC Hydro, City of Medicine Hat, EPCOR, Essex Power Corporation, Fortis Inc., Manitoba Hydro, NB Power, Ontario Power Generation, Qulliq Energy Corporation, SaskPower, Toronto Hydro and Utilities Kingston.
"CanREA is very excited to launch the Electricity Transition Hub. It is a unique entity that supports electricity system participants and helps them build capacity to accelerate the energy transition," said Phil McKay, CanREA's senior director of the Electricity Transition Hub. "CanREA is uniquely positioned to gather global knowledge on wind energy, solar energy and energy storage integration, and then to translate these resources effectively to be relevant in all of Canada's different regions and electricity systems."
Several educational panels provided over the three day event provided much food for thought about how to overcome challenges in transitioning the electricity grid, as well as how to tap into the massive opportunities ahead.
Following a greeting from The Honourable Todd Smith, Minister of Energy, Government of Ontario, CanREA provided a comprehensive update on the working involved  in accelerating the deployment of wind, solar and storage technologies in Canada.
CanREA's policy team will provide an overview of their advocacy priorities supporting CanREA's 2050 Vision and discuss current and emerging policy, market, and regulatory initiatives relevant to our industries across the country. They will share valuable market intelligence on the current status of the wind, solar, and energy storage markets in different regions of Canada—and assess their potential for future growth.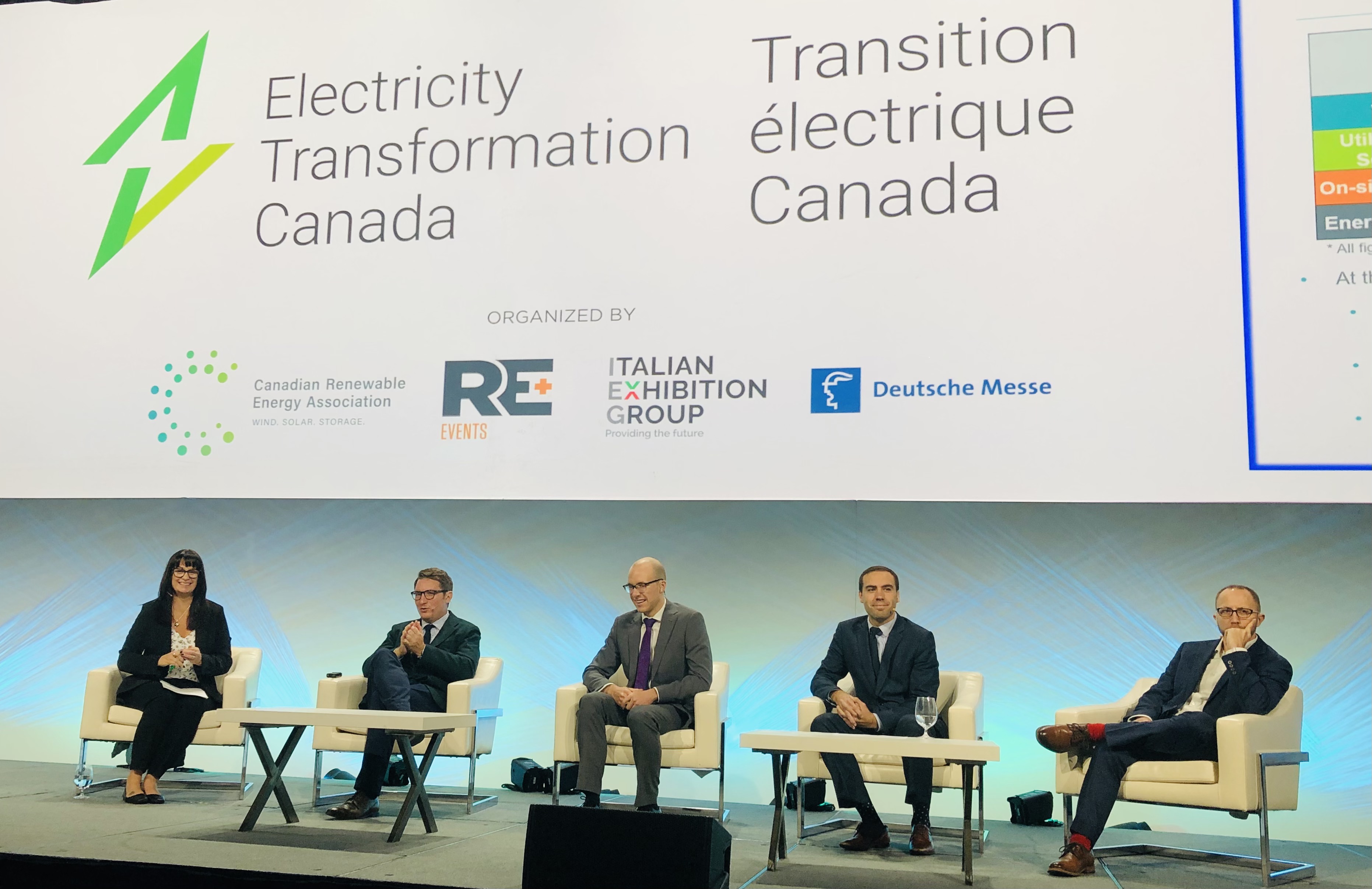 The CanREA Market and Policy Update panel, from left to right: Brandy Giannetta, VP Policy, Regulatory and Government Affairs, Canadian Renewable Energy Association; Evan Wilson, Senior Director, Western Canada, Canadian Renewable Energy Association; Nicholas Gall, Director, Ontario and Distributed Energy Resources, Canadian Renewable Energy Association; Jean Habel, Director for Quebec and Atlantic Canada, Canadian Renewable Energy Association; and, Mathieu Côté, Director, Operations Program, Canadian Renewable Energy Association. 
At the federal level, CanREA's advocacy for the coming year will be focused on:
Development of a federal policy landscape that addresses the competitive pressures created by the U.S. Inflation Reduction Act.
Creation of a credible path to net zero by 2035 that incentivizes accelerated renewable investment via the Clean Electricity Regulation and the Output Based Pricing System carbon price.
Establishing a Pan-Canadian Grid Council to promote infrastructure investments, smart grids, integration, and electricity sector innovation.
Key regional takeaways included:
In Alberta, Bill 22, The Electricity Statutes Amendment Act provides a new legislated definition of energy storage, and will require engagement on resulting regulations.
In Ontario, electricity demand is expected to increase approximately 15 per cent over the next decade, while the Pickering nuclear power plant is being retired, so the province will require a significant volume of new generation capacity.
In Quebec, over 100 TWh of additional clean energy will be required to attain carbon neutrality by 2050, so upcoming RFPs are on the horizon and CanREA has submitted regulatory framework proposals.
In Nova Scotia, upcoming RFPs like the Green Choice Program seek to increase the number of MW and decarbonize the electricity grid.
Recognition of industry leadership was provided to Newfoundland and Labrador Hydro's president and CEO, Jennifer Williams, who received the 2022 Woman of Renewable Energy Award.
The award, which was announced on Wednesday by Women in Renewable Energy (WiRE), acknowledges the efforts and achievements by women in the renewable energy sector.
Williams has been applauded for her leadership in her role as the first female President and CEO of Newfoundland and Labrador Hydro and for her commitment to providing the people of the province with least-cost reliable energy, and her role leading a utility that is critical to responding to the rapidly accelerating renewable energy landscape.
WiRE's mission is to advance the role and recognition of under-represented groups, including women, working in the energy sector. (To learn more about WiRE, visit https://womeninrenewableenergy.ca.)
Jennifer Williams, President and CEO, NL Hydro and 2022 Woman of Renewable Energy award recipient. Photo courtesy of WiRE.
"It is truly humbling to be recognized at this point in my career as a leader in the renewable energy sector. Women are leading the shift to green energy and I accept this award to shine a light on the decisive role women play leading the critical global energy transition. I firmly believe there has never been a better time to be in this industry and I encourage more and more women to join me. I want to thank WiRE for recognizing me with this prestigious award and for its mission to advance the role and recognition of women in the renewable energy sector," said Williams.
To conclude the three-day event, outgoing CanREA CEO Robert Hornung stated: "We've set ourselves some big goals and we have to think big about how to achieve them."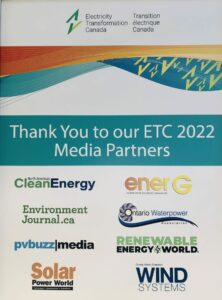 Environment Journal is a proud media partner of Electricity Transformation Canada.
For further information and registration information about upcoming CanREA events, visit: https://electricitytransformation.ca/
For a recap of last year's ETC event, visit: https://environmentjournal.ca/canrea-launches-new-2050-vision-at-energy-transformation-event/
Featured image: Several participants of the new CanREA Electricity transition Hub were present at the October 2022 funding announcement with Natural Resources Canada. From L to R: Anthony Clavet of Essex Power Corporation; Mark Peters of SaskPower; Courtney Balkwill of SaskPower; Vittoria Bellissimo, CanREA's incoming President and CEO; Robert Hornung, CanREA's outgoing President and CEO; Julie Dabrusin, Parliamentary Secretary to the Minister of Natural Resources and to the Minister of Environment and Climate Change; Phil McKay, CanREA's Senior Director, Electricity Transition Hub; Steve Ray of Essex Power Corporation; John Avdoulos of Essex Power Corporation; Jamie Hopkins of Manitoba Hydro; Jim Zhao, Electricity Transition Hub Manager. (Photo courtesy of CanREA.)