Bill 14: the Alberta Indigenous Opportunities Corporation Act (AIOC) was introduced on October 8, 2019 to increase Indigenous communities' access to capital and technical support to invest in natural resource projects and related infrastructure.
"Indigenous people in Alberta deserve a government that will be a true partner in creating new opportunities so that the First Nations who call this land home can take full advantage of the natural resources that enrich this province. We want to empower Indigenous communities so they can lift their people out of poverty and become full partners in prosperity," said Alberta Premier Jason Kenney.
The legislation was designed to increase the ability for Indigenous groups to invest in the province and help them become more prosperous partners in the economy. Communities will have the chance to develop new income streams that could be used to develop community-level programs and services.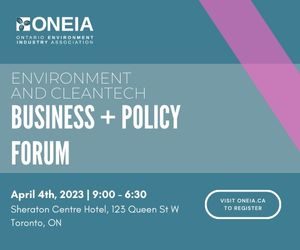 Indigenous communities have faced challenges in getting financing for mid- to large-scale investments. The federal Indian Act limits land-use rules, like sales, transfers or use of land for collateral.
"This new Crown corporation is a bold and innovative way of building relationships with Indigenous communities to get natural resource projects moving forward and get Alberta's economy back to work. The returns on these investments can help fund the community programs and services the Indigenous communities want," said Alberta Minister of Indigenous Relations Rick Wilson.
Key changes introduced by Bill 14 include the creation of the AIOC – a first-of-its-kind in Canada – with a governance structure that would provide a board of directors to help manage and supervise business affairs, and to ensure the AIOC meets its mandate to facilitate investment by Indigenous groups.
Government oversight would be provided in the following ways: the appointment of a deputy minister observer to sit as a non-voting member on the board of directors, allowing the minister of Indigenous Relations to issue directives and requiring reports be submitted to the minister of Indigenous Relations for the purpose of reviewing the AIOC.
A Ministerial Advisory Committee was established in September 2019 to help shape the direction of the AIOC until a board of directors is appointed.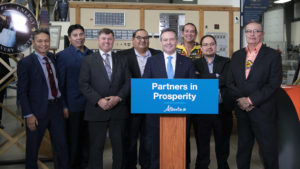 Premier Jason Kenney announces legislation to set up the
Alberta Indigenous Opportunities Corporation.
From left, Calvin Helin (Eagle Spirit Energy Holdings Ltd.), Grand Chief Arthur Noskey (Treaty 8 First Nations of Alberta), Minister Rick Wilson (Indigenous Relations), Stephen Buffalo (Indian Resource Council), Herb Lehr (Metis Settlements General Council), Chief Billy Morin (Enoch Cree Nation), and Chief Joe Weasel Child (Siksika Nation). Photo courtesy of Government of Alberta.
If passed, Bill 14 will define the following groups as eligible for AIOC support:
Indigenous groups, as defined by the Indian Act
Metis Settlements as established by the Metis Settlements Act
Métis groups as defined by regulation
other entities approved by the minister of Indigenous Relations as falling within the AIOC mandate
entities that are fully owned by the groups identified above
Here's the news conference announcing Bill 14: