The Brownie Awards are just one week away. The annual awards gala, presented in partnership between the Canadian Brownfields Network and Actual Media Inc., brings together the best in the business to recognize and celebrate brownfield projects, policies and people. This year, the Brownie Awards finalists boast the most geographically diverse variety of projects and project teams in the history of the awards program.
On November 14th, the Brownie Awards Gala will be held at the Delta Marriot in the heart of downtown Toronto. In the meantime, let's have a close look at the incredible finalists.
Reprogram: Legislation, Policy and Program Initiatives
Community Wellbeing Framework – Toronto, Ontario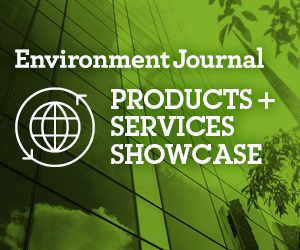 The redevelopment of brownfields has often been limited to the remediation of soil with new building built under the same paradigm that caused problems in the first place. The Community Wellbeing Framework (CWF) changes this paradigm. It facilitates a meaningful conversation with communities on how to "get it right" — building in a way that enhances (rather than detracts from) the wellbeing of people and the environment. It allows for a fresh start, informing the design process, as well as the life of the project. It also does it in a holistic way, addressing not just the health of natural systems, but also the physical health of people, their mental health, social wellbeing, and an array of interrelated indicators.
Fundamentally, the CWF is meant to raise the bar for what qualifies as successful design of the built environment. Wellbeing indicators, across social, economic, political, cultural, and environmental categories are mobilized to act as the guardrails, guiding design solutions that measurably improve the wellbeing of communities and natural systems, whatever the scale of their project. The CWF has been implemented by numerous public- and private-sector groups in the design, construction, and operation of neighbourhoods, buildings, and building interiors, as well as used for public engagement and policy creation.
Project Team: DIALOG in partnership with the Conference Board of Canada
The evidence-based, accessible nature of the Framework has enabled the development industry and design professionals to become active participants in making a difference.
Watson Island Redevelopment – Prince Rupert, British Columbia
Since 1955, Watson Island operated as a pulp mill facility until market conditions forced its closure in 2001. Although there were unsuccessful attempts to restart the mill, the site remained unused until its decommissioning and demolition in 2015. Due to financial hardships the mill went through several owners, prior to the city becoming the unwilling owner in 2009 through tax sale legislation. The site has been considered a liability and was a significant holding cost for the municipality since its abandonment due to its numerous environmental risks and hazards, including over 100 vessels of unknown condition and 15 million liters of fluid waste from the pulping process.
The local government collaborated with the project team and BC Ministry of Environment and Climate Change Strategy to develop a remediation plan to redevelop the land, paying close attention to environmental and economic outcomes and minimizing logistics concerns. By retaining the land, which was transferred to the city's wholly owned subsidiary, Prince Rupert Legacy Inc., the City of Prince Rupert is creating an economic opportunity for the citizens of Prince Rupert that will serve as a precedent for future brownfield projects. The large and complex site was broken into manageable sections to lease to proponents, who have led remediation efforts, managed by the city and their development arm. Approximately 95 per cent of all materials were recycled during the demolition, with maximum reuse of equipment and supplies and minimal cost to the city.
Project Team: City of Prince Rupert, Prince Rupert Legacy Inc., McElhanney Ltd., and Trillium Environmental Ltd.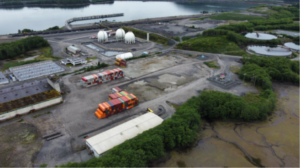 The Watson Island project provides a roadmap for future brownfield redevelopment projects that will drive economic growth within the community of Prince Rupert, the province of B.C. and beyond.

City of Guelph, Guidance for On-Site and Excess Soil Management – Guelph, Ontario
Recognizing the significance of Ontario's incoming Excess Soil Regulation (O. Reg. 406/19), the City of Guelph proactively initiated the development of contract specifications that would align construction projects to the regulation, as well as a plain language guidance document intended to guide the city's project managers in their understanding of the regulation. Combined, these documents foster the delivery of construction projects in the city — either by the city and other project leaders — in compliance with the regulation. Both efforts took into consideration the potential for encountering impacted soils at infill or brownfield sites, as well as identifying and distinguishing soil suitable for beneficial reuse at these sites.
Specifications development included the engagement of the city's engineering and legal staff, allowing for the selection of a contracting approach that would both facilitate managing city risks, as well as promote project efficiency. The development of the guidance document included assistance from multiple city divisions and the city's broad network of consultants (primarily Stantec), thus producing a comprehensive, understandable document that simplifies the implementation of the regulation.
Project Team: City of Guelph (engineering and legal departments) and Stantec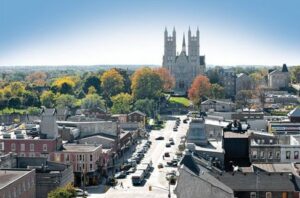 This project provides a model of excellence for other regional and municipal governments, serving as a template for both the development of contracting specifications, as well as tools for informing and educating municipal staff.
Remediate: Sustainable Remediation and Technological Innovation 
Dow-Petromont Rehabilitation Project – Montreal, Quebec
The Dow-Petromont Rehabilitation Project demanded an innovative solution for a large-scale biopiling project. The project team spent two years experimenting with solutions to ensure the best possible outcome. Laboratory testing and pilot biopiles were used to determine whether improvements to organic amendments and structuring agents, as well as the use of surfactant to mobilize PAHs, would help increase the rate of degradation. The biopiles in this innovative co-composting system were built on top of an impermeable lined base, also covered with a liner to maintain temperature and optimize contaminants recovery.
The project team also introduced the use of telemetry and tablets for real-time biopile treatment monitoring to ensure that the solution was having the expected results. As a result of the implemented solutions, approximately 190,000 m3 of soils were treated using biopiles, while 35,000 m3 of soils were treated using additional step of rhizodegradation.
Project Team: Dow Chemical Canada ULC, Petromont, and WSP Golder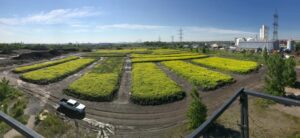 This innovative rehabilitation work required protection procedures for endangered species and specific measures for works in close proximity to wetlands.
Large-Scale Environmental Remediation and Earthworks Construction for Pikangikum First Nations – Pikangikum First Nation, Ontario
Pikangikum First Nation is an Ojibway community located on the shores of Pikangikum Lake in the Kenora District of north western Ontario. The community is accessible by air year-round, by ice road for a few weeks in the winter, and by boat in the summer. Supplied with electricity by generators for decades, the community was the first of 17 northern Ontario communities to be connected to the electrical grid as part of the Wataynikaneyap transmission line. As a result of this connection, some obsolete petroleum facilities were dismantled within the community and 13 hydrocarbon contaminated areas were identified, equivalent to 9000 m3 of contaminated soil.
The decontamination and rehabilitation of contaminated soils to regenerate this area is at the heart of this project. The various project stakeholders contributed to provide a successful solution to the problem of soil contamination and found a cost-effective, sustainable alternative to transporting contaminated soil to remediation areas outside its borders.
Project Team: Pikangikum First Nation (project owners), Englobe (prime contractor), Arcadus Canada Inc. (initial project design); Colliers Project Leaders (project administrator); Stantec (project consultant); Indigenous Services Canada (project funder); and, Independent First Nation Alliances and Aboriginal Strategies Inc. (project consulting and guidance).
The excavation and decontamination of the soil in the area formerly occupied by
a diesel tank farm has made it possible to regenerate this material to benefit the environment and community.
Ashland Leaside Steam Enhanced Extraction (SEE) In-Situ Thermal Remediation Program – Toronto, Ontario
This brownfield site consists of a former industrial facility first developed in 1937 and situated on 0.51 hectares in the area of Leaside. The urban area has seen about a century of heavy industry, but is now undergoing rejuvenation and repurposing. Site operations which ceased in 2015 included the manufacture of paint additives and biocide chemicals and involved numerous, but now decommissioned, aboveground storage tank farms. The historical operations resulted in petroleum hydrocarbon impacts to the soil and groundwater and the significance presence of a highly viscous, Light Non-Aqueous Phase Liquid (LNAPL) in the subsurface.
To support reuse of the Site and remove the LNAPL and the dissolved phase impacts, a Steam Enhanced Extraction (SEE) in-situ thermal remediation was designed by ERM and successfully implemented. The safe, sustainable, and cost-efficient methodology considered the property's physical constraints and the desire to retain the building and existing infrastructure; more traditional ex-situ remedial approaches would have involved significant soil excavation and removal and necessitate partial demolition of the building. The SEE system included a high-efficiency steam boiler, an array of steam injection and NAPL, groundwater, soil vapour recovery wells, and PC-based monitoring.
Project Team: ERM Consultants Canada Inc., Ashland LLC, Milestone Environmental Contracting Inc., and SCG Industries Limited.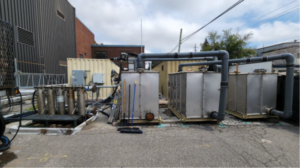 This innovative approach is the first in-situ thermal remediation project carried out by ERM in Canada and one of the first such projects carried out in this country.
Reinvest: Financing, Risk Management and Partnerships
Brownfield Redevelopment of a former Lead Smelter and Battery Recycling Facility – Winnipeg, Manitoba
Unique remediation and risk management strategies were used for this redevelopment of a former lead smelter and battery recycling facility, North West Smelting and Refining, an orphaned designated contaminated site. The goal was to redevelop the site and transform it from an impacted, non-productive former industrial site, to a commercial site with beneficial reuse. Prior to remedial site works, it was considered one of Manitoba's top contaminated sites. This project was ground-breaking in many ways, including the management of hazardous materials on-site, and the field screening technique.
The risk management strategy utilized on this project may help similar projects to move away from excavation and off-site disposal of hazardous impacted material and encourage conducting risk assessments to determine viable on-site soil management options that protect human health and the environment. In addition to significant technical challenges, ownership and financing issues needed to be overcome. The work was conducted through Manitboa's Orphaned Sites Program.
Project Team: Dillon Consulting Limited; Manitoba Environment, Climate and Parks; Thompson Dorfman Sweatman LLP; Tervita Corporation; and Colliers International.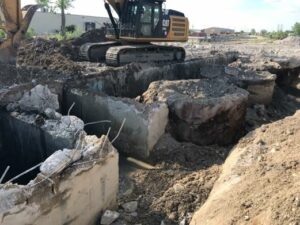 This project is a model for addressing orphaned properties with public private partnerships to successfully complete the restoration of an abandoned property.
Esquimalt Harbour Marine Remediation – Victoria, British Columbia
The is a $162.5 million Esquimalt Harbour Marine Remediation project was initiated to address harbour seabed sediments that had been contaminated by historical commercial and military operations. The purpose was to regenerate the health of the harbour through the disposal of more than 40,000 cubic meters of material and debris contaminated with various chemicals of concern. In addition, the work involved retrieval of archaeological artifacts and potential unexploded ordinance (UXO) from the harbour. Located in the traditional territory of the Lekwungen People of the Coast Salish Nation, known today as the Esquimalt and Songhees Nations, a key aspect of the project was the creation of an Indigenous Benefits Plan (IBP) to create meaningful business development and socio-economic outcomes and procurement of goods and services from Indigenous-owned companies for the members of both Nations.
With a focus on building relationships, mentorship, and skills development this project provided additional community benefits to the Esquimalt and Songhees Nations as well as to members of other First Nations, with the facilitation of additional training courses, cultural and educational events, mentorship, and charitable donations within the community.
Project Team: Milestone Environmental Contracting Inc.; Public Services and Procurement Canada; Department of National Defence; Esquimalt First Nation; Songhees First Nation; Salish Sea Industrial Services; and, Ralmax.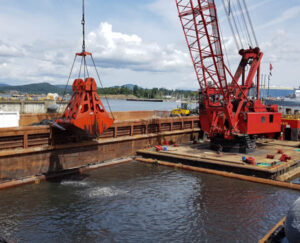 Early engagement between the client, First Nations, and project team as well as a dedicated liaison in the design, collaboration, and delivery of an IBP was instrumental in aligning to community objectives and creating extended community benefits. 
IR5 Waste Leachate Treatment System – Maple Ridge, British Columbia
The IR5 Waste Leachate Treatment System project is located on a former Atlantic Waste Landfill site on Kwantlen First Nations land. The former landfill was in operation on a site that is of high value for future development. The remediation for this brownfield was completed through a joint venture between Seyem' Qwantlen Business Group, the Business Development arm of Kwantlen First Nation, and Milestone Environmental Contracting Inc. with the support of other Kwantlen First Nation partners.
The site was remediated using a waste leachate treatment system which takes untreated leachate (runoff) from the landfill and collects it in a pond adjacent to it where it is treated so that it can be released in an environmentally friendly manner versus stored in the pond. This type of system allows for the pond to be decommissioned, filled with clean material, and prepared for future development. To decommission the landfill and create a sustainable solution, waste leachate system technology was applied which treated the contamination rather than storing it onsite. Meaningful engagement to ensure alignment with community goals was a key component to a successful completion. Land use planning is currently underway.
Project Team: Milestone Environmental Contracting Inc., GHD, Kwantlen First Nation, and Seyem'Qwantlen Construction Ltd.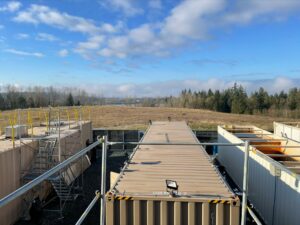 While maximizing a limited land supply for the First Nation, the project also enables future economic prosperity, social wellbeing and environmental stewardship for the community, demonstrating that remediation is an act of reconciliation.
Refocus: Alternative Benefits to Brownfield Remediation
Development of a Vacant Contaminated Site into a Sustainable Eco-Friendly Hotel – St. John's, Newfoundland
This redevelopment of a brownfield site as a hotel designed through a sustainability lens with eco-friendly principles aligns with broader social initiatives and mandates beyond just brownfield redevelopment via:
Applying a unique prefabricated modular approach to the redevelopment that significantly reduced environmental impacts associated with waste, air, water, and noise pollution;
Including ecologically sustainable features such as geothermal heating and cooling powered by the ocean, innovative heat recovery systems, and automated central switches;
Preserving the history of the area by putting materials from a historic building that previously existed at the site on display in the lobby of the hotel with old photos that document the history of the site;
Facilitating the revitalization of the local economy and community, while also supporting the burgeoning focus on reducing environmental impact.
Project Team: Groupe Germain (owner) and Stantec Consulting Ltd. (consulting services for environmental site assessment, risk assessment, and remediation).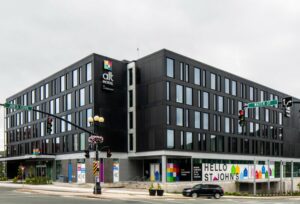 The presence of this sustainable and eco-friendly hotel has helped to revitalize the downtown core, with benefits to both the local economy and community.
Northlands Dënesųłiné First Nation– Lac Brochet, Manitoba
The Northlands Dënesųłiné First Nation (NDFN) project encapsulates this category in its many themes: energy sovereignty, economic independence, environmental protection, climate change resiliency, and environmental racism. This one-of-a-kind project could shape the future of remediation on Indigenous lands by dismantling the colonial systems through energy sovereignty and economic security. The concepts are transferable to many other nations with NDFN leading the capacity building in other communities. This brownfield project creates a new benchmark for innovative remediation projects in including provisions to avoid future contamination.
The environmental remediation was one aspect of a broader scope with the aim of having the northern isolated community divest from using diesel power as a primary source for heating and power generation, and installing solar, biomass, and geothermal heating systems. One of the main outcomes of this project was to empower residents to take a leadership role in the execution of the environmental remediation and the management of alternative energy in their community.
Project Team: Milestone Environmental (general superintendent), Boke Consulting (recycling and energy systems), NDL Construction (general contractor), Vertex Environmental Inc., and Aski Geoscience Ltd.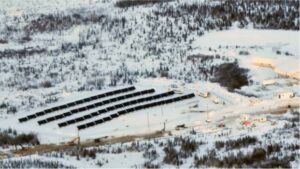 The NDFN is on their way to energy independence; they are no longer beholden to fossil fuels and are actively fighting climate change while saving a significant portion of their budget to put into their community.
York Recreation Centre – Toronto, Ontario
This project resulted in the transformation of a rarely used ball diamond on a residual piece of land. The property had poor access, little exposure and was not well suited to recreational use. However, it was ideally located to serve three lower income neighbourhoods that surround the site. As a result, this spurred the idea for a recreation centre that could be a hub empowering community life and connecting neighbours. The project team took the opportunity to reimagine a new zone of the city as a vibrant beacon for community renewal and a catalyst for urban growth. A large green roof serves as a prominent feature, which also doubles as a rainwater collector and sunlight harvester. Remediation of the site involved the installation of an underfloor venting system to exhaust methane in the soil, indigenous drought resistant plantings, and extensive bio-swales at parking areas. The building employs smart lighting systems, heat recovery from the pool dehumidification system, and a high-performance envelope.  The project employs several energy and water conservation features in its design, which has attained Toronto Green Standards certification.
Project Team: Perkins&Will (design principal, manager and contract administration and captain); Jared Cardiff (specifications); Entuitive (structural consultant); Smith + Anderson (mechanical consultant); MBII (electrical consultant); WSP (civil engineer); Fleisher Ridout (landscape design); Aercoustics Engineering (acoustical consultant); Turner & Townsend (cost consultant); and City of Toronto.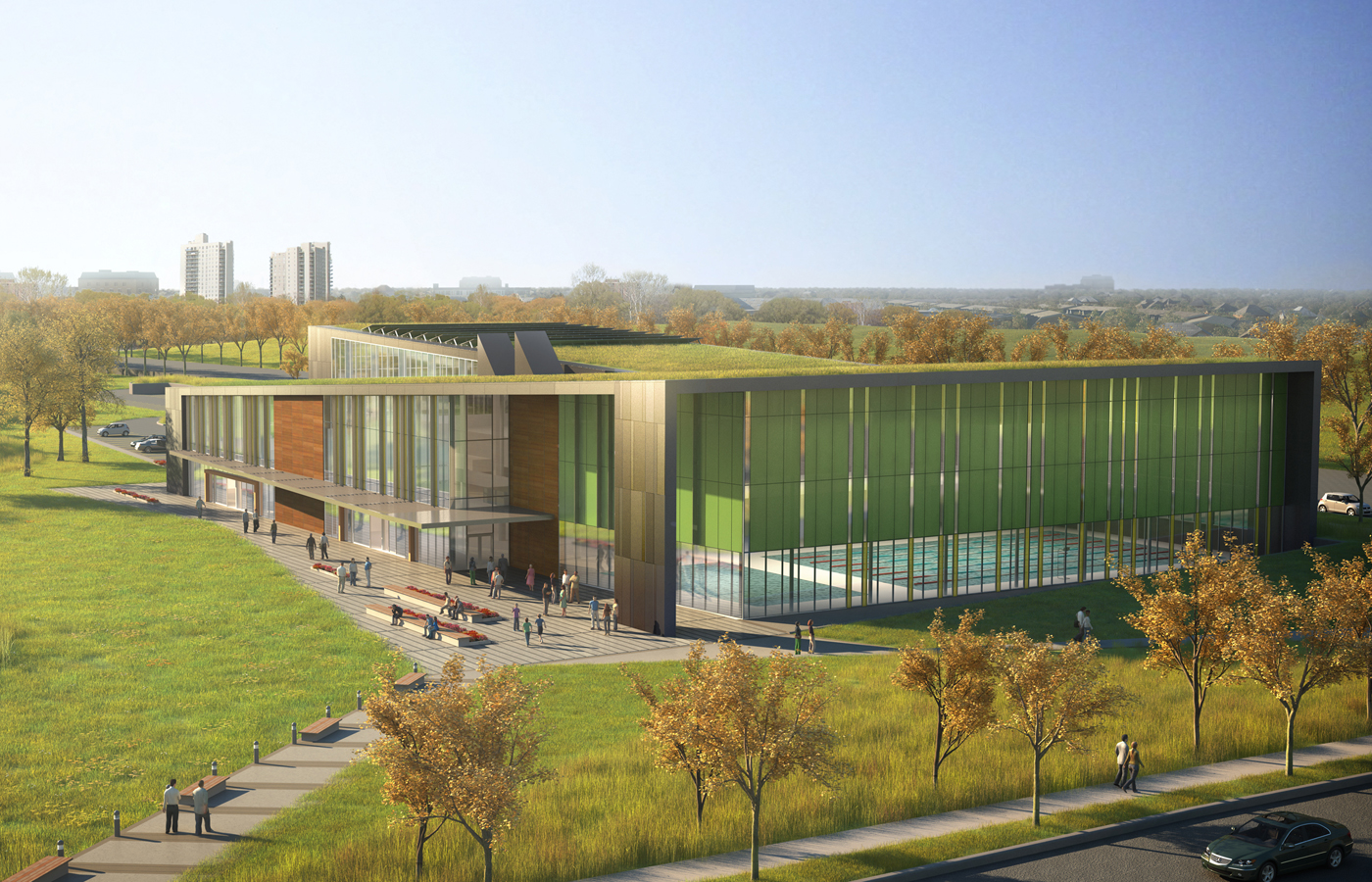 The site has been functioning in a successful way, both sustainably and socially, and has become a key landmark for the community that surrounds it.
Fire Station Headquarters – Welland, Ontario
Welland's new headquarters and Fire Station #1 is a nod to its industrial past while at the same time focusing on the changing landscape of the future and how buildings are designed, constructed, and located. Located on a 3.2-hectare brownfield site in the heart of the city, the new fire station is located on the former Atlas Steels site, having safely removed contaminated soil and reusing leftover concrete and other building materials, diverting more than 5,000 cubic metres of concrete from landfills. Vacant for over a decade, the site was a wasteland, an eye-sore in the downtown core; the same core the city is focusing on revitalizing. But it's about more than just refocusing a brownfield site and building a new structure. The City of Welland approached this project with a keen desire to make this building one of the most energy-efficient fire stations in the country. With a high-performance building envelope, internal mechanical system, and investment in high-quality building materials, the design also exceeds the National Energy Code.
Project Team: City of Welland, Welland Fire Department, Niagara Peninsula Conservation Authority, and Niagara College.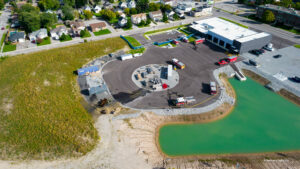 An interesting feature of the site is the pond that captures rainwater and is also useful to support training in water and ice rescue operations.
Rebuild: Redevelopment at the Local, Site Scale
152 Shanley Street Redevelopment – Kitchener, Ontario
This project demonstrates excellence in site specific development, addressing a legacy issue for the neighbourhood in several ways, including:
Accessing public policy initiatives developed to promote regeneration such as the Region of Waterloo Development Charge exemption for brownfield sites and the joint Tax Increment Grant (TIG) for brownfields provided by the City of Kitchener (City) and Region, and Ministry of the Environment, Conservation and Parks (MECP) tools for separating liabilities associated with on- and off-site impacts;
Promoting an enhanced public realm by addressing a long-standing neighbourhood eye-sore, point of contention, and safety issue within the community;
Collaborating with the city on the concept developed for the site via community engagement, and further engaging in public consultation (above and beyond requirements) to evolve the redevelopment vision for the site;
Incorporating heritage components from the former industrial building into the new build to acknowledge the historic nature of the property and pay homage to its industrial roots.
Project Team: Shannondale Developments; City of Kitchener; Region of Waterloo; Stantec Consulting Ltd.; and, QM Environmental.
The collaborative approach has led to the successful progression of the site, enabling it to be transformed from an eyesore to a neighbourhood jewel.
Manitou a bi Bii daziigae, Red River College (RRC) Polytech
– Winnipeg, Manitoba
Site-specific built elements of Manitou a bi Bii daziigae and the programs housed within address multiple criteria of this category:
Through initial construction and ongoing use, the project brings economic, social and environmental benefits that accelerate the pace of regeneration within Winnipeg's urban heart.
Transparency and indigenous artwork promote an enhanced public realm and welcome new learners, connecting exterior to activities within. Light-filled spaces link new and heritage structures; innovative photovoltaic cladding provides a renewable source of energy on-site.
The project has come about through extensive coordination with City of Winnipeg public works, planning property and development, legal, forestry, parking, and heritage authorities.
Project Team: Diamond Schmitt and Number TEN Architectural Group (architects); Crosier Kilgour (structural); Epp Siepman Engineering (mechanical); SMS Engineering (electrical); HTFC Planning & Design (landscape); KC Adams (roundhouse auditorium artwork) and Jackie Traverse (soffit); Akman Construction (contractor); WSP (civil engineering and traffic consultant); RDH Building Science (sustainability, envelope and energy modelling); SolarLab (PV cladding design assist and fabrication); Aercoustics (acoustics); Entro Communications (signage); LMDG (building code consultant); LG Cost Consulting (finance); and doublespace (photographer).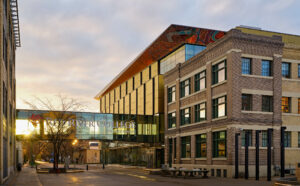 This project exemplifies regeneration and renewal at multiple levels: reinforcing city planning and economic policy for urban renewal, adaptive re-use of a heritage structure, and the full remediation and repurposing of a brownfield building site.
Unique and safe redevelopment of an Oil and Gas Battery into a Residential Community – Edmonton, Alberta
Tens of thousands of inactive oil and gas wellsites are present across Alberta. Hundreds are located within Edmonton's city limits. These wellsites present re-development constraints due to potential contamination and safety risks.  This project highlights the opportunities to regenerate what would typically be underutilized areas. Leveraging federal funding opportunities, collaboration with stakeholders and regulators on a unique and site-specific redevelopment strategy made this project possible.
This brownfield redevelopment relied on the collaboration of multiple stakeholders, including the federal government's COVID-19 fiscal stimulation funds. The provincial government collaborated on site-specific guideline development, community development design, and adaptation of contaminant transport and remediation restrictions. The municipal government participated in remediation guideline development and redevelopment design. Altogether, multiple stakeholders had input into the final design of this new community.
Project Team: Trace Associates, Alberta Energy Regulator, Alberta Environment and Parks, City of Edmonton, Confidential Oil and Gas Company, and Confidential Developer.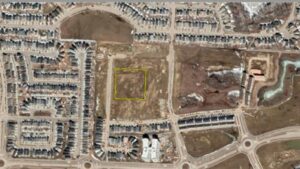 Imagination, adaptation and collaboration are required to clean up historical wellsites in urban settings.
kinistinâw Park – Edmonton, Alberta
kinistinâw Park was realized in response to the need for a dedicated open space in the heart of the redeveloping Quarters district of downtown Edmonton. In addition to providing a safe and welcoming place for the community and make better use of vacant, underused and environmentally contaminated lots, this investment into the public realm serves to attract further redevelopment. The collaborative design process involved significant stakeholder and public consultation and input from community organizations, residents, and local artists toward a common vision.
Reflective of this vision, and in the spirit of the name "kinistinâw," which means "we three" in Plains Cree, the project represents the coming together of the Indigenous, Chinese, and European cultural heritage of the area. This culture is evident in park's physical elements: the structural steel canopy, or "Common Thread" ties together the distinct programmatic spaces of the park while also representing the stitching together of shared experiences; the red of the canopy references the prominent Chinese community; and, the integrated art piece "Family Pattern" spans the underside of the canopy and defines the surface of the water feature as inspired by traditional Metis beadwork.
Project Team: DIALOG (landscape architecture, planning, architecture, structural engineering, mechanical engineering, and electrical engineering); ISL (civil engineering and landscape architecture), Thurber (environmental engineering); Vincent Helton (water feature specialist); Ion Irrigation Management (irrigation designer); Tiffany Shaw (public art); PCL (constructor); and, City of Edmonton (client).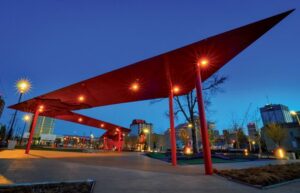 By providing a year-round gathering space, and using an environmentally sustainable landscape, kinistinâw Park supports the evolution of a vibrant and inclusive community.
Renew: Development at the Community Scale
120 Huron Street – Guelph, Ontario
This project involves the redevelopment of vacant, former industrial land as obtainable housing, and demonstrates excellence in redevelopment at the neighbourhood scale by:
Acting as a stimulus for neighbourhood-scale redevelopment and reinvestment, inspiring multiple investors to work collaboratively towards a common site vision via a multi-phased, coordinated construction approach;
Promoting an enhanced public realm by addressing a neighbourhood eye-sore with a design approach that recognizes and respects the industrial heritage of the surrounding community, and has facilitated the adaptive reuse of the property's heritage building;
Developing a comprehensive site plan with complimentary design elements that extend across the entire parcel, addressing potential access issues for the different stakeholder properties, establishing pedestrian routes that connect the amenity areas, and constructing infrastructure that could be accessed by the other investors/builders; and
Addressing specific housing needs in the City of Guelph, providing much needed obtainable residential housing focused on the "missing middle."
Project Team: Bomar Landscaping, CHC Limited, Chung & Vander Doelen Engineering Ltd., DEI Consulting Engineers, GHD, GM BluePlan, GSP Group, Hycon Construction, JLP Geotechnical & Environmental Consultants, Kieswetter Excavating, Peritus Environmental Consultants, Martin Simmons Architects, Progressive Irrigation, Robson Carpenter LLP, Stantec Consulting, Van Harten Surveying Inc., and Zehr Group.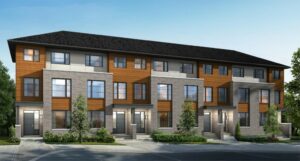 The redevelopment of this former industrial area of Guelph is a nod to industrial architecture with a modern flare, producing a strikingly beautiful community.
Maplewood Fire and Rescue Centre  – North Vancouver, British Columbia
The new firehall and rescue centre is an integral part of the Maplewood and Dollarton community plan that facilitates the expansion of high density residential and commercial development along the Dollarton corridor including First Nations Lands. The facility is designed to meet post-disaster conditions so it can perform as an Emergency Operations Centre. The removal of contaminated soils from the gravel aquifer removes a potential threat to water quality and quantity at the bird sanctuary wetlands downgradient, ensuring the long-term sustainability of the sanctuary. A high level of collaboration was required between District facilities planning, fire department, landscape architecture and environmental professionals to select the site and design the facility. Plants were recovered and replanted in District Parks and other wild areas.
By selecting a brownfield site for the firehall the District has located the facility in an ideal location for emergency response times, while addressing legacy contamination adjacent to the Wild Bird Trust Conservation Area.
Project Team: District of North Vancouver and WSP, S2 Architecture, and Hall Constructors.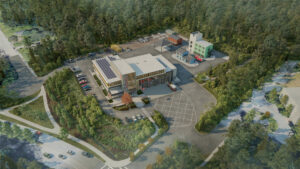 The project has transformed an underutilized land parcel from a contaminated landfill overgrown with invasive plant species
into a vital community resource with native plant landscaping.
Midtown Gateway – Nanaimo, British Columbia
The Midtown Gateway Project is a highly collaborative multi-phased, multi-disciplinary project that combines community planning, municipal real estate, environmental and geotechnical remediation, storm water management, detailed risk assessment, civil and transportation engineering, and private investment; resulting in the transformation of a legacy brownfield property. The project has restored a heritage wetland, providing valuable environmental habitat, and helping to prevent downstream flooding during major storm events.
The project will also feature new complete street transportation corridors that will increase the safety and comfort for people who walk, bike, take transit, and drive; and will create enhanced access to a premier recreation complex. All of this renewal is in line with the vision set out in City Plan – Nanaimo ReImagined,  the Official Community Plan. Site remediation was completed in Phase 1 in 2019.  Phase 2, the new infrastructure construction, started in 2022 and is scheduled for completion in 2024.
Project Team: City of Nanaimo (owner); McElhanney Ltd. (lead engineering design consultant); Trillium Environmental (environmental sub consultant); Western Water Associates Ltd. (environmental sub consultant); Lanarc (landscape design sub consultant); and, Island West Coast Developments Ltd. (private developer).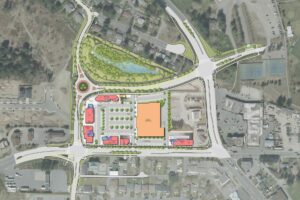 Once fully constructed, the new mixed-use development will improve the functionality, liveability and overall character of the neighbourhood.
LeBreton Flats – Ottawa, Ontario
The redevelopment of LeBreton Flats began with extensive decontamination of the soil and the construction of the Canadian War Museum in 2005. Soon after, new residents moved into the first new residential buildings in the area. The Building LeBreton project is founded on important public and economic benefits. These include providing affordable housing, remediation of contaminated soil, development of an exciting new destination, creation of parks and public spaces, and supporting transit use and active transportation. The LeBreton Flats area will become home to up to 7,500 residents and 4,000 workers, and is the result of a multi-decade vision to transform this important 29-hectare site into a complete urban community and Capital destination. Based on a study commissioned by the NCC, it is estimated that construction spending over 30 years will contribute about $13.2 billion to the Canadian economy, generating millions in taxes each year.
Project Team: National Capital Commission (project sponsor); O2 Planning and Design (lead consultant) and sub-Consultants: Paterson Group, L'Atelier Urbain, CIMA+, Contentworks, Three Sixty Collective, N. Barry Lyon Consultants Ltd., Urban Equation, and Morrison Hershfield.
The 29-hectare site is anchored by two LRT stations, aqueduct water features, and Nepean Inlet, with access to the Ottawa River. The plan envisions a place that is pedestrian- and cyclist-friendly, surrounded by lively and active parks and plazas.
Reach Out: Communications, Marketing and Public Engagement
KEL,SET (Reay) Creek Remediation – Sidney, British Columbia
The KEL,SET (Reay) Creek project was completed for Transport Canada to remediate and naturalize a ponded area near the upstream end of the creek, near a residential area. The pond sediment had become contaminated by runoff from the upstream Victoria International Airport. Members of the local First Nation communities, the W̱SÁNEĆ leadership council, were involved in directing the final plans for restoration. The planning of the restoration project was completed through a long process for consultation with all the stakeholders, including the Town of Sidney, local residents, and the W̱SÁNEĆ leadership council to restore the original bathing pools and provide an enhanced aquatic and terrestrial habitat to support the trout, salmon, and associated ecosystem in the area.
Project Team: QM Environmental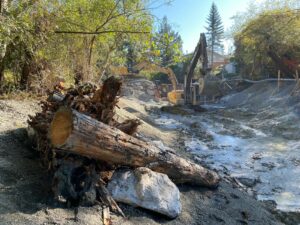 The involvement of multiple stakeholders of the adaptive reuse of the heritage structures (the bathing pools) resulted in an enhancement of the neighborhood and provided encouragement for community involvement to support native species.
Jim Tovey Lakeview Conservation Area – Mississauga, Ontario
The JTLCA project (Jim Tovey Lakeview Conservation Area, in honour of the late Ward 1 City of Mississauga Councillor) is creating a new natural waterfront park adjacent to the G.E. Booth Wastewater Treatment Plant. The project was initiated to reverse historical losses by creating a 26-hectare greenspace featuring large coastal wetlands, meadows, beach and forested habitats as well as an enhanced shoreline for residents, wildlife including migratory species and fish. The project combines fiscal responsibility (creation of jobs, sustainable reuse of fill) with habitat creation and engagement with the community, including:
Public Information Centres that provided an opportunity to inform the public about the project and capture feedback from those who visited.
Engagement with the Mississaugas of the Credit First Nation, the treaty holders for the lands and waters, regarding detailed design including Indigenous Placemaking features.
A direct email channel, through the project website, for questions or comments. There is a feature on the project website that provides a sign-up option, to receive project updates and get involved with the project.
Project Team: Credit Valley Conservation, Toronto and Region Conservation Authority, Region of Peel, and City of Mississauga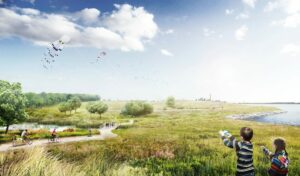 The team has collaborated with the Mississaugas of Credit First Nation throughout the project, attended various community events, and provided tours of the project site.
Galleria on the Park – Toronto, Ontario
The Galleria Shopping Centre (more commonly known as the Galleria Mall) opened in 1972 as one of Toronto's first covered shopping malls and has long served as an important community hub as a place to shop and a location to gather, but over time the mall has faced increasing concerns regarding depressed foot traffic, store closures, and a (now) significantly outdated décor. Considerable efforts were required by the developer and the project team to develop a suitable plan with overall support from the many stakeholders involved to transform the site into a mixed-use community that thoughtfully incorporates places for work, life, recreation and relaxation, all accessible by foot, bike, or public transit. Full build-out of the new Galleria on the Park development is expected to be completed by 2030.
Project Team: Almadev, formerly ELAD Canada (developer); Urban Strategies Inc. (planning and public consultation); Hariri Pontarini Architects for master plan and Galleria III, CORE Architects for Block 5/Phase I for Galleria 01 and 02 and Perkins&Will for new community centre (architects); Public Work (landscape architecture); Terrapex (environmental, geotechnical and hydrogeology); Counterpoint Engineering and Novus Environmental for noise, wind and vibration; Stantec (engineering); BA Group (mobility studies on transportation); Stikeman Elliot (legal); and Clark Construction Management for Galleria 01 & 02 (construction management).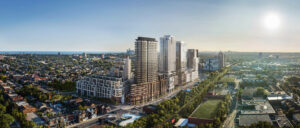 Thanks to an extensive and comprehensive outreach, the development plan addresses community concerns and provides several significant community enhancements and benefits.
Esquimalt Harbour Marine Remediation – Victoria, British Columbia
The Esquimalt Harbour Marine Remediation project remediation project under the 15-year Federal Contaminated Sites Action Plan established in 2005 to address federal contaminated sites presenting high health and ecological risks. It is a multi-year, multi-phase project as part of a series of projects in the harbour it targets four hotspots for remediation: A/B Jetty, C Jetty, Y Jetty, and Lang Cove. This brownfield site was contaminated from former industrial use and the project had a unique approach in creating greater economic and community benefit through the creation of an Indigenous Benefits Plan (IBP) to engage and partner with the Esquimalt and Songhees First Nations on whose traditional territory the work was taking place.
The IPB focussed on generating employment, training, and procurement opportunities for the two Nations. Early engagement between the client, First Nations, and project team as well as a dedicated liaison in the design, collaboration, and delivery of an IBP was instrumental in aligning to community objectives and creating extended community benefits.
Project Team: Public Services and Procurement Canada; Department of National Defence; Milestone Environmental Contracting Inc.; Esquimalt First Nation; Songhees First Nation; Salish Sea Industrial Services; and Ralmax.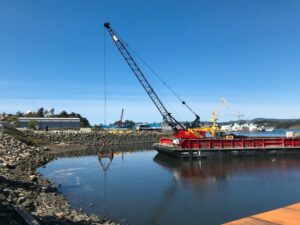 In collaborating closely with staff and leadership at both First Nations, this innovative project generated awareness and revenue for the communities through direct employment as well as contracts with Nation-owned businesses or services.
For further information about the Brownie Awards, click here.
Connie Vitello is editor of Environment Journal.