The best that Canada has to offer in the redevelopment of under-utilized properties across the country were honoured as part of the 21st Brownie Awards, presented by Actual Media in collaboration with the Canadian Brownfields Network (CBN). This year, due to COVID-19 considerations, a virtual presentation was held on November 24, 2020.
Under-utilized properties, or brownfields, represent a significant opportunity for new development within a community. These sites, some of which pose an environmental risk to the community, can be transformed into valuable municipal assets through remediation and rehabilitation. Taking a "brownfields first" approach to in-fill development can remove properties that have become an eyesore for residents, improve the quality of life in our communities, and create needed projects without tearing up green space.
"Those honoured with Brownie Awards should be celebrated for their dedication to creating stronger, healthier communities," said Christopher De Sousa, chair of the CBN. "On behalf of CBN, I wanted to thank all of our nominees for their tireless dedication to brownfield rehabilitation and redevelopment."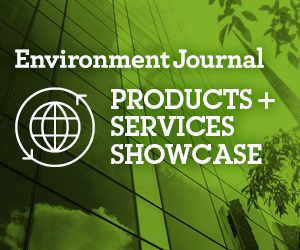 The Brownie Awards includes the recognition of 10 people, projects and technologies that are responsible for moving the industry forward. There are six individual categories, three for overall project/program recognition, as well as the Brownfielder of the Year award. The Brownfielder of the Year recognizes the person or persons having the greatest positive impact on the industry.
The 2020 Brownfielder of the Year is Josée Samson of the City of Montreal. Samson has been an environmental engineer with the city for nearly three decades. In that time, she has been the primary advocate for addressing Montreal's unique brownfield issues, lobbying for provincial and federal support to facilitate site remediation. Samson has been instrumental in the development of innovative tools for tracking and monitoring sites. She has also played an important role in providing the support needed for the redevelopment of the city's most challenging, daunting remediation projects.
The full list of winners of the 2020 Brownie Awards are as follows:
REPROGRAM: Legislation, Policy and Program Initiatives
Brownfields Modernization & Excess Soil Regulation – Toronto, Ont.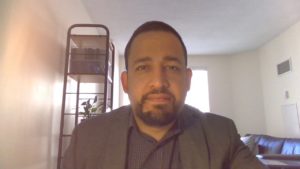 Sanjay Coelho is a senior policy analyst for the Ontario Ministry of the Environment, Conservation and Parks. He has worked on completion of Ontario's Excess Soil Management Policy Framework, and is now working on outreach related to the recently finalized On-site and Excess Soil Management Regulation (O. Reg. 406/19).
REMEDIATE: Sustainable Remediation and Technological Innovation
Parc D'entreprises de la Pointe Saint – Charles Environmental Remediation – Montreal, Que.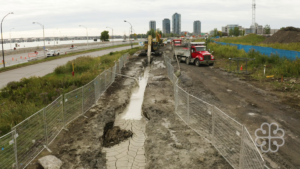 The construction of a 1.9 km long cement-bentonite slurry wall anchored to the rock, as well as a groundwater collector system and a treatment facility that will put an end to the migration of contaminated groundwater and of hydrocarbons with PCBs towards the St. Lawrence River. The construction of a LEED plant provide appropriate treatment.
 REINVEST: Financing, Risk Management and Partnerships
Lakeview Village – Mississauga, Ont.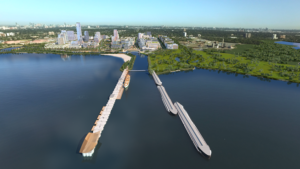 The Lakeview Village site, once home to OPG's coal burning power plant, will be transformed into a 177-acre vibrant mixed-use community, including four major park systems, a revitalized pier, a 64-acre conservation area, a cycling, pedestrian and transit network, 3.5 km of new waterfront trail, outdoor recreation and year-round programming, housing, shops, restaurants and a lively square, a hotel, and a school.
REBUILD: Redevelopment at the Local, Site Scale
75 Billy Bishop – Toronto, Ont.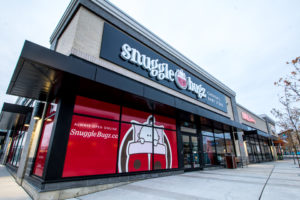 The redeveloped site boasts enhanced streetscape through unique urban design, improved transit connectivity to Wilson Subway station and has generated strong economic benefits for the City of Toronto.
RENEW: Development at the Community Scale
Crosstown Celestica – Toronto, Ont.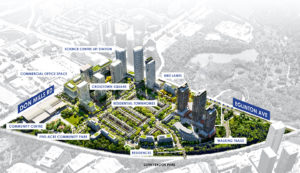 The Crosstown project transforms the historic Canadian headquarters of IBM into a vibrant new community with over 5,000 residential units and 800,000 ft2 of commercial/retail space, immediately adjacent to the new Eglinton LRT. 
REACH OUT: Communications, Marketing and Public Engagement
The Meadoway (TRCA) – Toronto, Ont.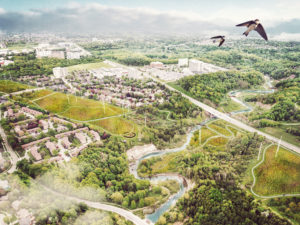 Located within the grasses of the Hydro Corridor in Scarborough, The Meadoway is a transformational project developing 16km of underutilized space into one of the largest urban greenspaces in Canada.
BEST SMALL PROJECT
Bata Shoe Factory – Batawa, Ont.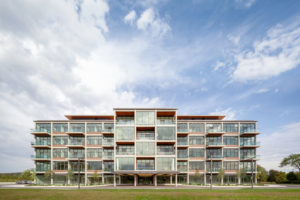 The adaptive reuse of Bata's former shoe factory in the Town of Batawa is the centrepiece of a vision to transform the former industrial town into a new model for rural sustainable development.
BEST LARGE PROJECT
Pier 8 Redevelopment – Hamilton, Ont.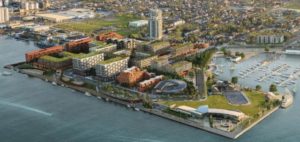 The Pier 8 redevelopment is a neighbourhood scale redevelopment on reclaimed industrial land on Hamitlon's waterfront that includes the creation of 4.9 ha of parklands/public space accessing the waterfront, 2.7 ha of new roads, and 5.4 ha of residential, mixed use, and institutional development.
BEST OVERALL PROJECT
Reunion Crossing – Toronto, Ont.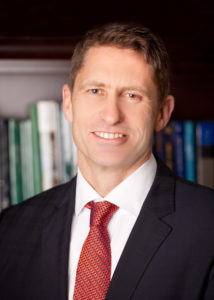 David Harper is the president of the Kilmer Brownfield Management Limited, providing investment capital and expertise that is dedicated to the re-development of former industrial and commercial properties in Canada, including this project.
BROWNFIELDER OF THE YEAR
Josée Samson – City of Montreal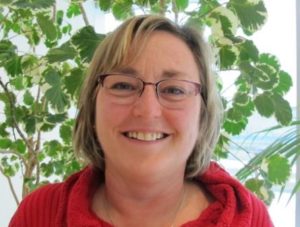 Josée Samson heads a dedicated team of specialists that strives to innovate in the field of site remediation, providing support to all municipal services and boroughs to establish guidelines in the management of contaminated soils. She also participates in the establishment, of remediation programs funding with the ministry of environment.
For further information on the Brownie Awards,  click here.